Leaders hopeful for July 1 ratification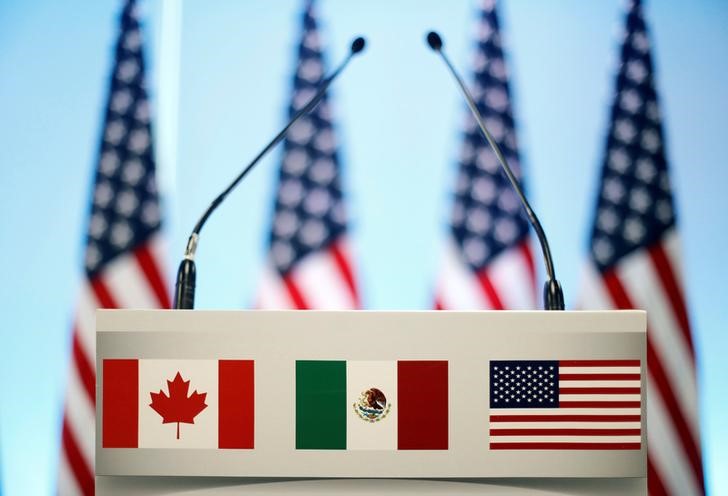 LIMA/MEXICO (Reuters) — The United States, Mexico and Canada will expedite NAFTA talks in a push to reach a deal in coming weeks, Mexico's president said on Saturday after a meeting with the U.S. vice president and Canadian prime minister.
On the sidelines of the Summit of the Americas in Lima, Peru, Mexican President Enrique Pena Nieto, U.S. Vice-President Mike Pence and Canadian Prime Minister Justin Trudeau said they thought an agreement could be reached before Mexican elections on July 1, although they also said no deadlines had been set.
"We agreed to keep up work towards reaching a deal and to summon our special negotiating teams to accelerate their efforts," Pena Nieto told reporters after meeting Pence.
"It was the same thing I agreed to with Prime Minister Trudeau," Pena Nieto added. "We hope in coming weeks we can reach an agreement."
The three countries, which created the world's largest free trade region by forming the North American Free Trade Agreement (NAFTA) in the 1990s, are under pressure to renegotiate the deal before Mexicans elect a new president in July.
There are concerns U.S.-Mexico relations could get rockier with Pena Nieto, a centrist, unable to seek a second six-year term due to Mexico's term limits.
U.S. President Donald Trump has threatened to kill NAFTA if it is not changed to secure better terms for U.S. workers and companies. In Mexico, leftist presidential frontrunner Andres Manuel Lopez Obrador has vowed to cut the country's economic dependence on foreign powers and to put Trump "in his place."
With U.S. mid-term congressional elections also pending in November, Trudeau said Canada would defer to Mexico and the United States on a timeline.
"Of course, we'd like to see a re-negotiated deal land sooner than later," Trudeau said in a press conference, citing Mexican and U.S. elections as a factor in timing. "We have a certain amount of pressure to try to move forward successfully in the coming weeks."
On Friday, U.S. Commerce Secretary Wilbur Ross said provincial elections in Canada in June were also a factor, and that a deal in May was possible.
Trudeau told reporters there has been "potential progress" regarding car manufacturing and "a broad range of things", however, no new details have emerged from the Lima conference on any specific agreements.
On Friday, auto industry executives said U.S. trade negotiators significantly softened their demands to increase regional automotive content under a reworked NAFTA trade pact in an effort to seal a deal in the next few weeks.
After meeting Pena Nieto and Trudeau separately, Pence said he was leaving the summit "very hopeful that we are very close to a renegotiated NAFTA."
"There is a real possibility that we could arrive at an agreement within the next several weeks," Pence said.