City of Toronto case looks at issues of creed and disability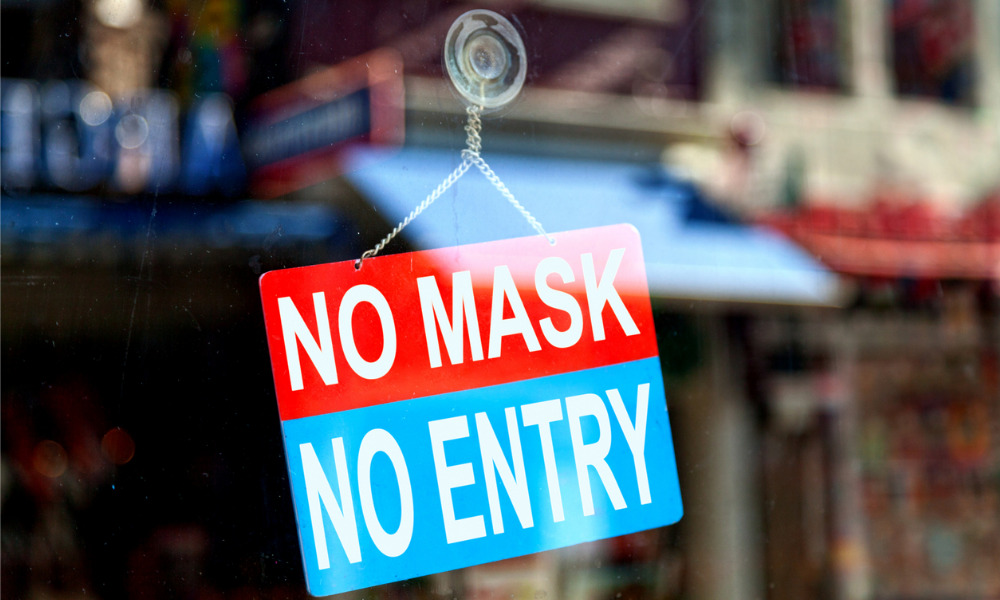 If an employer insists that a worker wear a mask to prevent the spread of COVID-19, can the employee allege that it is a breach of human rights? Based on a recent decision of the Human Rights Tribunal of Ontario, the answer is likely no, unless it is related to a disability.
In Sharma v Toronto (City), the tribunal held in favour of the city and dismissed an application challenging the mask bylaw (541-2020) requiring businesses to ensure members of the public wear masks in their establishment.
The applicant alleged discrimination on the basis of creed and disability under the Ontario Human Rights Code (Code). In particular, he stated the following reasons in his application:

"1. Creed. My creed disagrees with covering my face for unsubstantiated claims. Claims that masks prevent or stop the spread of Sars-Cov-2 (otherwise commonly known as coronavirus) is not substantiated by scientific evidence (e.g. peer-reviewed randomized control trials). Instead, City of Toronto only loosely references anecdotes of "masks being effective" -- this is not evidence. My creed requires that I do not blindly accept what government or agencies claim, mandate or enact into laws (or by-laws). Instead, it is my civic duty to be critical of government and their decisions. By-Law 541-2020 makes no exception for creed.
"2. Disability. My bodily functions are impaired by face coverings, as it impedes my breathing. I do not know whether not being able to wear a mask qualifies as a disability, but what I do know is that I cannot wear a mask due to bodily/biological/medical conditions. While I understand that By-law makes exemptions for "persons with an underlying medical condition which inhibits their ability to wear a Mask or Face Covering", those with disabilities or medical conditions should not bear the brunt explaining or proving this to businesses/establishments, as this is humiliating and anxiety-inducing. In Ontario, businesses are not permitted to inquire about an individual's medical conditions."
The respondent successfully brought a motion to dismiss the application, arguing it had no reasonable prospect of success at a hearing on the merits. While the tribunal acknowledged that 1) the applicant had a disability within the meaning of the code and 2) the bylaw included recognition of the duty to accommodate, the bylaw required a business' policy to contain certain exemptions such as an inability to wear masks for medical reasons.
The tribunal dismissed the application as it had no reasonable prospect of success at a hearing on the merits. The applicant had argued that various businesses, in denying him services, failed to comply with the bylaw, but he did not name them as parties and brought the application against only the city. The tribunal found that while the bylaw requires business' policy to not require proof of exemption, the city could not be held liable for the alleged conduct of such businesses.
Interestingly, the tribunal commented that "creed" is not defined in the code, but "most often engages an applicant's sincerely held religious beliefs or practices" and that "mere political opinion does not engage creed". However, the tribunal found that the protected ground of "disability" was engaged and that the scope of what constitutes a disability under the code is broad. The tribunal stated: "Once an individual identifies that they have a medical condition or otherwise requires accommodation that exempts them from a business' policy that they wear a mask, the individual ought to be permitted to access the service" up to the point of undue hardship. That is a high threshold to meet.
So what does this mean for employers?
First, employers are obligated to take reasonable steps to ensure a safe workplace. When doing so, sometimes there may be a conflict with other obligations such as the duty to accommodate employees on the basis of disability. While exemptions may be needed to accommodate individuals in certain cases, a balance will need to be struck between competing rights.
Second, if an employee simply says they do not agree with a mask policy, absent any relation to a code-protected ground, there is no discrimination under the code. However, if they inform you that they have a medical condition impacting their ability to wear a mask, you have an obligation to accommodate them up to the point of undue hardship.
Employers should ensure they properly document any refusals to wear masks, request for exemptions or accommodation, as well as the process of accommodation.