Not every organization or sector is moving at the same pace into the new world of work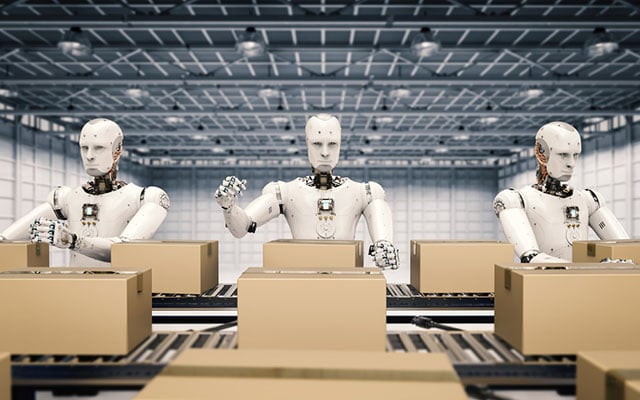 By Brian Daly
Recently, I co-led a CHRO peer group session at SCNetwork focused on unpacking all the hype out there about the future of work and jobs being taken over by automation and AI. We wanted to conduct a reality check within our group and drill down into just how close we are to the future today.
Outside of all the ink and analyses on this topic, we wanted to see how far we are down that path in our own organizations, and how much more we need to be doing to prepare ourselves for the future.
Our group — comprising a dozen or so HR leaders from leading Canadian employers across a range of industry sectors including telecommunications, health care, pharmaceuticals and manufacturing — started with the hypothesis that the future of work is a continuum and we wanted to see where each of our organizations stood on that journey.
Based on an extensive review of literature on the subject, we identified eight themes that define the new world of work — automation, analytics/data, work arrangements, organization design, work/job design, careers, employment relationship, and work space.
What became overwhelmingly obvious to us is that organizations are at different places on the continuum, depending on the nature of the business they are in. For example, in sectors such as telecommunications, technology is in the very DNA of the firm, and as such these organizations have moved far along the continuum in areas such as predictive analytics and AI.
Other sectors, such as home and community health care, are by their nature very high touch, and less likely to have moved as far along the continuum in using advanced technology to transform their business. At the same time, even those organizations are experimenting with innovative approaches such as AI-based chatbots in the home, so no sector is immune to the impact of technology and automation.
The key learning that emerged was that, contrary to what we might conclude from some media reports, not every organization or sector is moving at the same pace into the new world of work. Progress depends largely on the nature of the business and how amenable it is to automation and technology.
There's also an element of conservatism among some C-suite executives about technology, big data and automation, based in part on past experiences with technology solutions that did not fully meet expectations. They're reluctant to make too significant an investment until they have a level of confidence on the return of that investment.
A February 2019 article in the Harvard Business Review confirmed this, indicating that almost three-quarters of leading global organizations have yet to forge a data culture.
So, is all the hype about the future of work and the elimination of traditional employment relationships true or false? In my view, based on our sample of leading Canadian employers, the answer is yes and no. There is certainly progress in adopting advanced analytics and automation, although at different speeds depending on the nature of the business. Without question, this is impacting many aspects of work.
On the other hand, we don't see a rapid move away from the traditional employment relationship in most organizations. Despite all the hype about the contingent workforce and talent platforms, most of the organizations represented in our SCNetwork peer group still want to foster a value proposition with employees for the medium or long term, especially for core areas of the business.
At the same time, there's a recognition that the millennial workforce might not be looking for one life-long career with a single employer, so some organizations aim to provide a value proposition focused on staying for "one more job." The message is that even though we know you won't retire with us, staying for one more job will help you gain valuable experience and learning, and we'll benefit from your talent in the meantime.
In effect, most organizations aren't going all the way on the future of work continuum by abolishing employment as we know it, but instead prefer to maintain the traditional employment proposition, although with a new frame to make it more realistic for newer generations of workers.
As a consequence of this, one of the biggest challenges for CHROs continues to be talent acquisition and retention. This challenge exists at both ends of the skills spectrum, with high competition for advanced skills in areas such as advanced analytics and AI, and similar challenges to hire and retain semi-skilled, low wage workers at the other end of the spectrum, especially for sectors such as retail and social services.
Many organizations in our group are finding ways to innovate in the search for new talent, including forging new relationships with educational institutions to create a stronger talent pipeline for the future.
The second challenge that's common across the board in all industries is the imperative for more training and education. Training is needed in two areas: first, skills training to provide employees with the job skills they will need to be effective in the new world of automation and technology, and second, training in "enabling skills" so employees can become more agile and self-sufficient in adapting to the rapid pace of change.
So, based on our reality test, my conclusion is that most organizations are preparing for the future by adopting new technology and automation solutions, albeit at a reasoned and somewhat cautious pace. But, contrary to the comments of some prognosticators, most organizations are not abandoning the traditional employment relationship in core areas of the business in favour of gig-economy, contingent worker relationships.
Notwithstanding the importance of automation and AI, human talent is as critical as always, if not more so. And that means HR's role is even more integral to the success of organizations, although in new and different ways in many cases.
The next challenge on the horizon is to figure out how human talent and artificial intelligence can best work together. In a world where robots and AI perform many key tasks, what role do humans best play? How should we structure the workplace and design roles to optimize this interaction?
The emerging field of human-robot interaction (HRI) is poised to become a major area of focus for CHROs, and indeed for C-suite executives across the board. The best CHROs are already actively exploring this new and somewhat daunting domain of HR work.
Exciting days ahead, indeed!
Brian Daly is vice-president, treasurer and a member of the Board of the Strategic Capability Network. He has more than 25 years of senior HR leadership experience and held the role of CHRO for Toronto Star Media Group from 2008 to 2018.