Employers have to reimagine short- and long-term people strategies in 'next normal'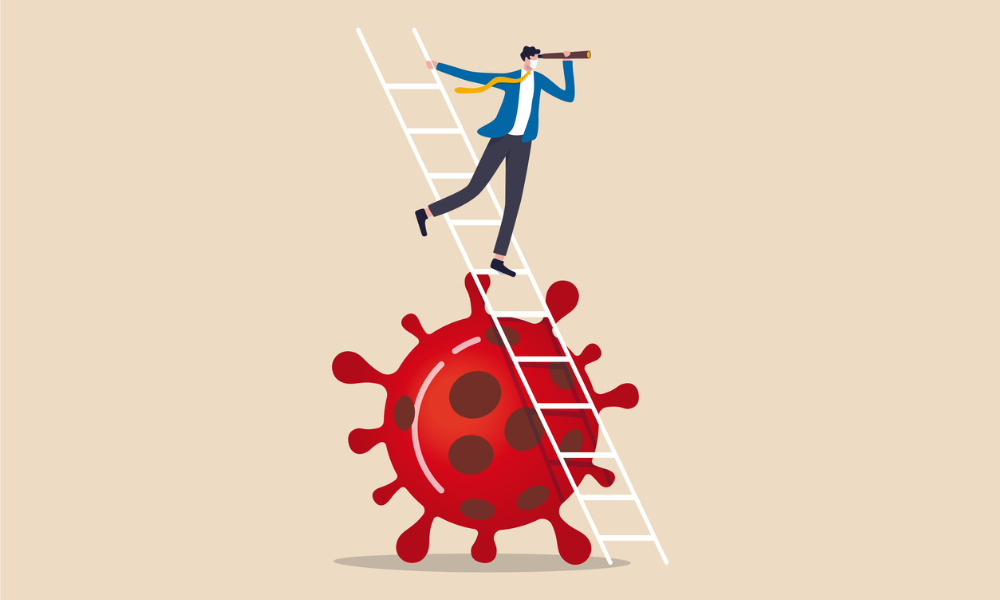 Only a month ago, I caught up with five HR leaders from five distinct industries, some of whom are part of SCNetwork's CHRO Peer Forum — Karin Adams, Cindy Bush, Kelly Davis, Mark Edgar and Lara Root— for insights on how they were shepherding their organizations through the unprecedented workforce challenges posed by the novel coronavirus.
I was curious to know what their biggest learning had been so far. In part one of this three-part series, I asked them just that. Over-communicating with their employees and executive teams was the learning that all five leaders underscored, unequivocally.
Mark Edgar shared another important learning: "In organizations, there's now a mind shift in terms of understanding what's really important. Before this crisis, people were struggling to prioritize all their work. Organizations that had developed complicated project plans had to quickly change gears to implement remote working overnight and managed to complete their two-year plan deliverables in just two weeks."
In part two, we delved into the personal side of the pandemic, hearing about what HR leaders were doing in the way of self-care during this period.
Several reports claim that COVID-19 has forced HR into the spotlight as never before. As the countdown to reopening our economies inches closer, corporations have had to reimagine their short- and long-term people strategies for the next normal. I asked Karin, Cindy, Kelly, Mark and Lara what HR should do differently now that the opportunity is here?
Karin Adams, senior vice president and group head of human resources (interim) and vice-president of total rewards at TMX Group
"My first call to action is that this is a really great time to reflect on the aspects of your organization's culture that have come to light during the crisis. This situation has presented leaders with a whole different view of their organizations and, in many cases, uncovered hidden strengths. This is the time to pause and evaluate the culture strengths that have emerged through the crisis and how HR can champion, reinforce, and build on those strengths.
"Some highlights we've uncovered at TMX are around employee resiliency, team collaboration, speed of execution and leadership character – all of which we will aim to continue championing in a post-COVID world. On the other hand, I think there's an equal opportunity to assess cultural gaps that have been brought to the forefront. Perhaps, there are things you thought your organization was good at, but now might be areas of opportunity. I think leadership development in managing remote teams and building team trust will continue to be an area of focus and continuous development for all organizations.
"Secondly, the crisis has required all companies to transition overnight into remote work, whether they were prepared for it or not. My call to action, for those organizations that hadn't previously embraced flexible work policies, is to really start rethinking their approach to how people work. Leaders should be closely monitoring, observing, and tracking indicators of mental and physical health, productivity, and performance to inform their readiness to consider work-from-home policies.
"The fact that organizations were forced by the pandemic to move into remote working arrangements does not mean that all organizations need to adopt a fully remote policy immediately following COVID. However, you can't overlook the positive aspects of the work-from-home transition and how to leverage these strengths in your policies and practices around flextime, remote working, and work-life balance initiatives. It's reasonable to expect that employees who thrived in this environment are going to expect organizational support to continue that flexibility in a post-COVID world. HR needs to be prepared to respond to the diverse expectations of all staff – those who desire more remote work and those who don't.
"TMX has established a cross-functional COVID response committee that is assessing our return-to-office strategy from multiple lenses – employee health and safety being the number one priority. We recognize the importance of balancing diverse employee needs and perspectives and will be considering a combination of role criticality, location, and employee preferences in assessing which roles will initially return to the office. HR will play a key role in managing expectations and preparing employees for what is certain to be a new office and work experience."
Kelly Davis, chief people officer at Sunwing Travel Group
"I think for me the biggest call to action comes down to new ways and depths of sharing. In times of crisis, you see the worst in people, and you see the best in people. What we've also seen is a lot of wasted time and a lot of wasted dollars. With the recent crisis, I have been bombarded with knowledge sharing every day about different takes from different marketing companies, law firms, and other organizations that we work with. If there was a forum where CHROs could go in and upload what they've done and their evidence-based practices, I think we could save each other so much time and money.
"In the airline business, for example, I've partnered with my peers at Air Canada and WestJet. They've been wonderful in sharing information. However, we've all still been creating a lot of documents and FAQs – most of which are likely 95 per cent the same. We're still on the phone all day, every day, each paying different lawyers and consultants to give us the same advice. I think it's normal right now because when you're hit with a crisis, you must react. But I think, when things calm down, it would benefit the HR industry if there could be a knowledge repository where practitioners could share critical information that's not really proprietary. We could share, for example, our individual take on government programs and their impacts on our respective organizations and employees.
"It's about doing the right thing and sharing some of that information. I think, right now, we're still somewhat in the eye of the storm. We're still dealing with the crisis side of things. But as we start to come out of this and bring our employees back to work, I think there's going to be a big upsurge in mental health issues to navigate, in the post-COVID era. This would be the perfect time to come together as a CHRO team and share best practices around employee wellbeing and health. It would help save precious dollars and time, that we might not have the bandwidth for later. A silver lining in all of this in my opinion is how we come together and work together across our CHRO community in even better ways than before."
Mark Edgar, founder of Goat Rodeo Project
"As a relatively new consultant, I've been in a privileged position to look at the impact of COVID-19 across a number of organizations and sectors. Through this, I am optimistic that HR has built their credibility during this period and that will give them the courage and confidence to build a platform within their organizations to move forward in a more holistic and human way. The call to action is to reimagine the entire business strategy, and that includes the HR function, as consumers and employees become more considered about what they buy.
"The virus was a massive shock to the system that has accelerated many of the trends we have been experiencing. People are looking for greater belonging, greater flexibility and greater trust in the organization they work for. This will be a new proposition for many organizations and will need to be implemented across new segments of employees including those who can work flexibly and those who still have to regularly attend work and adopt new protocols.
"There is a lot of anxiety among employees and employers right now. The reopening of the office provides a symbolic moment to evolve from the old order and develop plans that reflect the organization's specific new world of work. There is a unique opportunity for HR teams to gather rich insights from their people on how they responded during the crisis and use this to inform much more relevant future strategies."
Lara Root, chief people officer at CBI Health Group
"At the crux of it, an effective chief people officer and effective HR team supports the business. And so that really hasn't changed for me. That still is my biggest call to action. The pandemic impacted all businesses in some similar and remarkably dissimilar ways. And so, HR has to continue to be agile and flexible. HR practitioners need to understand the impact of a crisis not just on the people of the organization, but to the business, as a whole.
"We've been debating about the rate of technology adoption in HR practices for a while. At CBI, we mobilized Microsoft Teams among 5,000 of our employees in a matter of three days. This was transformative for our organization. It has changed the way we work. Our organization was a traditional, face-to-face organization until COVID-19 hit in March. But now, I would say, we've become more agile than we could imagine. We've not only leveraged technology, but we've supported all our leaders through the change.
"We've answered for ourselves how to evaluate people's performance when we don't see them every single day. We've resolved how to support our employees' wellbeing and engagement in a virtual environment. We've developed training, tools, and support to help our leaders and employees be even more effective, while we all work from home, or at the front lines. This virtual reality has been a unifying force for productivity and for us across the organization."
Cindy Bush, CHRO at Cineplex
"We know that Canada will likely be heading into a recession. During a recession, we will not only be wearing our CHRO hats, but also wearing our Canadian workforce champion hats, because we must think about how we bring people back to work and how to engage, motivate and encourage building on the new skills we've learned during this time. Our economy depends on it, and we don't know how much consumer habits will change in the long term.
"In the short term, the level of speed and innovation is quite inspiring, with teams across the company working together to bring products to market very quickly, such as Cineplex Store or food delivery such as popcorn delivered right to customers' door.
"At Cineplex, we're doing modeling for five years expecting that there is a recession in place. We are thinking very carefully about our employee experience, our workforce, and our technology. An area of focus that I think will emerge out of this reflection is our purpose – rethinking why Cineplex exists in the first place. We did work on this over the past nine months and now it feels more important than ever to align our businesses to principles like why we are in business and why our customers love us – and innovate from there.
"When it comes to remote working, during our culture exercise, we prepared for flex work as part of our trust and transparency core shift. In fact, it was one of the first things we launched with our refreshed culture. We wanted to be trusting and transparent about how we are working – trust everybody to work where and when they need and be transparent about feedback and results. All I can say is thank heavens we put that in place because we had 85 to 90 per cent adoption, with people already working from home on a regular basis prior to the pandemic. What has changed for us is that people will continue to use our flex work policy once offices reopen, so that's not going to be a dramatic shift. But for some businesses that had not adopted work-from-home policies, now they've had to. And there's no going back.
"Something I also find interesting is that for health and safety reasons, this crisis may cause a shift away from a consumer and recycling lifestyle. Our society was working on being more sustainable and my hope is that we continue that way of life. I hope that we don't lose our environmental attentiveness through this time as we get worried about touching things or recycling things. At Cineplex, we're creating a sustainability plan that takes into consideration this new reality. As our team contemplates our countdown to reopening, we're making sure there is a 100 per cent trust in our brand experience so that when people come to our locations, they feel confident that we are making their health and safety our number one priority."