The symptoms can last months after an infection, so people with "long COVID" could prove a challenge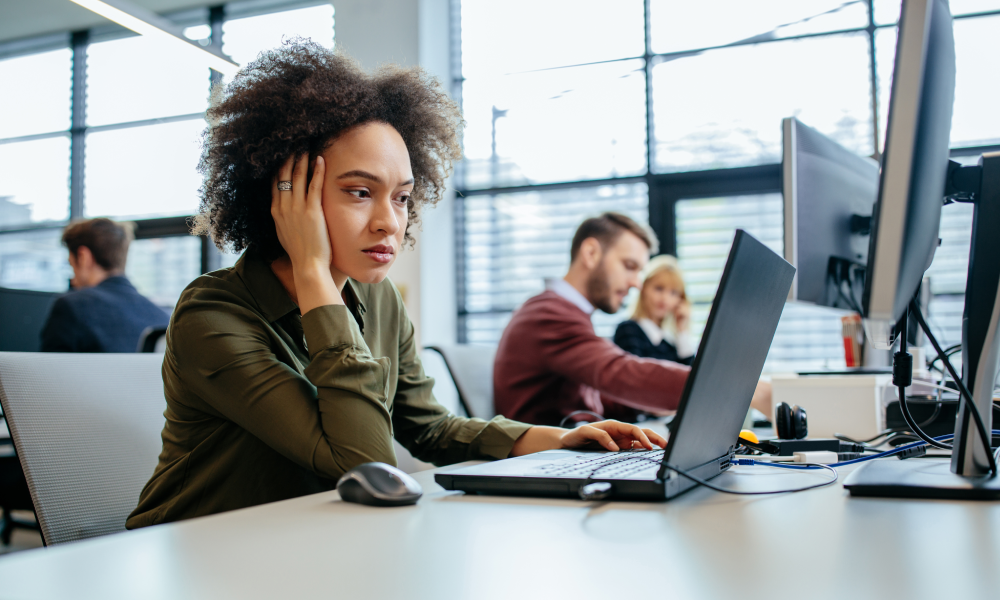 COVID-19 affects people in very unusual and different ways. And when it comes to post-COVID symptoms or "long COVID," it's "more of a medical uncertainty than anything else," says Daniel Lublin, a partner at Whitten & Lublin in Toronto.
For that reason, employers could face challenges when it comes to the estimated one-third of employees who test positive for the virus but continue to suffer long after the diagnosis.
"Where the issues become a legal dispute between the employer and the employee is where there's no disability insurance in place or where someone doesn't qualify for disability insurance, and then they're saying, 'Hey, I'm not capable of returning to work.' And the employer is saying, 'Well, I don't have enough medical information or medical evidence to justify that,'" says Lublin.
"There's a space that people fall in where they're in between medical disability coverage but they're not quite ready to return to work. And those are where some of the disputes will arise."
Common symptoms
When it comes to the symptoms experienced by "long-haulers," the most common are fatigue (80 per cent), respiratory complaints (59 per cent) and neurologic complaints (59 per cent), according to a recent survey from the Mayo Clinic. A separate study by the Indiana University School of Medicine found other top complaints include muscle or body aches, shortness of breath, difficulty concentrating, headaches and difficulty sleeping.
Some people may wake up six months after a bout with COVID and not be able to hear anymore, says Lublin.
"Other people have had it described as having an ongoing brain fog, which limits their cognitive impairment. And other people have described a general fatigue that never seems to go away, very similar to chronic fatigue syndrome."
The biggest complaint is fatigue, but the symptoms can really vary from person to person, judging by anecdotal reports, says Alex Lucifero, managing partner at Samfiru Tumarkin in Ottawa.
"Some people have breathing issues; some people… it's been more of a kind of lethargy and a fatigue, meaning that even if they wanted to, they're simply not able to put in the same kind of work… even if it's sitting on a computer working from home, they just can't make it through an entire day."
Limited science challenges treatment
The challenge is identifying whether there's a medical basis to say that people reporting these symptoms are COVID long haulers, and whether the restrictions they have prevent them from performing the essential conditions of their job, says Lublin.
"It can be very ambiguous and difficult for an employer, employee and insurer to ascertain whether the symptoms are reasonably preventing someone from performing their job or not because there is so little known about COVID long-haul symptoms at this stage."
The issue is very similar to when chronic fatigue syndrome or Fibromyalgia first gained attention, in that insurers and employers didn't have a very good understanding of where they fit on the diagnostic spectrum of a medical illness, he says.
"Right now, it's just described as 'COVID long haul,' but at some point there's going to probably be a better medical phrase for it to describe people suffering, and employers will have to accept and accommodate that."
With so little data, we're learning as we go in terms of what individuals need, whether it's from a treatment perspective or a workplace perspective, to support them in their recovery, says Lisa Paterson, director of pre-claim prevention at the Disability Management Institute in Vancouver.
"It's an invisible type of illness, and there are certainly challenges associated with that, when it's not a broken leg and it's not as easy to measure the impact, as well as to measure people's progress as they're recovering."
Accommodation considerations
Accommodating long COVID would be similar to any other kind of accommodation request from someone who says they have a mental illness or a physical ailment that's preventing them from doing a part of their job, says Lublin.
"I don't think there's any legal debate, or there should be any reasonable legal debate, that post-COVID symptoms or COVID recovery or COVID long haulers should receive accommodation under the law — I think everyone would accept that."
But it's disparate — it really depends on the conditions, the circumstances and the symptoms, he says.
"A lot of people are working from home, so the symptoms about being unable to get up and move around, for someone who sits at a desk, may not restrict them from performing their job, compared to somebody whose job is to stock a shelf all day."
An employer doesn't even need to know whether it's the long-term effects of COVID or any other illness or disability because they don't need to know the employee's diagnosis, says Lucifero.
"But they have to have some idea of what the prognosis is — meaning, of course, 'How long is this employee going to be off for?' or, alternatively, 'What specific accommodations does the employer need to provide?'"
And if an employer decides to simply end the accommodation because a long time has passed — even though the employee's medical status hasn't changed — that will be considered a failure to accommodate and discrimination, he says.
If, however, an employee becomes permanently disabled and is completely unable to work, and there's no chance of them ever returning to work, an employer might be able to end the relationship on the basis of frustration of contract, he says.
"But I don't think employers are going to be able to make those kinds of decisions now [with long COVID]; it's too early."
Insurance claims for long-haulers
Claims related to long COVID are relatively new, and they have generally been dealt with as disability insurance claims, says Kevin Dorse, assistant vice-president of strategic communications and public affairs at the Canadian Life and Health Insurance Association.
These types of claims "are generally based on an assessment of an individual's condition and the requirements of their job. Insurers will assess a claim for short-term disability benefits based on whether the person is sick and cannot work and meets the definition of 'disabled' as defined within the plan and satisfies the contractual waiting period," he says.
"We expect that life and health insurers would assess long COVID as they would any other disability claim."
There have been reports in the media that COVID long-haulers are seeing their claims for disability rejected. For most refusals, the typical reason provided by insurance companies is those employees are not totally disabled, meaning they are able to do some amount of work, says Lucifero.
"If an employee is working at 40 per cent capacity, for example, for whatever reason, but it's COVID-related, they might not get approved for disability insurance short term or long term because the policy requires a total disability."
Return-to-work challenges
People at DMI who have been dealing with cases of COVID are seeing slightly longer return-to-work plans as people take a longer time in their recovery, says Paterson.
"Where we would previously see two or four weeks of modified duties, we're now seeing six or eight weeks," she says.
"There's a lot of variation in what long COVID looks like for people. And so the best approach is going to be to figure out: What are the specific limitations and restrictions an individual employee has? What are the specific accommodations they need? And how do we work within that? And it's not going to be broad strokes, applicable to everybody."
That's why it's important for employers, in looking at accommodations, to build in regular touchpoints, both in assessing their operational needs and the employee's needs, says Paterson.
"Because this is still so new, there's still so much to learn about this. The data that exists on other conditions — about what is an anticipated recovery timeline, what is an ideal treatment — that's still very much under review and largely unknown."