Possible fixes include flexible work, internal hires, immigrants, automation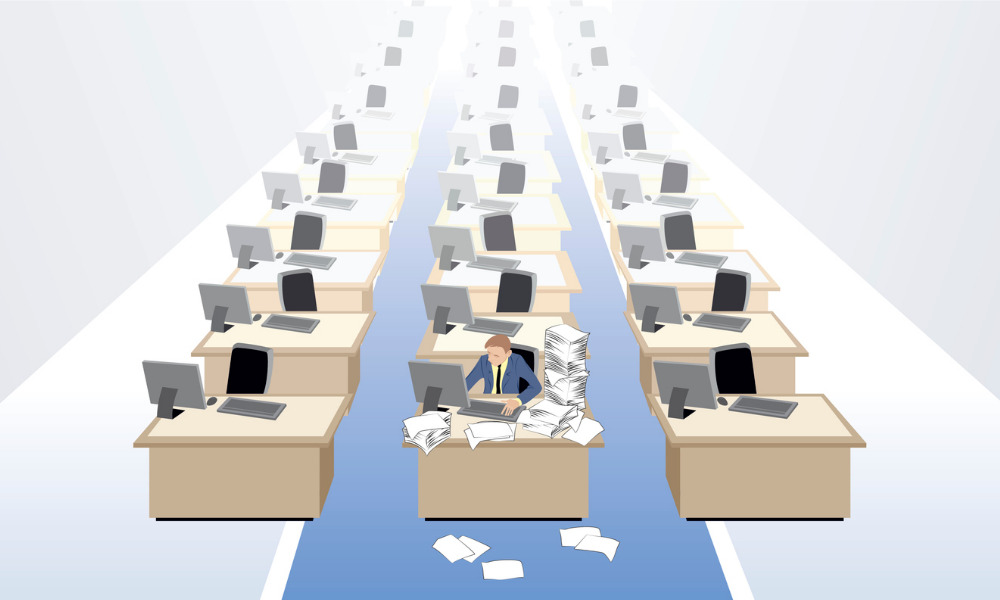 More than half (55 per cent) of Canadian small and medium-sized employers are struggling to hire the workers they need, according to a report from the Business Development Bank of Canada (BDC).
And many (64 per cent) say the labour shortage limits their business' growth.
"As the economy recovers, this scarcity of workers is reaching worrying heights, putting economic growth at risk and compromising the competitiveness of Canadian businesses," says Pierre Cléroux, vice president for research and chief economist at BDC. "Fortunately, while [the] labour shortage is here to stay, entrepreneurs can take key actions to limit the impact of this situation on their growth."
More than four in five (84 per cent of) Canadian companies expect to have hiring difficulties over the next year, according to a separate report.
Because of the labour scarcity, 44 per cent of enterprises have delayed or are unable to deliver orders to clients. This is the case even though 61 per cent of entrepreneurs have been forced to increase their hours or employees' hours and 49 per cent have had to increase wages and benefits to try and address the problem.
The labour shortage has also caused 32 per cent of businesses to become less competitive, with another 24 per cent saying their goods or services have deteriorated.
And 26 per cent are having difficulty retaining workers, finds BDC.
More than two-thirds (68 per cent) of employers say they are having a hard time hiring people with the skill sets they need to grow, according to a previous report.
Possible solutions
Hoping to solve the problem, many employers have offered flexible work arrangements (37 per cent), internally trained less-qualified workers (35 per cent), recruited younger workers or students (26 per cent) and hired freelancers or contractual or independent workers (25 per cent). Others have also recruited immigrants or foreign workers (10 per cent) and recruited older or previously retired workers (nine per cent).
Another solution is having a formal hiring process, according to BDC. More than half (51 per cent) of businesses who adopted a formal hiring process find it very easy (14 per cent) or somewhat easy (37 per cent) to hire.
More employers that offer elements of a total compensation package have also found it easier to hire (77 per cent) than those that don't (71 per cent), according to BDC's survey of 1,251 Canadian entrepreneurs in May and of 3,000 Canadians workers in June.
Automation may also help, as 61 per cent of businesses that have adopted new technologies and automation have found it either somewhat easy (36 per cent) or very easy (25 per cent) to hire, finds BDC.
In comparison, among those who have not done the same, only 38 per cent have found it somewhat easy (31 per cent) or very easy (seven per cent) to hire.
Sectors

Businesses the find it easy to hire with new technologies, automation

(per cent)

Businesses the find it easy to hire without new technologies, automation

(per cent)

Accommodation and food services

86

38

Agriculture, fishing and forestry

86

33

Construction

82

40

Education and health care services

68

26

Mining, and oil and gas extraction

67

53

Technology, information and cultural industries

58

30

Arts, entertainment and recreation

59

53

Professional and business services

57

42

Manufacturing

53

25

Wholesale and retail trade

39

37

Transportation and warehousing

26

36
However, only one in four Canadian SMEs have fully automated at least one business function. The top challenges to not adapting to this include high upfront investment cost (43 per cent), security and safety (32 per cent), selecting the right tools/machines (29 per cent) and effective communication and collaboration (27 per cent).