Employee experience jumps from 5th to 2nd spot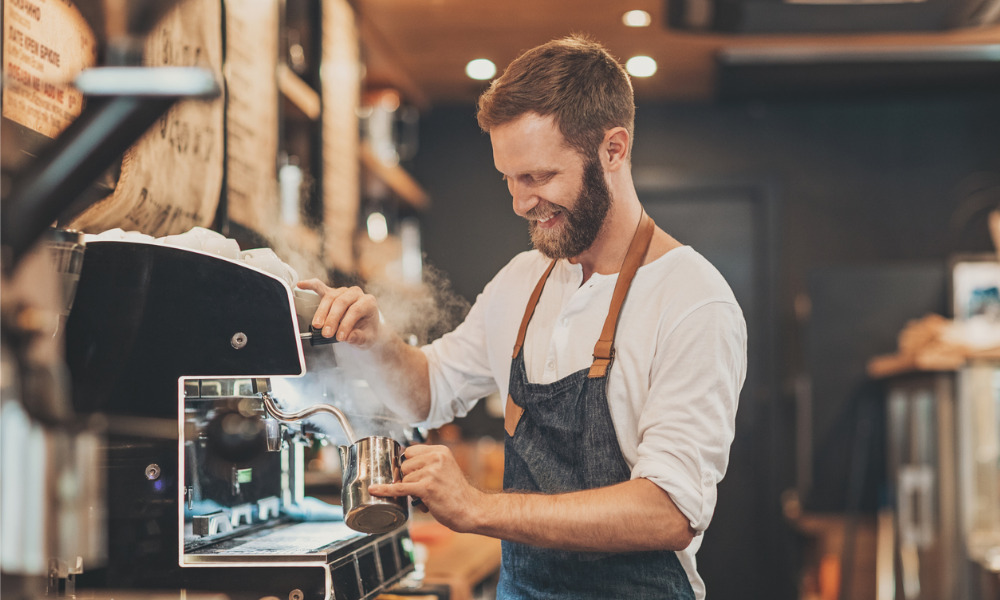 HR is at a crossroads. While its role is growing in scope and importance, there are also warning signs when it comes to the support and development that HR needs.
So says William Howard, senior manager in HR research and advisory services at McLean & Company, in looking at the results of its 2022 HR Trends Report.
"It's a really exciting time for HR to make a huge impact on organizations. Because last year and in last almost two years, HR really has been thrust to the front of organizations and thrust into the spotlight in a lot of cases, and we're seeing the positive effects of that… But it's also time for us to watch out and make sure that things continue on the positive path."
Employee experience takes centre stage
In delving into the trends for the new year, not surprisingly, much of the focus is on the employee experience. That's jumped from fifth to second spot when it comes to top priorities for HR, with recruiting still number one (third is "developing leaders," fourth is "controlling labour costs" and fifth is diversity, equity and inclusion (DEI)).
Even as unemployment numbers are starting to return to normal, the pressure on talent acquisition is increasing, says Howard.
"Employee expectations are increasing and that, in and of itself, makes an acquisition more difficult than ever, on top of the turnover piece and needing to hire to backfill some of those positions."
HR spent the most of its time on talent acquisition in 2020 (16 per cent) and that climbed to 20 per cent in 2021. But HR also saw a decrease in effectiveness around recruitment this year, from 44 per cent of respondents to 36 per cent this year, he says.
"I don't think that has anything to do with talent acquisition itself — like the function or the people in the function or what they're doing — it's just that there's so much more pressure, so much more expectation on [HR] than in the last few years, just to deal with all the turnover and all the extra hiring that organizations are doing."
Employee experience is about the accumulation of key moments throughout the employee lifecycle, says Howard.
"This is really a key thing to look at as we're hearing a lot more concerns about turnover and retention. And I think what the data shows is that improving the employee experience is one of the tools in the toolbox to keep people from leaving and to re-engage and make sure that those people are happy."
Many people, younger ones in particular, are reevaluating their careers and work-life balance, and it's less about the great resignation than the great reevaluation, he says.
"The way to realign the organization with that is by focusing on the employee experience, and making sure that what they experience at work is aligned with their values and aligned with what they expect around work-life balance, and all that sort of thing."
Employers serious about creating a good employee experience (EX) should take care not to misinterpret the data, according to one expert.
Remote work challenges
Remote work has shifted the landscape of talent attraction and retention, finds McLean & Co. And while this trend might be beneficial for employers with roles that can be conducted away from the workplace, that may be less true for organizations that don't have this option, so the responses are different.
Industries that are primarily onsite and looking to improve attraction and retention have focused on increasing base pay (62 per cent compared to 52 per cent of remote-capable industries), along with focusing on the retention of high performers in critical roles (39 per cent compared to 32 per cent), increasing variable pay (19 per cent compared to nine per cent) and increasing vacation time (17 per cent compared to nine per cent).
"For organizations that are able to offer remote work, it's a huge boon — it's what so many employees and candidates are looking for," says Howard.
"If you're able to offer remote work, you're less likely to be experiencing some of the negative aspects of recruiting that have been increasing, things like candidate ghosting or rejected offers."
For the employers or roles that can't offer remote work, they're suddenly a lot less competitive in the labour market, he says.
"They need to be a lot more creative in what they can offer their candidates and their employees… They're increasing pay more often than organizations who can offer remote work; they're offering more vacation and other perks."
More than eight in 10 (84 per cent) Canadian employers will consider some sort of permanent work-from-home policy, according to a report from Randstad Sourceright.
Is focus on DEI on the decline?
HR continues to play a key role in organizational strategies, says McLean. And when HR is a partner, organizations are 1.4 times more likely to be effective at quickly changing at scale to capitalize on new opportunities, and 1.3 times more likely to be highly effective at generating and implementing new ideas.
HR's role has also expanded, with greater responsibility for DEI, corporate social responsibility (CSR) and environmental and social governance (ESG). However, fewer employers are taking focused actions associated with improved DEI performance, finds the McLean report.
Compared to 2021, there's been no change in the number of employers clearly articulating the link between EEI and organizational goals, along with decreases when it comes: to evaluating inclusive behaviours through the performance appraisal process for leaders; embedding inclusive behaviours into values or competencies; purposefully establishing diverse project teams across the organization; and identifying and addressing pay inequities for underrepresented groups.
In addition, even short-term, reactive initiatives taken last year are becoming less common:
Purposefully sourcing diverse groups of candidates (down from 38 per cent to 32 per cent).
Tracking and reporting on DEI metrics (down from 42 per cent to 36 per cent).
Creating employee resource groups (down from 32 per cent to 30 per cent).
Also of note: Leadership buy-in is on the decline, as 42 per cent or employers have leadership that is committed to modelling inclusive behaviour and championing DEI initiatives -- down five percentage points from last year.
"That was one of the big surprises for us this year was the fact that the diversity, equity, inclusion piece just isn't seeing the uptake that we really expected to."
For many employers, the challenge is not knowing where to start. But for high-performing organizations, the challenge is resourcing and finding the time to do the work involved.
"Sixty-three per cent actually had the DEI added to their portfolio or added to their responsibilities, so it's something that HR is being asked to do, but they're not necessarily being given the resources or the time to do it. And I think that's also a big reason for some of the lack of traction or the lack of momentum that we're seeing in that space."
In addition, a lot of organizations are settling for "We're doing something, and… that may be enough," he says. "One of the areas that should be a focus for organizations and for HR specifically is senior leadership buy-in, really making sure that senior leadership is engaged with this, that they see it as a priority. And that they're really focused on it."
Canadian HR Reporter recently spoke with Gena Restivo, vice-president, HR, communications and sustainability – Canada at AstraZeneca, on the relationship between employee engagement and diversity and inclusion (D&I) strategies.
HR's mental health
Given all the activity and challenges, it should be no surprise that HR is facing high levels of stress. What's concerning is those levels are rising, from 41 per cent in 2020 to 50 per cent in 2021 and 60 per cent in 2022.
However, only 12 per cent of respondents say they have programs or processes in place to support HR professionals. And 58 per cent have no plans to do so.
And we're talking a lot about what's the breaking point and you see the data that goes along with it of the number of organizations that are offering support for HR professionals, and it's very small. So that's something we're thinking about a lot, and we're speaking with our members, but a lot of, you know, what do you how do we deal with that? How do we prevent HR professionals from reaching that breaking point,
a lot of talk about resilience, and there's some really exciting data in the report about resilience and some increases in, in resilience, but resilience techniques only take you so far when your workload continues to increase and increase. So exciting on the one hand to see that HR is so much more involved in the organizational strategy aspect of things. But something we're keeping our eye on for sure. Is this is this workload and stress levels.
Lack of trust in their employer (55 per cent) is the biggest reason why workers are reluctant to come forward to discuss their mental health, followed by embarrassment (50 per cent) and fear of discrimination (40 per cent), according to Sun Life.