Discretionary bonuses still have to be 'fair and reasonable'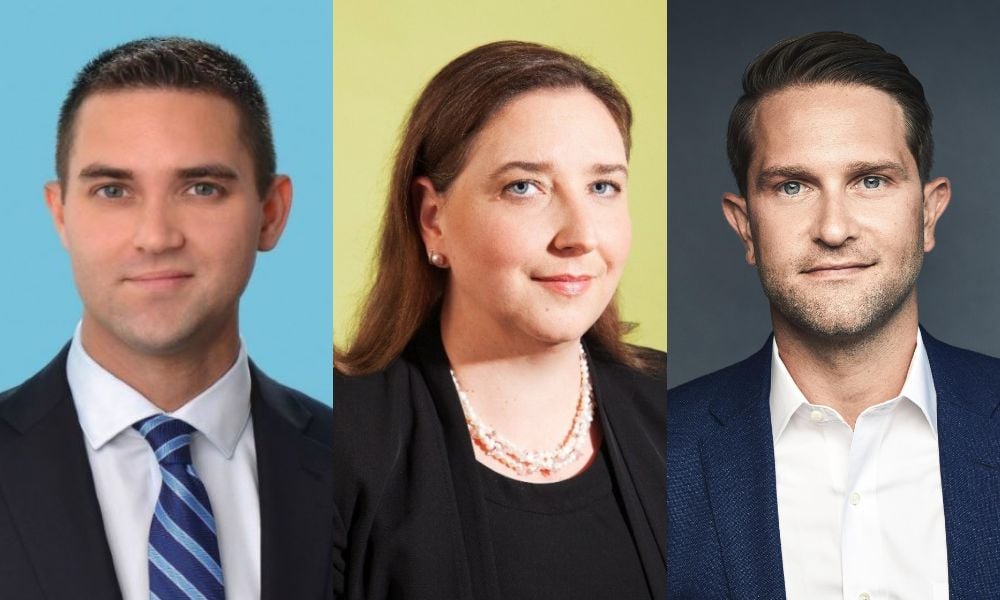 "Don't be unfair to your employees: just because you think you can get away with it, you're going to get caught. And if you get caught, you might have to pay."
So says Fraser Dickson, a partner at Weintraub Erskine Huang, who represented two employees in a recent case along with his colleague, Sara Erskine.
"This is an example where the employer deliberately tried to cultivate ambiguity; they actively considered whether to make the contract clear and then decided not to, because they thought it would be 'better for us if it's not in writing.'"
Termination in 2014 leads to claims
James Bowen and Jonathan Wiesblatt were portfolio managers of a hedge fund that was acquired by JC Clark in late 2012.
They were hired by the new firm, at a base salary of $100,000, working until July 2014 when their employment was terminated without cause after the relationship deteriorated. They were given two weeks' salary plus $577 in lieu of notice.
As a result, Bowen and Wiesblatt sought more than $1.3 million in performance fees, along with a discretionary bonus.
In March 2021, the trial judge denied their claims.
The two men appealed, and in the Aug. 29, 2022 decision Bowen v. JC Clark Ltd., Justice Jill Copeland of the Court of Appeal for Ontario agreed – but only when it came to the discretionary bonus.
The latter was outlined in a provision of their employment agreement, which read: "At the total discretion of the company, you may be eligible for a bonus at the end of each fiscal year depending on factors that include your personal performance and the profitability of the company."
In their appeal, the two submitted that the bonus should be calculated by comparison with the same amounts paid in 2014 to two other employees who were similarly situated after a year that saw "jaw dropping" returns for the fund: $115,000 and $110,000.
In her decision, Copeland said she did not accept the employer's position that the discretionary nature of the bonus provision "means that the employer was entirely unconstrained as to how that discretion was exercised.
"Where an employment agreement provides for a discretionary bonus, there is an implied term that the discretion will be exercised in a fair and reasonable manner."
JC Clark executives said the allocation of bonuses was "purely subjective" and they considered a variety of factors, such as corporate performance, individual performance, attitude, teamwork, seniority and length of service.
"To the extent that this evidence asserted an unconstrained discretion on the respondent with respect to awarding bonuses, it is inconsistent with the obligation to exercise that discretion in a fair and reasonable manner," said Copeland.
Instead, a "fair and reasonable exercise of the discretion" would be to award both Bowen and Wiesblatt a discretionary bonus "in the same range awarded to the similarly situated employees," she said.
That came out to $115,000 each.
Implied terms
Under their employment agreements, the two individuals had a limitation with respect to the amount of notice that they received, which was two weeks, says Erskine, also a partner at Weintraub Erskine Huang in Toronto.
"But JC Clark then took their prior years bonus that was paid to them and prorated and determined what would be payable in the two-week period; that's how they ended up with $577. As a bonus, that didn't take into consideration anything that happened in that year; it did not take into consideration their performance, how well that fund was doing — it was the second highest-producing hedge fund in the country," she says.
"Unless there's very clear language in an employment agreement, [employees are] entitled to receive the bonus that they would have received or earned for the period of time they worked prior to the termination. And JC Clark didn't do that."
When you have a discretionary bonus in an employment agreement, and there are no restrictions or clearly defined restrictions about how that bonus will be paid, "there is an implied term that a departing employee will receive all compensation they would have received, including bonuses, and that the employer will determine the amount of the bonus fairly and reasonably by looking at their performance and their performance relative to their peers," says Erskine.
The courts are pretty sympathetic to employers that are clearly trying to be fair to their employees, and to give them a fair reward for extraordinary performance, says Dickson. "I think that's where JC Clark went wrong here."
What is meant by 'discretionary'
In exercising the payout of a discretionary bonus, the obligation is on the employer to exercise that discretion in good faith, and in a way that is fair and reasonable, says Chris Randall, associate at MacDonald & Associates in Toronto.
"A discretionary bonus is payable at the whim of the employer, and it may be based on a particularly successful year, but… a discretionary bonus doesn't mean you can pick and choose who receives the bonus and the process or discretion that goes into deciding who gets what amount; the discretion has to be, when it's exercised, fair and reasonable."
Often, you'll have a bonus that is tied to key performance initiatives, KPIs, and certain targets, and usually it's written down, either at the outset of the employment relationship or as the employment relationship evolves, says Erskine.
"Discretionary bonuses are left more to unwritten metrics, but there are still metrics by which employees are evaluated and... I think some employers haven't come to full grasp that, despite the fact that it says discretionary, you still have to exercise that discretion, fairly, reasonably — not arbitrarily or capriciously — and you have to treat employees that are in similar situations and evaluate them against the same metrics."
An employer can factor in a lot of things in deciding on the discretionary bonus, as long as those factors are fair, employment related and the same metrics are used for everybody, says Dickson.
"Discretion doesn't mean the wild west; it doesn't mean you can do whatever you want. What it means is you can tweak at the margins, but you can't give your jaw-dropping performers zero when you give your other performers six figures."
Language makes a difference
A big takeaway from the Bowen decision is the need for the employment contract to contain clear, unambiguous language that sets out the entitlements employees will receive upon termination, says Randall.
"That ambiguity, that leads to tension, and that leads to challenges often by an employee who feels as though, at the time of termination, they might not have got what they thought they contracted for or in fact did contract for," he says.
Recent case law in Ontario has clarified this area, says Randall, citing the case Maynard v. Johnson Controls Canada, where the court sent a clear message that unless there's clear, limiting language in an employment contract that excludes an employee's entitlement to RSUs or registered share units, the employee is entitled to all of the RSUs granted during the course of the employment.
If the bonus becomes a term of the employment contract, the employee can point to that as being among the compensation that they're entitled to, he says.
"There's a risk in not including bonus provisions in an employment contract — you might lose a prospective employee — but if that is not in the contract, then the argument that they're entitled to that on a regular basis, I think, is lessened."
It depends on the circumstances and the employment relationship, but if an employer pays less of a discretionary bonus in one year, or doesn't pay one at all, "then there isn't that same expectation, or that same level of it being integral to their employment on an annual basis — similar, frankly, to a non-discretionary bonus."
But even if there's no express bonus provision in an employment contract, "if there is a consistent pattern over years of bonuses being handed out to employees, then that is something that becomes reasonably expected as part of their employment and the remuneration," says Erskine.
It's a double-edged sword, says Dickson.
"You can get dinged if you're trying to play a strategy game by not clarifying what the employees entitlements are. If you clarify what the employee's entitlements are, to the degree of 'Here are the metrics you'll be evaluated on' or 'Here's the formula' or 'You're entitled to such and such per cent', then, yes, you're tied down to that, but at least you have certainty and you can manage your risk."