To combat the stresses of the pandemic, employers can provide much-needed support and leadership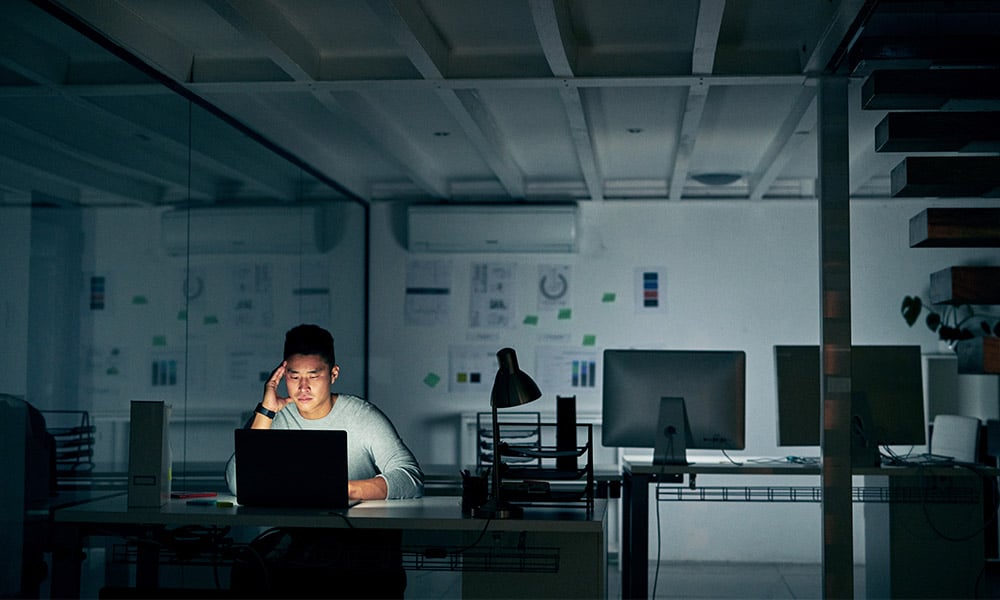 Is Canada headed for a mental health crisis? Considering the hardship and anxiety that has accompanied the COVID-19 pandemic, it's not an unlikely prediction — especially if second or third waves of the coronavirus are still expected.
"This is a moving target for sure; we don't know what all of the long-term mental health consequences will be. But we're already hearing reports of increased rates of anxiety disorder, increased rates of depression… family violence… alcohol consumption… a number of mental health issues seem to be on the increase," says Keith Dobson, professor in the department of psychology at the University of Calgary.
"When the whole pandemic first broke, there was a lot of focus on anxiety and threat: 'What's the future going to hold?' And I think now we know what the future is going to hold. And we're down to more things like depression and hunkering down and just gritting our teeth and getting through it… Without a doubt, we're still seeing continued concern and anxiety about the future."
It's a daunting prospect that employers should be prepared for, given the likely impact on employees when it comes to key measurements such as productivity, engagement, absenteeism and presenteeism and even physical health.
Despite the many unknowns, there are several ways employers can support their workforce through this unprecedented time, by understanding the issues and the impacts and providing much-needed support and leadership.
It also helps to remember how resilient humans can be, says Dobson.
"I've always been impressed by how, in the face of adversity, humans do seem to bounce back."
Understanding the stress factors
One of the first steps is understanding what exactly is causing people to suffer mentally. There are three big predictors of how stressful something is going to be, says Dobson: how predictable it is, how much we can control it and how important it is to us. And COVID-19 involves all three, he says.
"There's the risk of death or illness, of course… and then the loneliness and isolation, especially as the pandemics continue, that's an increased risk for sure… Being socially isolated is a significant risk for depression."
Much of the anxiety is rooted in the uncertainty of the situation and the lack of control, says Shelley Peterson, senior vice president of total rewards at Sun Life Financial in Toronto.
"There's so much change from a personal perspective and your own civil liberties and what you can do; workplaces are changing so quickly in terms of how and where they're operating; and then so much is happening around your family and your friends. That uncertainty and that lack of control, I think, just really increases the strain that's placed on people and that disruption that happens in your regular routines and your regular life just impact you on a day-to-day basis — how you're eating, how you're sleeping, how you're exercising, how you're interacting with people."
Financial difficulties and job loss, of course, are two big challenges, says Donna Ferguson, clinical psychologist at the Centre for Addiction and Mental Health in Toronto.
"It's hard enough managing one stress at a time, but then to have to deal with all of this and to be socially isolated on top of it has really been challenging for people."
The growth of remote work has also meant more people are living in close quarters with family or roommates, she says.
"There's sometimes a bit more angst in the home — people aren't getting along the way they normally would; it's tough to be self-quarantined together. It's good when you have the choice to be home or not, but when that choice isn't there, it really is challenging."
Plus, it can be harder to maintain boundaries between work and personal life when you're home all day, says Ferguson.
"That's another thing to keep an eye on. And that can creep into your personal time, which can cause extra stress, which obviously leads to mental health difficulties down the road."
And if a partner has lost their job, there are additional stresses, says Denis Trottier, chief mental health officer and retired partner under contract to KPMG in Ottawa.
"Now I am putting that self-imposed additional pressure on me to make sure I'm doing a super good job so that I don't lose mine because I'm the breadwinner."
Plus, it's hard to avoid the negativity of media reports, he says.
"When you watch the news and you see all these body bags being loaded in a refrigerated cooler, how can that not mess with our mind somehow when we go to bed? It's like looking at war stuff."
Mental health consequences
Just like physical health, people don't always take care of their mental health and make it part of their daily routine in developing coping skills, says Trottier.
"A lot of people [think that] their mental health is just there and it just happens on its own. So I worry a little bit about the impact: When are people hitting the bottom of their bucket in regards to resilience?" he says. "Maybe you got by on wave one [of the pandemic] and you were OK. But wave two now, is it just way beyond what your resilience can handle?"
Stress doesn't equal mental health disorders — it's long periods of improperly managed stress that can lead there, says Trottier.
"Depending on how people are coping with the stresses of workplace and all the other things… will that lead to anxiety, depression and many of the other mental health illnesses?... That's a million-dollar question."
Some people have built-in resilience and are managing through good adaptive coping strategies, says Ferguson.
"But others who might have been on the brink before or teetering may struggle a bit more and really need to have to, in some cases, check in professionally."
The irony is that when someone has clinical depression and cognitive behavioural therapy (CBT) is used, they are encouraged to be social and connected, she says.
"[Now], they're struggling with trying to keep safe and following the rules, and then they're struggling with being isolated and being alone and not really connecting with people in the way that they want."
Generally, people who are already struggling are going to struggle more, says Dobson.
"People who already had precarious economic circumstances, if the economics get worse, are going to suffer more. And for mental health issues, people that are already disadvantaged — whether it's because of poor education or language problems or prior mental health issues or almost any kind of diversity issue — these will be individuals that tend to suffer the worse when times get worse."
There's even been talk of people suffering from post-traumatic stress disorder (PTSD) because of the negative effects of the COVID-19 pandemic. But the definition of trauma is somewhat problematic here, says Dobson.
"When you look at it from a formal mental health literature perspective, it usually should be something that's acute, something that's potentially life threatening, something that has a terror quality to it. And I think the pandemic doesn't really have those characteristics."
If a person became infected and was close to death, then there could be a trauma-related response to that, he says, and health-care workers on the front lines could also see increased rates of trauma potentially — but for the general public, it's unlikely.
Unfortunately, some people will end up self-medicating, which is the worst thing to do because alcohol is a depressant on the central nervous system, says Ferguson.
"People will self-medicate with drugs and alcohol at times because… they might be having difficulty sleeping and they think that's a good fix. And it's a temporary one, but it's not helping you in the long term."
Others may start to have appetite difficulties or sleep too much, she says.
"They call that hypersomnia, so it is a form of a typical depression where they don't want to get out of bed… so that's something to watch for as well."
There's also this constant fatigue, where people just can't get motivated to do things like everyday chores, says Ferguson.
"You don't want to cook, you're barely eating, you're barely functioning… in the way that you should be normally — that's the time where there really is an issue that you have to look at getting help for.
Solutions include virtual care, group discussions
Sun Life has always had a strong focus on mental health, says Peterson, which includes free and confidential counselling for employees and their families, along with cognitive behavioural therapy (CBT) digitally for employees to learn about how they think and feel to build mental resiliency.
"It is my expectation that people will really turn to that kind of virtual care faster in this environment," she says. "That's absolutely something that we are paying attention to and we're promoting with our employees."
Virtual mental health can be very effective in making those important connections, says Ferguson.
"I understand it's not in person, but you're still having very effective sessions and you can send materials back and forth through email," she says. "There's a lot of ways that you could do this professionally."
But the shift toward telepsychology or distance therapy is a good second best, says Dobson.
"It's not the same as providing live services," he says. "People that either don't have access to technological ways of communicating, don't feel comfortable with it or sometimes even try and maybe aren't successful or don't get the response they want, they might just give up."
Employers might also want to point employees to self-assessment tools such as that offered by the Mental Health Commission of Canada, says Dobson.
"It looks at behavioural well-being, mental well-being, emotional well-being, social well-being and substance use — so different domains of functioning."
The pandemic situation is also a good opportunity to relook at employee benefits such as those for mental health. KPMG, for example, provides $2,000 each year and has opened up the definition of who qualifies, says Trottier.
"If you go look at your benefits sometimes, unless the person has 12 degrees besides their name, they're not approved. Why? [So], now social workers are covered, psychologists are covered… psychotherapists, I think, some newer counsellors now are covered."
Another way to support employees is by offering them a place to come together to discuss their challenges and successes. Sun Life, for example, has set up a group on Workplace for Facebook for employees with young children, says Peterson.
"[They] can connect with one another and share strategies and maybe share some pain and get some support around that."
KPMG also has created a "home alone" network on Microsoft Teams, says Trottier.
"It's really a forum to stay connected, but people are posting uplifting stories and humorous items, social hangout stuff and it's kind of neat having 8,000 employees across the country [who] don't know each other."
Leader support important
It's also important for employees to be alerted to fundamental resources such as an employee assistance program (EAP). Peterson says she recently shared with her team that she called the EAP about a family member who was struggling and found it helpful.
"That's risky for leaders, it puts you in a vulnerable position, but I had a lot of people come back to me and say they really appreciated it, sharing that personal story. And I had some people come back to me and say, 'I hadn't thought about the EAP, but maybe it could help me with this situation that I'm dealing with.'"
Along the same lines, Sun Life has been sending staff weekly video messages from the CEO and executive team during the pandemic, encouraging people to do their best, take breaks and keep mental resilience in mind. In these videos, the leaders welcome people into their homes, sharing their own challenges and approaches to mental wellness, says Peterson.
"Employees want and need and benefit from that additional communication; we'll keep doing it through the pandemic and that's one of the areas that I think is going to be a sustained change in how we communicate with our employees in that it may be more frequent, more informal, more willing to take questions," she says. "It's a new era of communication going forward."
Sun Life also put out a tip sheet for leaders around having those important conversations with the people on their team, creating that connection and that space to get past "I'm fine" and find out how they're really doing, says Peterson.
"We're trying to help both employees but also leaders identify what might be some of the signs of strain, whether it's low energy, irritability, sadness, poor concentration — there's some specific things that we could be looking for if people aren't quite themselves."
Companies have seen really good successes when their leaders are not afraid to show vulnerability, says Trottier. KPMG, for example, has had a video series called "This is who I am" featuring leaders being interviewed and sharing their lived experience.
"We all have a personal battle, but the day that we're brave enough to talk about it and share it is where I've been seeing the best impact and getting traction on the mental health threat by far," he says.
It's also so important to be checking in with employees to see how they're doing, says Trottier.
"[It's about asking] 'How are you? Really, how are you? Is everything OK?'... and not being afraid to show vulnerability because in the professional [world] sometimes, especially the more senior people, it's almost by human nature, you forget you're human as well."
That can also help with retention, he says. "Employees will remember how they were treated, so that humanity around mental health and just being there for people is critical."
Oftentimes, when people start to struggle, they tend to pull away and become somewhat more elusive, says Dobson.
"That's the time when the manager has a special responsibility to recognize the change in functioning and to potentially ask for a one-on-one meeting with the individual," he says. "There's a fine balance between people's rights to privacy versus their responsibility to the workplace. And depending on the nature of the workplace now, people have to find that balance."
That connection should continue when people get back into the office, to see how they're making the transition, says Ferguson.
"It's well worth the investment."
---
FEDS PROVIDING MUCH-NEEDED MENTAL HEALTH SUPPORT
56%
Number of Canadians who say COVID-19 is having a negative impact on their mental health
66%
Number of Canadians who cite social isolation as the number one reason
60%
Number of Canadians with mental health challenges who are not receiving treatment or social support
$240 million
Canadian investment to develop, expand and launch virtual care and mental health tools
Source: Sun Life
DEPRESSION LEVELS RISE BUT FEWER PEOPLE SEEK HELP
16%
Number of people reporting high levels of depression — up from seven per cent before the pandemic
42%
Number of people accessing mental health supports today — down from 52 per cent before the pandemic.
43%
Number of 18- to 34-year-olds with higher anxiety — compared to those 55 and older (27 per cent)
Source: Mental Health Research Canada (MHRC)
ONTARIANS FEAR IMPACT OF COVID-19 PANDEMIC
69%
Number of people who believe Ontario is headed for a mental health crisis as it emerges from the pandemic
79%
Number of people who worry about what the future will look like after the outbreak is over
87%
Number of people worried about the impact of the pandemic on the older generation
71%
Number of people worried about the impact on the younger generation
69%
Number of people concerned about the impact the pandemic has on their personal finances
36%
Number of people more likely to feel their mental health has worsened than their physical health (26 per cent)
Source: Canadian Mental Health Association (CMHA)