'If you're taking a week-long vacation, we'll let you take another week of vacation where you're only working 50 per cent of your normal hours'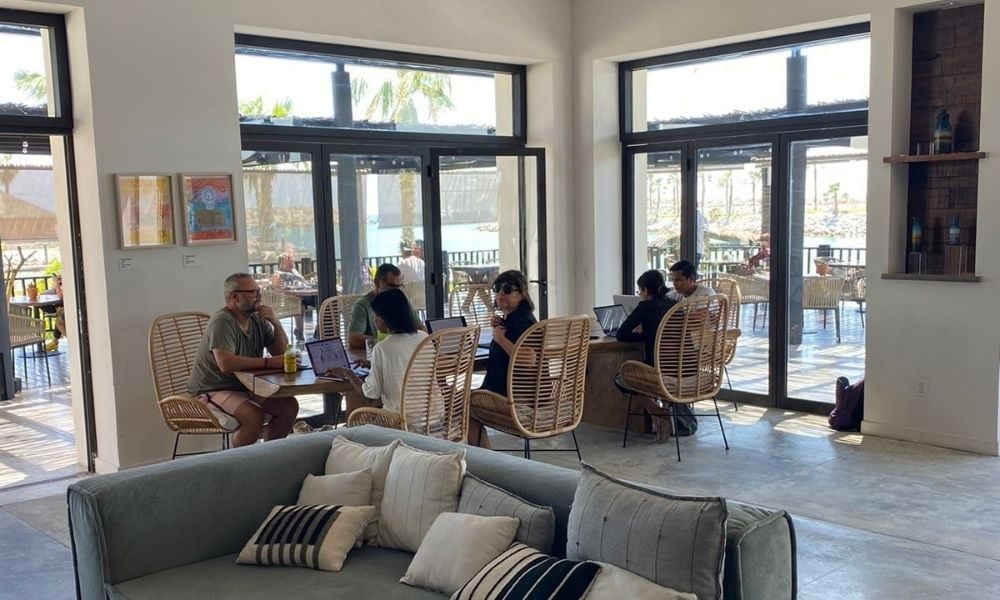 To combat some of the ill effects of the ongoing pandemic, could workcations be the answer?
A workcation is when employees travel to a vacation-related place and work during the day but then sample the local offerings after work. It could be a cottage or a resort and the idea seems to growing in popularity.
As proof, 38 per cent of generation Z workers and 35 per cent of millennial employees are the most likely to take a workcation in 2022, found travel search engine provide KAYAK. Overall, 27 per cent of workers felt this was a good idea.
"There's no shortage of us who live and breathe travel every day, wondering what the return of business travel is going to look like and we know it's not going to be the same than it was but maybe it's morphing into something a little bit different," says Matthew Clarke, vice-president of North America marketing at KAYAK in Stamford, Conn.
The survey heard from 1,000 employed Canadians in December, and also found that 25 per cent felt burned out while the same number had thoughts of quitting their jobs.
Another 28 per cent of survey respondents believed that a change in scenery would alleviate some of the negative effect of the pandemic and to help stem that negative tide, so many employers might consider offering these types of programs, says Clarke.
"It's great to be able to experience new things and be able to — when you clock off at five o'clock — not head down to the kitchen for the fifth snack of the day and instead go out and explore somewhere new. And the fact that employers are enabling that, it's going to be really positive for employee wellbeing and mental health since the blending of work and home life has gotten so murky for so many of us."
More Canadians took more time off in 2021 versus 2020, according to an ADP survey.
Employer sees success in offering workcations
For Toronto-based retail commerce provider Tulip, offering workcation opportunities was a way to differentiate itself to potential candidates and increase retention and satisfaction.
"What we decided to do was if you're taking a week-long vacation, we'll let you take another take another week of vacation where you're only working 50 per cent of your normal hours," says Marco Osso, vice-president, employee success at Tulip. "If you're in a cottage for a week, you can stay for another week and work from nine till noon or 10 to one, and then still enjoy the cottage for the rest of the day."
The company announced the offering in late 2021, and the response is positive from employees, he says.
"It's basically almost like another two-and-a-half days of vacation that allows them to take a week off; and sometimes by the end of the week, you're just starting to relax and unwind — this allows them to come back to work but not that 35- or 40-hour workweek, so they can get back up to speed a little bit more slowly and get back into the work mindset without being thrown right in on Monday at 9 a.m."
It's hoped the initiative will lead to an increase in employee wellness and engagement, as well as just productivity.
"At the end of the day, if they're using a little bit more vacation time, hopefully they're coming back refreshed and recharged," says Osso.
The plan has also come up in conversations with potential new hires.
"It's definitely something that's been resonating with the market. We've had candidates who look at our website and in the interview process, comment about how great it is and they're really excited to take advantage of a perk like that."
Remote work in cottage country
A trip to Vancouver in 2020 inspired Tricia Jose, co-founder of Mamalli, and her partner to run a workcation business once they returned to Ontario.
The company offers employers and individuals the opportunity to work in local resorts and cottages in the Muskoka tourist region.
"It's focused on attracting people who are remote working into Muskoka for one to four weeks across a variety of accommodation partners and just demonstrating that there is a lot of value in being out there and changing up your work style."
So far, the reaction has been encouraging from participants, she says.
"The response has been tremendous. It was cool that there was a group of colleagues that went up together from a consulting firm and they found that it was a really great way for them to collaborate with each other in a space that allowed them to also spend time with each other. That was a really interesting, unexpected case of people who wanted to gather and work together but also wanted to spend time with each other outside of your traditional office setting."
It also expanded into offering similar workcations in Cabo, Mexico, says Jos, and they hope to expand to more of a subscription-based offering in the future.
"Remote work is a wonderful development but, at the end of the day, people crave connection and they crave new environments and experiences. It's about finding the balance and how to do that in a way that allows people to make the most of living or working from home and remote work and making it work for them."