Looking to balance cost cuts with employee health, employers have been busy assessing benefit offerings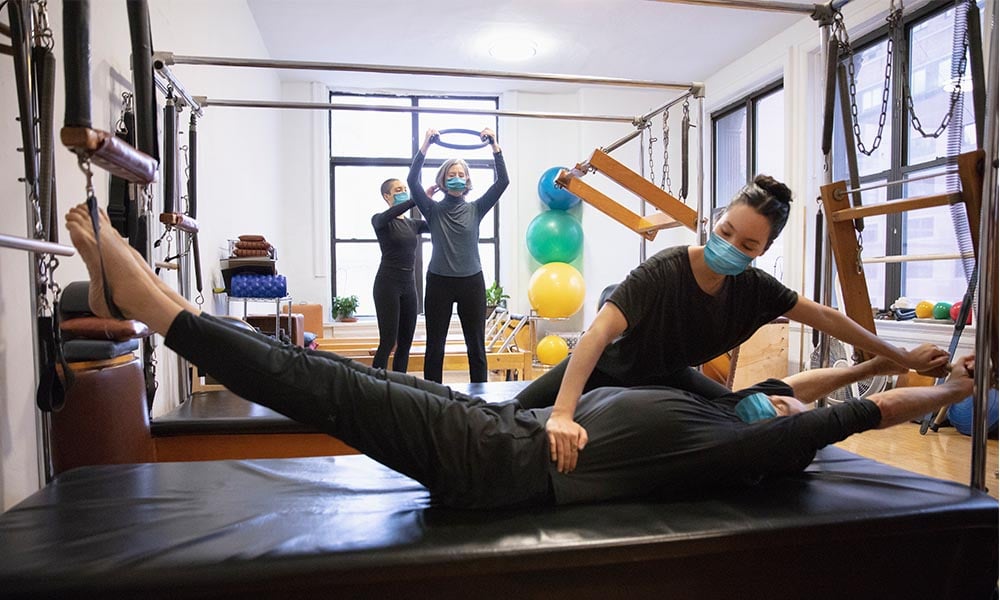 Amid all the turmoil of the pandemic and its impact on the workplace, employee benefits have taken centre stage, not just because of employee health but because they add up to a sizeable expense in the midst of a bleak economy.
But in looking at how employers have responded so far — and how they should be responding going forward — experts say now is a great time for a reappraisal.
This pandemic has pretty much changed everything for employers, says Paula Allen, senior vice president of research, analytics and innovation at Morneau Shepell in Toronto.
"It's like a big asteroid in what we have as expectations, what we see as risk, what we see as needs and, certainly, benefits are definitely a part of that because people's health is essential to a lot of conversation," she says.
"Whenever you have any kind of crisis or whenever you have any kind of change, it's an opportunity for the best of fresh starts, which is to think about, really, what is the most positive approach that you can take to make things better for your workplace and your people, as opposed to just meeting the minimum need?"
The turmoil of the pandemic provides a great opportunity for a reset, says Chris Gory, president of Orchard Benefits in Toronto.
"It's a great opportunity to take a step back and say, 'What do we need to actually support everybody?' Because this is not going away. Look at how bad the numbers are up in Ontario, right back in the triple digits all week. And I'm fearful of what's going to happen with [opening] public schools and colleges, universities. So, it's here to stay."
Cost-cutting concerns
Coming into the pandemic, employers were in an all-out war for talent in most industries, and there was record unemployment, so there was not a lot of time and attention focused on costs, says Matt Houghton, CEO of GroupHEALTH Benefit Solutions in Surrey, B.C.
"[Now], people are trying to take that approach of 'How do we actually look at all of our costs and make sure that we're getting value? And if there are possible ways to reduce waste, then let's go ahead and quickly execute on that.'"
A lot of employers are feeling the pinch of COVID-19 and figuring out how that is going to impact their employee benefit programs, says Noel MacKay, principal consultant at Cowan Insurance Group in London, Ont.
"What are they going to keep in it? What are they going to add to it? What [are they] going to take out of it — relative to just the financial aspect of all of this — to stay afloat?... What is really important to have in the plan? Do I have it and how can I repurpose the spend I have now to get to where I want to go?" he says.
"Will we see more repurposing of the employer's employee benefit plan dollars? I think we will and I think it's overdue."
Paramedical trends
The events this year have really shone a light on protecting health more than ever before, putting prevention centre stage, says Donna Carbell, head of group benefits at Manulife in Toronto.
"The pandemic has really created what I think is a new evolution to health and safety in the workplace… There really has been a real focus on maintaining the health of the employee population."
When many businesses were shut down, Manulife provided plan sponsors with premium relief, she says.
"Interestingly, as things were reopen-ing, we really weren't sure what to expect, because we weren't sure whether some of the safety protocols that some of the treatment providers would have would put a strain on the volumes of patients they could see. We knew there was a bit of a backlog and people were anxious to get back to their regular routine," says Carbell. "We've actually seen our volumes come right back up to pre-COVID levels... and, in some cases, a little bit more."
But gauging whether these trends will continue is another matter.
"It's ever so sobering. I've never felt predicting has been so challenging," she says. "It's possible that as this levels out in the next few months, we'll have a different trend that we'll evaluate. And a lot of times, the conversations I've had with plan sponsors is to try to anticipate that."
Not surprisingly, on the health and dental side, there was a real drop in activity among paramedical practitioners as all services, other than emergency ones, pretty much ended. But with the summer, that lull was over, and practitioners were back to 2019 levels, while dental was on the upswing, too, says MacKay.
"The longer we're learning to work under the protocols for the paramed practitioners and the dentist, the volume issues will be fixed and we'll be back to where we were in the past."
However, it's not yet clear how many of these services are being accessed in person or virtually, he says.
"For example, you can do virtual physiotherapy. How much is that actually being used in claims relative to the old school way of getting physiotherapy services? We don't know."
Virtual care continues to climb
With the effects of the pandemic not going away any time soon, practitioners are thinking outside the box, says Gory, coming up with solutions that include virtual physiotherapy and even triage dental. "We've seen more change in the benefits space since COVID hit than we have in the last three years."
The whole access to digital solutions has changed the offering, says Julie Duchesne, a partner and Mercer Marsh benefits leader for Mercer Canada in Montreal.
"A lot of employers have implemented digital psychologists, digital mental health support and so forth… There's lots of solutions [such as] digital gyms, fitness apps… that you can access from anywhere at any time," she says.
"I would think that this is going to become the norm because employees are used to that, and their lifestyle has changed... That's going to have a long-term impact on the benefits."
Virtual care is to be table stakes, and it will likely become a cornerstone of a good benefit plan for people going forward, says Houghton. And the pandemic has massively accelerated that trend.
"We're seeing a lot of doctors that before may have been reluctant to participate in the virtual health-care models are finding that it allows them the flexibility to work from wherever they want and work the hours that they want."
Plus, the costs for this type of service are continuing to come down as the volumes and adoption rates rise, he says.
"Most employers can quickly look and say, 'Hey, if I have an employee that has to take four hours off to go and sit inside a walk-in clinic to get something done, and they can do it in five minutes over the telephone or the computer…' whatever that cost is, it's quickly rationalized."
The adoption of a virtual treatment program on the mental health side has "been terrific," says Carbell, with regular treatment providers, such as primary care physicians, also going virtual.
"I'm hoping that that has some legs to be able to continue on because it's really provided a quicker access."
Focus on mental health, EAPs
On the mental health services side, all employers of choice have jumped in front of this and brought it to the forefront, says MacKay.
"If they had any EFAP — employee and family assistance program — they started really heightening the services of that to their employees [or] they were looking to add things to make it easier to access services [like] virtual cognitive behavioural therapy," he says.
"We were going to get to these newer things eventually, but with the pandemic, we just leapfrogged the introduction and commercialization of a lot of these things because the need was there, so let's get it out. Now the big question is what kind of legs will these things have? Will they stay in place as we go down the road? I think they will. But the proof will be in the pudding."
It's been interesting to watch employers' reactions to the economic downturn, with some scaling back benefits coverage while others doubled down on mental health practitioners, says Gory.
"Some employers said, 'Hey, we really want to focus on mental health, and let's add things like psychotherapy to coverage.' So, yeah, I'm seeing a lot; EAP usage is up."
Many companies are also reevaluating their EAP providers on what they're offering in terms of virtual care. Others have inquired about taking out the mental health components under paramedical and putting it in a separate bucket, he says, "so taking like psychology and psychotherapy and giving that a separate maximum from physiotherapy and massage and acupuncture."
A majority of organizations continued benefits during the layoff period, and some even added additional support; for example, providing access to an EAP for a year instead of one to three months after a layoff, says Allen.
"One of the great things that's happened with the pandemic is we've really seen a resurgence of empathetic leadership, which is so important in trying times and in any times, actually," she says, adding that some employers are providing EAP access to newer job categories such as part-time workers, "knowing that it's a trying situation."
For several years, disability was the big motivator behind those kinds of changes, says Allen.
"I'm really seeing a shift to '[We're] just making sure that we have that productivity, that we keep people up.' The crisis has really brought home to employers how important employee mental health and well-being is just in their ability to function every day."
Disability trends
As for the area of short- and long-term disability, it's been interesting to see the effects of the lockdowns, says MacKay. For example, with STDs, it was about figuring out if some of the claims were genuine in the early days.
"Everyone was trying to narrow down what qualifies for someone to be off work," he says. "Some providers actually coded it as COVID-19 while others may have just put it down as a respiratory [issue]. So… we did see some spiking in short-term disability claims activity."
But it's anticipated that the virus will have an impact on LTDs, probably more so on the mental health anxiety side, says MacKay.
"If someone did have COVID-19 and it made its way to an LTD, how reluctant are they to come back to work, from their own personal health perspective? And what kind of mental health issues are they creating?" he says.
"Or if someone else was off on a long-term disability claim and they are now immunocompromised, are they willing to go back to the workplace? And how is that impacting their mental health? That's yet to be seen though that's a pretty big blip on everyone's LTD radar: What is our claiming activity going to be and the duration of claims relative to COVID-19 from a mental health perspective?"
The two big drivers of disability have always been m ental health and musculoskeletal issues, such as repetitive strains, says Allen.
"With so many people working from home, the risk of that is extreme because people don't follow ergonomic principles at home — a lot of people can't because they're in cramped situations and they're not really aware of what they should be doing. And we're already seeing people complaining about pain and aches and things of that sort."
That's why it's important for employers to be investing in services that are pre-ventative, as they would for mental health, to help people cope with the new situation, as opposed to just waiting for the pain and seeing a chiropractor, which is the traditional benefit model, she says.
In addition, some surgeries were delayed because of the lockdowns, so people's situation has worsened as a result of the delayed intervention, says Allen.
"With all those things, I think employers are very wisely preparing for the potential for an uptick in short- and long-term disability."
On the other hand, when the economy was really in shutdown mode, there were fewer accidents reported, says Carbell.
"We've seen a bit of ups and downs in different places, and… many industries are impacted differently."
Looking ahead
Looking ahead, there are a few newer areas in the benefits realm that could see a boost in activity. For example, there is definitely greater concern about long-term care, says Allen.
"There's more interest in programs, insurance programs, savings programs, subsidy programs that support home care," she says. "This is something that's not brand new, but… that's been accelerated as a result of the pandemic, because employees are seeking that."
This is a good opportunity for a positive design approach, says Allen.
"Think of the best you can do for your people, as opposed to just managing their risk. Think about how you can encourage people to be at their best and to be at their healthiest, and to promote well-being, as opposed to covering crisis expenses."
Some employers have also layered on health-spending accounts (HSAs) to the benefits plan, says Gory.
"Instead of actually adding on psycho-therapy or what have you, they're saying, 'Hey, let's just add on HSAs and people can use it for psychotherapy or maybe an additional massage because they don't have a great environment at home to work at or maybe psychology, what have you."
One employer is even considering adding COVID antibody testing as an eligible category under the wellness portion of their HSA because it's a blood test, he says.
Another benefit that's going to be topical is vaccines, as many plans still don't cover these, says MacKay.
"It's an investment in not having a short-term disability claim or lost productivity for someone being off with pneumonia or suffering shingles and the long-term effects of shingles. These are just a couple of examples of how plans need to start becoming much more preventative than just reactionary."
The average benefit plan costs in excess of $3,000 per employee per year, although they can range anywhere from $800 to $7,000, depending on what's in them, says Houghton.
"At an average cost of $3,000 per employee, it is reaching a point where I think it's getting harder to ignore — you really have to spend some time on it," he says. "With 10 employees on an average plan, it's a $30,000 expenditure. So, I think the pandemic probably accelerated that. But I think that's a trend that we've been seeing more and more of."
And this is largely influenced by the combined costs of rising disability claims, specialty drugs and paramedicals that are becoming more normalized in society, says Houghton.
"In a lot of ways, they provide a lot of value, but it is something that [employers] have to get tight controls on so that it doesn't drive your benefit costs to a point where you can't afford them."
And price is driven by claims, while the claims are driven by plan design, he says.
"If you really want to fundamentally look at putting good cost containment in, it starts with your plan design and your adjudication practices and that'll flow through and, typically, be the gift that keeps on giving."