A new Canadian standard is hoping to address the entire employment cycle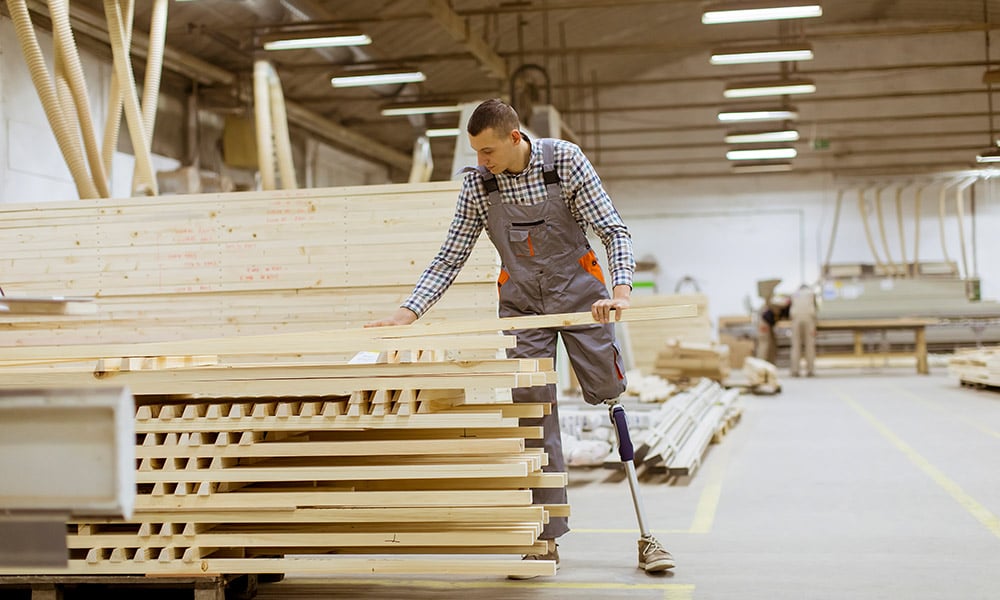 Always a challenging area, disability management is a big focus for a lot of organizations faced with the prospect of ailing employees. And yet, many employers lack the insights or strategies to properly manage the issues.
To that end, the Canadian Standards Association has introduced the CSA Z1011 Standard, Work Disability Management System to provide a framework for employers in preparing for and responding to work disability.
"Disability prevention management varies quite a bit. It can be piecemeal, and it's often not based on an organizational-wide approach," says Nancy Bestic, director of health and safety standards at the CSA Group in Toronto.
"The standard was created to provide a framework for organizations to prepare for and respond to work disability. It specifies what's needed to create a work disability management system — and that includes hiring and retaining workers with disabilities throughout the entire employment cycle."
Plan sponsors really struggle with disability management and the different challenges, says Georgia Pomaki, leader of mental health disability specialists (part of group disability claims) at Manulife in Vancouver, especially when it comes to understanding the roles and responsibilities of the different stakeholders.
"It really is a key struggle for employers to understand where they need to step in or how they need to collaborate with everybody else that is supporting the employee."
That's especially true when it comes to employees with mental health issues, so the standard is very welcome that way, she says.
"Employers have a lot of questions about: Should we contact the employee while they're off on a disability leave? How should we accommodate? What is our role in accommodations? When should that be offered? What are the things that we can do to perhaps prevent an absence and keep the employee at work?" says Pomaki.
"The standard really provides very helpful answers to these questions and… some very specific how-tos and practical help, which I think is very needed."
This standard tries to provide an opportunity to change the culture regarding disability management, she says, "a culture where employers see this as an opportunity to support employees and to be more effective also in that support. So, I think this is more about a culture change [with] very specific supports and practical help."
Policies, procedures, practices and guiding principles
The continual improvement cycle of the standard is comprised of four modules, known as "Plan — Do — Check — Act." The cycle is undertaken on a periodic basis, with new management system targets being identified, implemented, evaluated and assessed each cycle, following the successful achievement of previously set targets, says the CSA Group.
The standard includes policies, processes, programs, procedures and practices around: planning, developing, implementing and evaluating a work disability management system within the framework; recruitment, hiring and onboarding of workers with disabilities and the health and well-being needs of workers throughout the employment lifecycle; and requirements for competencies of persons playing key roles in the management of work disability and training appropriate to their level of involvement.
It also uses several guiding principles as a foundation:
an evidence-informed, data-driven approach that is strategic in nature
a focus on inclusion and accessibility to promote engagement and belonging
a worker-centred, supportive approach that is contextualized and case by case
accommodation and timely and safe return to work
the joint responsibility of organi-zational management, the worker/workforce and worker representatives
legal compliance
The whole world of disability manage-ment in the broader sense has developed over the years and means different things to different people, says David Brown, corporate medical director at CIBC in Toronto.
"It's got overlapping and sometimes competing interests, and that depends on the stakeholders' point of view. So, I think the whole notion of the standard brings a common understanding of the issues, uses a language and a set of principles and… a management system that helps guide us through it all," he says.
"Whether it's organized labour, whether it's academia, government, business, the whole [CSA standard] was built by consensus, which means you don't absolutely have to agree with everything but we're trying to find that middle ground… I feel really comfortable about how it meets the needs of each of these stakeholders in a very coherent way."
Up until this point, work disability management had all been developed through isolated silos, whether it's hiring practices, disability management or accommodation, says Brown.
"They may do very well in certain areas, but there's not a commonality across it all. So… it's an exercise of stepping back and saying, 'OK, what do we really want here? How do we want our employees and actually our larger community to feel about this?'"
However, while the new standard reconfigures the knowledge that's out there in a different way, that doesn't mean organizations will be onboard, says Wolfgang Zimmerman, executive director of the National Institute for Disability Management Research in Port Alberni, B.C.
"It's a great tool… but how do you get employers to actually buy into it?" he says. "As with anything else, you can lead a horse to water, [but] you can't force it to drink.... unless somebody is willing to actually drive this and say, 'This is what we want to do. And this is part of our toolkit.'"
Focus on flexibility, mental health part of equation
When it comes to disability management, it's also important to build flexibility into the equation, according to Pomaki.
"On the one hand, you have a solid structure of disability management as a whole system that has the right people in the right places with the right knowledge and then also a guide about what needs to be done when. But when we go through a particular case of a worker that needs support, that's where the tailored and flexible approach actually needs to come in [so], 'For this employee, this needs to be done, but for that employee, other measures need to be taken,'" she says.
"There are no two people or two health events that are the same, so that's where the flexibility comes in. [And] the success of the flexibility of that tailored approach really relies on how solid the structure is that surrounds [you]."
And when it comes to employees off on a mental health leave, employers may find it awkward and have concerns about the communication, says Pomaki.
"The standard emphasizes that connection with the employee while they're off work is very important because it does go on and maintain the connection with the workplace and, of course, conveys the message of that, of care and support. And it has to be done in an appropriate, supportive way."
There are also challenges when it comes to employees with mental health issues staying at work and remaining productive, she says.
"One of the key issues is, of course, the issue of stigma and the stigma surrounding mental health disabilities. So, this standard really comes to help employers to say, 'You can be proactive with helping employees, independent of what their health issues are, whether they're physical health or mental health issues, and provide some very specific, practical support."