Two reports show many people challenged by debt, money management, financial wellbeing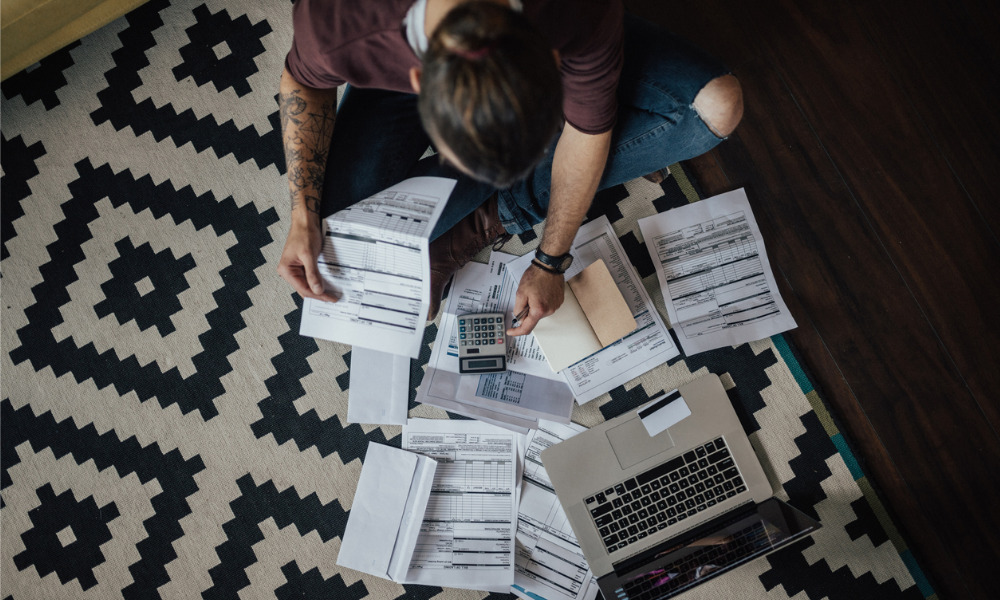 Many Canadians may be risking their financial health as the world slowly moves out of the pandemic, according to a report from the Canadian Payroll Association (CPA).
As the economy reopens, 57 per cent of Canadians are planning to begin spending at pre-pandemic levels on social activities, with 68 per cent looking to increase their travel expenses to pre-pandemic levels.
"The economic recovery relies on increased spending, so spending isn't a bad thing," says Peter Tzanetakis, president of the CPA. "The risk, as it relates to the financial wellness of working Canadians, is in individuals spending beyond their means. If spending means abandoning saving entirely or racking up long-term and/or high-interest debt, gains made could quickly be reversed."
Many working Canadians admit that they continue to struggle with debt. One in 10 of those with credit card debt say that they will need more than five years to pay it off, with another 35 per cent saying they will need between one and five years.
Currently, 43 per cent say that making the minimum payment on their debt prevents them from saving money. Another 43 per cent say they "feel overwhelmed by debt."
"When it comes to financial wellness, this moment between the 'COVID reality' and 'new normal' is a critical tipping point for Canadians," says Tzanetakis. "If some of the behaviours forced upon us during lockdown are not transformed into habits – and our survey shows for many, they will not be – working Canadians may once again be faced with the stresses of mounting debt and living paycheque to paycheque."
Thirty per cent of Canadians who indicate that they experience financial stress say that financial stress decreased their motivation at work, and 16 per cent say it drove them to seek new employment, according to the CPA.
Nearly one in three (32 per cent) of organizations are accelerating their strategy to improve the financial wellbeing of employees ─ but 25 per cent are decelerating that strategy, according to a separate survey by Willis Towers Watson.
Education appreciated
These days, only 32 per cent of Canadian employees are offered personal finance education related to their personal circumstances and interests as an employee benefit, and 65 per cent do not believe their employer is interested in helping them achieve their financial goals.
And in the wake of the COVID-19 crisis, 38 per cent of Canadians feel anxious about their financial situation and 26 per cent feel ashamed, according to a separate study from nudge Global, based on a survey of 11,500 adults in July in 17 countries including Canada.
Just 11 per cent of Canadian employees learned how to manage their money at school or through a course and 32 per cent say no one taught them how to understand and manage their money.
Many Canadians may not be getting reliable information about financial wellbeing, which leads to greater stress, according to a separate report from LifeWorks.
Improved savings
Encouragingly, more than 40 per cent say they put more than 10 per cent of their salary towards savings, up from 34 per cent in 2019, according to the CPA's 2021 Annual Survey of Working Canadians.
Many are also now able to come up with $2,000 (79 per cent) or $20,000 (48 per cent) in the event of an emergency. Seventy-one per cent of working Canadians also indicate they now spend less than their net pay in a typical pay period, an all-time high and an increase of 11 per cent since 2019.
And just 36 per cent are living paycheque to paycheque, the lowest at any time in the past 13 years.
Canadians have been able to do all these because they have lower work-related expenses (51 per cent) and they are spending less on discretionary expenses (72 per cent), found the survey of 5,389 working Canadians in May and June.
Almost one in five (18 per cent of) Canadians aged 50 and up are planning to push out their retirement date, according to a separate report from RBC.