Employers such as Cossette, hungerhub embrace flexibility of shared spaces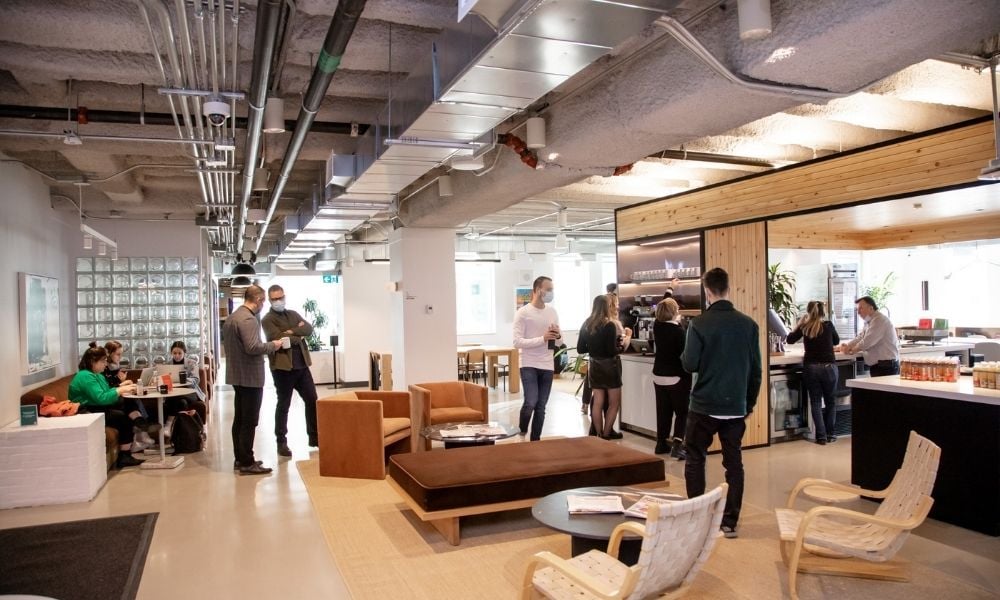 When Sari Abdo heads to the office, he has a few options to choose from.
As co-founder and CEO of hungerhub, Abdo rents out coworking space for his company, so he can choose from a different location and a different space at that location each day.
"To be honest, I was there yesterday and I didn't even go up to our office, I just went straight to the lounge area and grabbed a coffee and worked in the main coworking area."
A small company that specializes in corporate catering, hungerhub was used to providing flexible, remote work options, so the move to coworking made a lot of sense. The 30-employee company has its own dedicated office space where it can leave computer equipment, for example, but it also has access to shared areas such as lounges and meeting rooms.
"Altogether, the costs would have been higher with an office space, and... it's how people are working, utilizing this hybrid remote work. I think it would have been a little bit of a jolt to their system to be like 'OK, now you're coming to work and there's one place you can work out of and one place only,'" he says.
Ad agency appreciates flexible options
In terms of the recovery, there's a lot of interest in coworking now, says Adrian Joaquin, founding partner and CEO at Workhaus, which provides coworking space.
"I very rarely talk to anyone who wants to come back to the office full time every single day, and I also a very rarely talk to anyone who never wants to go back to the office," he says.
"We're seeing a lot of companies who want to dip their toe in the water before committing to a 10-year, 15-year lease on their own. They want to understand what the usage is going to be like, coming back."
In choosing to use parts of a coworking space, Cossette saw it as an opportunity to reinvent itself, says Louis Duchesne, president of Quebec and East for the ad agency, which is testing out a new approach that involves exclusive access to a dedicated floor, along with other coworking spaces in a downtown Montreal building.
In preparing for "the future of work," the company did its homework, running employee surveys, conducting focus groups and looking at similar business cases, he says.
"We also knew that we couldn't really predict precisely 'What's the future?' I mean, are people going to want to come back a lot to the office, are they comfortable at home, are they just going to come in once in a while? So, in light of this situation, we said, 'OK, why don't we look at a solution like a coworking space… and see this as more or less as a pilot project. So, we basically can test and learn from that new reality, and what's going to provide our employees the best experience."
While Cossette could have used regular office space, it also wanted the element of flexibility, says Duchesne.
"Are there some days where we really need additional space? Sure, and then we can have access to the [extra] space available to us. And on other days, we may not need it as much so that's something that was very [attractive] to us," he says.
"We're not pushing people to come in... two or three days a week — we're organizing the environment, we're offering a nice experience in the coworking space. There's also a bunch of other activities that are being organized so basically it's a pull effect — people want to come in. We are offering employees the chance to organize their day, their week."
To enjoy more premium content — including in-depth analysis, exclusive webinars, employment law archives and early access to Special Reports — subscribe to Canadian HR Reporter today.
That can mean several spacing options for workers, such as hot desking or hotelling, where people don't have a dedicated desk but they do have access to all the other services; and dedicated desks, in an open-concept space, where people can leave their equipment; or enclosed offices that can be locked, with a range of sizes, says Joaquin.
"It really depends on what the person's looking for."
While 16 per cent of Canadian workers want to go back to working in an office every day, 58 per cent would like a hybrid model, according to a 2021 survey.
'Fluid' use of space
Coworking offers true flexibility in cost, location and design, says Wayne Berger, CEO of IWG Americas, which offers workspace solutions.
For example, in Toronto, there are 55 locations and members can take their pick, he says.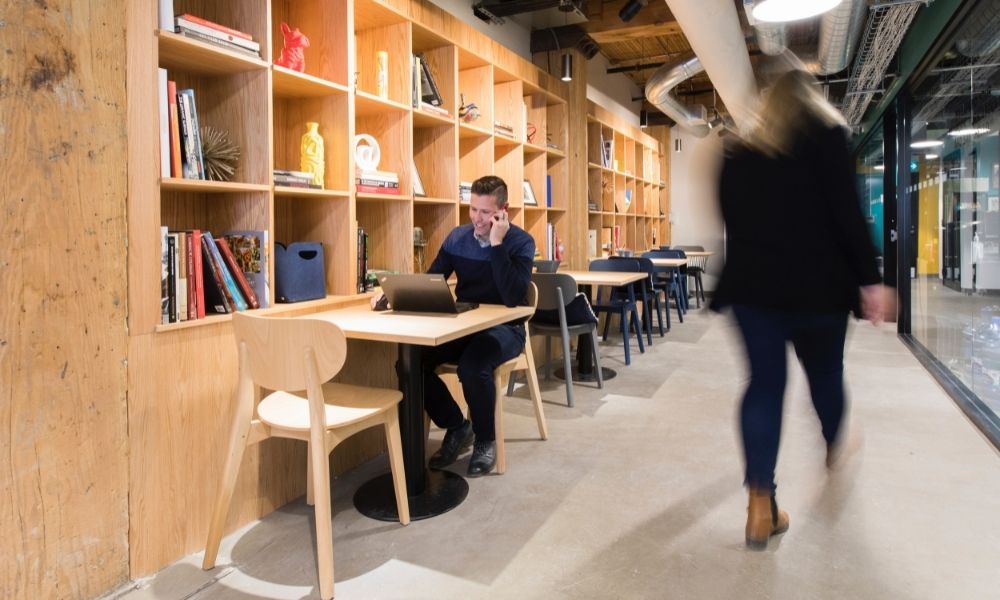 The hungerhub offices are located in Spaces Queen West in Toronto
"They can work each day in any coworking location that makes sense for them, whether it's close to their home, close to their clients, close to where they need to be that day."
And there are plenty of options inside, he says.
"It could be a single private office right through to multi-person offices to team rooms, right through to a point where we'll actually custom design a company's office space so we'll put their office within our office… And then that space gives them their own private space in order to operate their business, but also gives them access to all the amenities," he says, citing as examples, fully functional cafes, meeting rooms, phone booths, gathering areas, brainstorming areas and rooftop patios.
As for staffing, it's up to an employer to decide if it wants to set up a schedule, he says.
"What's interesting… is sometimes companies are over engineering this and they're trying to over schedule, whereas the reality is, people are using space more fluidly… we rarely see… an oversaturation of people for the space that's been allocated."
Instead, employers should let it happen naturally by giving employees access to the space, says Berger.
"They can access it as simply as just clicking on their app, it gets all their information, they can go to any location that gives them access to the different amenities in the building. And then from there, we can provide an organization with reporting that gives them an idea on utilization."
Canadian HR Reporter recently spoke with a legal expert to find out what employers should include in a flexible work policy.
Cost considerations of coworking
Another reason non-traditional sectors and industries are leaning on flexible workspace is the reduction in financial costs, moving from a capital cost or liability to more of an operating cost, says Berger.
"It gives them more flexibility on the balance sheet and, frankly, just a reduced overall cost. To pay for an employee to take a coworking desk in a flexible workspace of their choice is fractional compared to the $11,000 a year that it would normally cost to actually keep that person in a traditional office," he says, citing the expenses of a lease, managing facilities, furnishing an office, and IT infrastructure.
"And that space has not been fluid, it's traditionally locked into a 10- or 15-year capital lease, it requires millions of dollars of capital costs to build out and manage and maintain. And then the reality is, space is part of your brand, so you have to maintain and update that space for the changing needs and design. So when you operate and lease your own space, it's difficult, it's cost intensive, it's a capital cost. So it's a big liability. And it's static, so it's not flexible."
The real estate industry has been rigid in the past, looking for tenants to sign 10- or 15-year leases, says Duchesne, along with handing out huge penalties if an employer such as Cossette wants to reduce the space.
"We were receiving some offers from property managers that were still asking us to sign for 10 or 15 years, where we're in the middle of the pandemic, facing uncertainty as to [whether] our people are going to come back or not, so in this [coworking] place, we didn't have to sign a 10-year lease."
For employers that may be contracting or expanding, the coworking setup can include a month-to-month option, says Abdo. Plus, it eases staffing issues.
"If you hire two or three more people, you don't have to think about how you fit them in the office, what's the monthly cost — we just basically sign into our platform with our coworking space and buy three additional passes... so its really scalable because we don't have to worry about space... the flexibility for us works really well."
The number one concern among executives with respect to flexible work today is the potential for inequities to develop between remote and in-office employees, according to a report from Future Forum,
Communal options
Coworking spaces also take care of all the little things that companies don't have to worry about, such as internet or coffee and tea supplies, says Joaquin.
"Even the social aspect of things… like events where we brought teams together within the space was a common occurrence prior to the pandemic. And we are going to be reinstating that soon now that things have opened up again," he says.
"You're coming into a space where it's not just about getting a desk or it's not just about using the internet, but now you're coming into a space every day and 20 of your friends are there. So it seems small, but it is something that people obviously really enjoy."
Hungerhub employees will often message each other to say where they'll be working so they can meet together. Every floor has a communal area and employees frequently jump into a different space for meetings, says Abdo.
"For the most part, I find that people like sitting around in the communal area more than in the closed-door environment."
During the pandemic, his company "basically pulled the plug on a place to go to work," he says, and with restrictions loosening, many people still weren't keen on a full return to the office.
Now, the company gives them the option to come into work when they want, though they're "encouraged" to make the trek downtown on Thursdays. As incentive, the company offers free food along with a happy hour and trivia night, says Abdo. Plus, on Fridays, there are social events with other companies and workers in the building, which opens the door for potential partnerships and clients.
Coworking provides an opportunity to meet new colleagues, contacts and friends, in a professional work environment, says Berger. Members can check in to use a private office while also having access to meeting rooms, communal areas or a café.
Plus, in the summer months, some locations offer rooftop patios or terraces, he says.
"Being able to offer that number of different types of work and work environments within one coworking facility has been a very big draw."
Back in 2019, a report by CBRE Canada predicted that the co-working was taking off in Canada. Flexible offices spaces were projected to reach more than 6.1 million square feet by the end of the year, up about 300 per cent from 2014.
Is coworking for everyone?
So, is this kind of setup for everyone? Maybe not, says Abdo.
"If you're an insurance company and you've been doing it the same way for a long time, it's difficult to get people to adapt," he says. "If it feels more like a coffee shop than an office, they might find it... irritating."
At Cossette, people have gone through a great deal of change through the pandemic, so people are used to adapting, says Duchesne.
"If it wasn't for the past two years and the desecration that came with it, I would tend to think it would have been perhaps a greater challenge in terms of change management," he says.
"Obviously, for some people, they liked it when they had their own desk where they could leave their personal items... but, honestly, so far so good, it's not an issue. We'll see... how it goes but I'm pretty confident."