Recruiter's viral tweet raises questions about best practices in hiring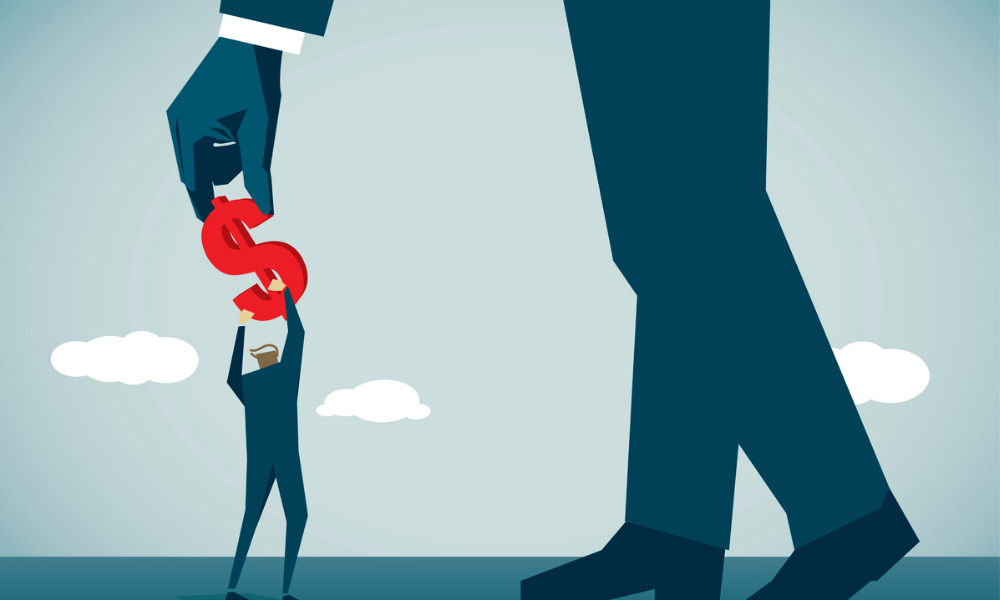 "I just offered a candidate $85,000 for a job that had a budget of $130K. I offered her that because that's what she asked for and I personally don't have the bandwidth to give lessons on salary negotiations."
So said U.S. recruiter Mercedes Johnson recently in an online post. Needless to say, the comments went viral, with many suggesting that Johnson was cavalier in her response.
But was she wrong? Should employers lowball a job candidate? Or is greater transparency needed?
With Johnson, we don't know the whole story, says Henry Goldbeck, president and founder of Goldbeck Recruiting in Vancouver.
"What if the range was $85,000 to $130,000 and person was really qualified at the very low end of what was required for the position, and it's a great opportunity for him or her to get into that role, and increase their skills and increase their worth in the marketplace?
However, suggesting someone accept below an employer's range is "just a recipe for a disaster," he says, because the person may be hired, only to find out other people are making much more than them, leading them to leave or be unproductive.
"But it is a bad look. And it's not necessarily going to ruin the hire every time, but it's possible it will."
Why lowballing is a bad idea
If it's a good candidate with a good skill set, employers really can't afford to lowball, says Edmonton-based Danielle Bragge, president of Canadian recruitment firm the Headhunters.
"It's going to affect that level of trust. The candidate might feel deceived."
Also, if the candidate feels undervalued by a lowball offer, that can open the door for even larger negotiations, she says.
"If they had paid the candidate the right number in the first place, they might have been more open to a conversation."
Plus, chances are good they could reject the offer, says Bragge.
"The dial hasn't moved for good candidates. So… if an organization has a good candidate in hand, all you're going to do when you lowball that offer is lose the candidate and start the search all over again. So they should consider the time, the effort, the resources that they, their team, the recruitment firm and all of that have put into that particular search."
On the other hand, if the candidate accepts the job but does so begrudgingly because they have nothing else, they may leave within three or four months, she says.
"That's obviously a bigger cost to employment because now you're going through all of the onboarding, the time, the effort in training that person, and then that person leaves to go to somebody who is going to pay them what they are worth."
Plus, in markets such as Toronto and Vancouver, multiple offers are becoming more common again. And more counter-offers should be expected, says Bragge.
"If the counteroffer is more money than where they're at right now — because it's back to the good old saying 'Better the devil you know than the devil you don't' — they will lose a candidate to the counter-offer."
Having predicted back in the summer of 2021 that the average salary budget increase for 2022 will be 2.9 per cent, many employers are revising their numbers, finds a more recent survey by Normandin Beaudry.
Trust and transparency important in hiring
Trust is an important part of the process — especially in a competitive labour market when people are getting calls from recruiters all the time, says Goldbeck.
"Being transparent about the salary range is one of the first things that we usually lead with because we don't want to waste our time, even from the initial call or initial first conversation with a potential candidate for a position. We want to know if they're qualified and if they're going to be interested, so we want to talk about that just to make sure we should even be talking."
It's also important for the candidate to be open about their skills and qualifications, along with their motivations and salary preference, he says.
"If there's going to be something that's going to going to rule them out as a candidate, we would… certainly prefer to know that before we introduce them to the client."
If someone looks like a good candidate but is junior when it comes to qualifications and the market, they should be informed of the salary range for their hire, says Goldbeck.
"It's a big decision for them, moving jobs is a huge deal, so we are always going to be transparent about the range," he says, adding that most people know what they're worth, unless they've been in a job for a long time and they're out of touch with market rates.
That's a lesson that Johnson mentioned in her social media post:
"Always ask for the salary you want (deserve), no matter how large you think that might be. You never know how much money a company has to work with."
It's important for individuals to stay abreast of what the market is paying, says Bragge.
"[Then] they can go in and negotiate when they need to for the right rate. Not a gouge, just 'This is what I'm worth, this is what my research is telling me.'"
But many candidates don't have a clue, she says.
"And most employers are great, but there are absolutely employers that will take advantage — just like when you make an offer on a house: are you ever going in at the full asking price? No. But there has to be room to negotiate on both sides."
Paying the market rate
Another challenge these days is the gap between what the employer thinks the market should pay, and what candidates are actually expecting — and that gap really widened during COVID, says Bragge.
"Canada as a whole is already moving into a shortage of talent… the war for talent," she says. "But we are still seeing clients coming in below what the market is paying. And… because it's such a fight for talent, and because candidates now know that they worth more, the chances of [employers] losing that individual is quite high."
More often, employers are underestimating the demand, says Goldbeck.
"We need to educate them that their salary range, given the market, is low, and they need to either increase their range or they need to be more flexible on their years of experience or qualifications, things like that, to get a candidate. Or we come up with a strategy... and some companies are open to that and flexible, and other companies aren't."
That's problematic in today's market, he says.
"We're seeing it really commonly — people have multiple offers. Once they start looking, they're going to have interest from multiple sources, they're going to get counter-offers from their current employer. And so [employers shouldn't] be stupid. I mean, you don't have to throw money at the wall but you have to be transparent, and use some common sense."
Total rewards also important
Painting the whole picture of what a job offers in terms of total rewards is also important, says Goldbeck.
"Often, the money can be equivalent if they get a counteroffer or they have two offers, so [it's also about asking:] Where do they see their future? Where do they see their optimal future? The benefits and perks are one thing, but more than that, it's where do they see their future? How are they going to grow? What opportunities are going to develop?"
With the "great resignation" from the pandemic, many people are looking to change jobs, so employers don't want to be "playing the money game," says Bragge.
"You've got to offer a good corporate culture and you've got to offer the dollars that are going to make sense. You can't afford not to; otherwise, you are going to lose them. Somebody is going to poach them and take them."
For example, more employers are starting to off our weeks of vacation to start, instead of three, along with flexible work schedules and a hybrid work model, she says.
"That's another gap that we're struggling to bridge right now. Companies are [saying] 'We absolutely expect our employees back in the office at some point' and the employees are going, 'Why? I'm doing just fine.' So that's been a bit of a struggle."
It's about developing other programs to keep people engaged, and focusing on corporate culture, rewards and recognition, says Bragge.
"If you can waive the wait on benefits, if you can give them another week of vacation, if you can give them a hybrid model — do what you can, especially if your hands are tied from a budget perspective… because [negotiating] is just too long, too time-consuming. And the chances of losing the candidate increase the longer you're negotiating."
Three-quarters of workers say they'll leave their job if not offered flexibility