'If there's somebody who's constantly being harassed on-site, and they're not speaking up, it will deplete their personality and their mental health'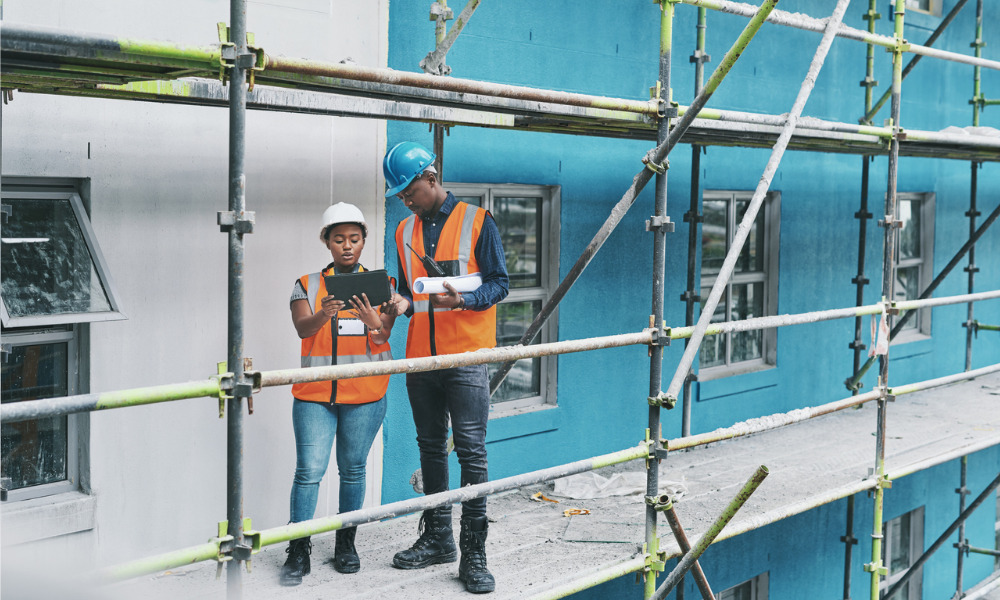 As a young woman who grew up in the construction industry, where her father was a superintendent, Daniela Xavier is all too aware of what goes on at the job site.
"A very common issue would be inappropriate verbiage on sites, so words that could potentially be a form of harassment; communication on-site, it's not always the greatest," she says.
Even something as simple as washrooms, where women and men sometimes have to share, is "a pretty big deal," says Xavier, corporate health safety and environmental coordinator at EllisDon in Toronto.
While these events might be considered small on the surface, their effect is cumulative and must be eliminated, she says.
"It gets to a point where it's almost like a paper cut. When it's a single paper cut, it doesn't seem like it's a big deal but over time, when you continuously keep getting paper cuts, it starts to get to you and your mental health and wellbeing play two very large roles in your career progression and in your life."
"If there's somebody who's constantly being harassed on-site, and they're not speaking up about it, at some point, it will deplete their personality, deplete their mental health, and we don't want that," she says.
Many women in construction are fighting discrimination through TikTok reels.
Partnering for change
To that end, EllisDon recently partnered with two organizations, the Woman Abuse Council of Toronto (WomanACT) and the Society for Canadian Women in Science and Technology (SCWIST), to study the problems in a very detailed way and come up with solutions that ensure it doesn't happen anymore.
The groups approached the London, Ont.-based employer in December, after receiving funding from the federal Department of Justice Canada, and signed a three-year agreement in April.
"This project is really focused on how do we address both prevention and response to gender-based and sexual harassment, particularly in male-dominated sectors," says Mallory Hilkewich, education and training manager at WomanACT in Toronto. "We're doing this work in partnership with these employers because we're really looking to do a very customized approach to understanding what the kinds of needs and challenges are in their place of work."
The organizations are also working with Chandos Construction and TandemLaunch, a technology incubator, to address the issue.
Stark numbers illustrate just how pervasive the problems are, according to Hilkewich, and the need for immediate change.
"In the construction and trades, Stats Canada had a report out in 2020, that 47 per cent of women in that sector experienced inappropriate, sexualized behaviour at work, and that's assuming that's probably an underreported number so we know that the rates of harassment are incredibly high for women in male-dominated workspaces," she says.
"What we want to do is make sure that companies are complying with legislation, that they're meeting the basic legislation minimums to make sure that women are experiencing safety in their place of work."
The federal government is allocating $3.5 million to address these issues in the workplace.
First steps
WomanACT partnered with EllisDon's employee resource group, known as 2gether, to uncover the issues faced.
"We have started looking at our employee handbook; we've started reviewing some of our documentation, we're starting to look at doing a climate assessment within the company, getting a feel of where we're strong at, where we're not necessarily strong and how we can improve our culture" says Xavier.
Once these initial steps have been done, "we're also going to be doing interviews at some point, and then we'll go from there. Whatever feedback we get from our surveys or climate assessments, we're going to be taking that and trying to do further actions, whether it be enhancing our training or training particular people in how to handle a situation like that," says Xavier.
Why is HR still having trouble properly handling harassment complaints?
More than minimums
For WomanACT, the goal is not to settle for "legislative minimums" but asking tough questions.
"What moral imperative do we have to make sure that beyond just meeting those standards? Safety enables them to thrive, develop and grow, so that those protective factors of broader representation — more women in leadership — are really driving that organizational leadership in the long-term because we know that diversity and representation are really important protective factors in enabling a safe and inclusive workplace."
As an example, it's about providing more than just a single avenue or executive to reach out to to complain about harassment, according to Hilkewich.
"That's a really common policy but difficult because sometimes those people are only men or in such a position of power that the individuals who experience the harassment don't feel safe to go to them to report, so having a really direct... way to make a report of harassment is, I would say, a bit outdated and a difficult one to implement effectively and expect that people will follow it."
It's also key to look at things from a "trauma-informed" lens, says Hilkewich
"How are you structured is aware of the fact that every single time a person is asked to retell their story, it can be re-traumatizing and triggering, and that trauma sometimes create challenges for how a person tells their story. For example, they might not be able to tell it in the exact timeline because it can have some effects on the brain and retelling the story so just making sure that policies and people that implement those policies have an understanding of that."
Change is crucial
While the road ahead may be tough, it's crucial that these steps be done in order to change male-dominated industries, says Xavier.
"It's going to be hard to change the mentality, I think. Luckily, I've been fortunate enough to have really good coworkers and mentors at the company, so I don't think it'll be too difficult to change within the company but I think it's a matter of setting that example for smaller companies and showing that, 'Hey, this is a problem and let's handle it head-on.'"
"It'd be great for the industry, great for our company: it's growth, it's progression. We want to make sure that women who are working in trades are comfortable and happy with what they're doing. I love working in construction. I love working in the field, and I want other people to experience it. It's a great career to be a part of," she says.