'I had to deal with looks of fear from people that had no idea what I was suffering with: Is it contagious?'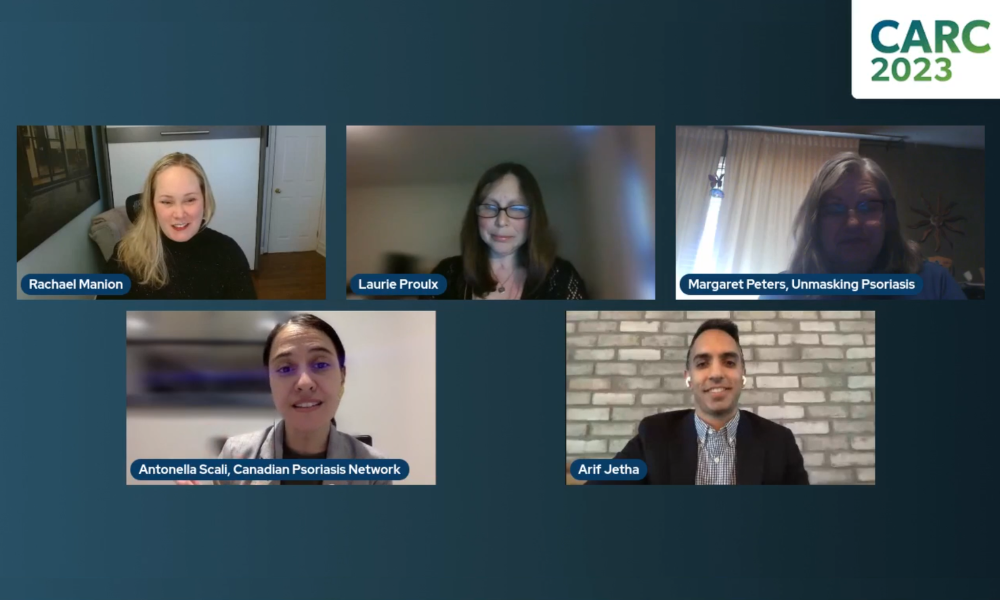 One day while working as a bartender, Margaret Peters — who suffers from psoriasis — experienced an uncomfortable moment with a customer.
"I handed a gentleman a drink. He saw my hands, which at the time were having a flare. I tried closing my hand and he would not take that drink from me even though I explained to him that psoriasis was not contagious and I was not able to pass the condition on," says Peters.
This encounter led to real-world, economic consequences. "He went to my supervisor to complain and I was asked to leave right then and never called back to work," she says.
That day, the stigma of a visible disease hit hard, says Peters, who started an advocacy group, Unmasking Psoriasis, to shine a light on the problems faced by people who have psoriasis or psoriatic arthritis, which is an inflammatory condition that can affect both skin and joints.
Peters spoke recently at the Canadian Arthritis Research Conference (CARC), held virtually on Feb. 15 and 16, and she delivered the opening address during a panel about better understanding the experiences of people with psoriatic disease at work.
The disorder and its effects began modestly but gradually progressed. "My life living with psoriasis started by these strange bumps on my feet, then my hands and finally under my nails. There were days I couldn't close my hands, hold the pen, type, or even hold my grandchildren," she says.
"After a shift of work, I would take the insoles out of my shoes to wash them because they were so full of blood."
While Peters was able to get treatment that helped her better manage the symptoms, being out in public and at work still affected her personally.
"I had to deal with looks of fear from people that had no idea what I was suffering with: 'Is it contagious? It must be. I'm not going to touch you and I'm sure not going to take something that you have touched,'" says Peters.
Spending on psoriasis drugs is in the top three of all benefits-related costs for chronic disorders, according to a recent study.
Effects on employment
The panel looked into employment experiences faced by psoriasis sufferers via research.
"Our good friends from the arthritis community and research and evaluation unit conducted a population-level data analysis and found that two times more people with the rheumatic disease report not being in a labour force compared to those without any health condition," says Arif Jetha, scientist at the Institute for Work & Health (IWH).
"People living with rheumatic conditions and other inflammatory conditions report being excluded from the labour market."
But for those who do manage to find employment, problems persist. "They're more likely to report missing work due to their health; working while unwell, facing disruptions to their daily working life as a result of their health, as well as experiencing more insecure work arrangements," says Jetha.
"We also know that symptoms like pain and fatigue can restrict functioning at work, including performing job duties and accessing career development opportunities."
While these are bad enough in themselves, things often get worse, he says.
"Having more severe disease symptoms can mean that a person is forced into insecure employment or into jobs which are less accommodating to their health. More likely, the relationship between symptom severity and access to a supportive work environment can be reciprocal, and reinforce one another."
Even trying to take advantage of benefits and asking for accommodation on the job is also challenging, he says.
Role for employers and leaders
By bringing recognition to the workplace, this can bring on more positive outcomes, according to Jetha.
"Research at the Institute for Work in Health found that supervisor and coworker awareness and support is one of the most critical resources that persons with inflammatory conditions can obtain to manage a chronic condition while working. Similarly, the ability to access diverse job accommodations and flexibility in work arrangements can minimize work disability, and create work conditions which buffer the impact of the workplace on health."
Despite Canada facing a recession, now is not the time to cut back on employee benefits, says one expert.
Finding the proper support at work begins with a conversation, says Laurie Proulx, senior human resources advisor at the Canada Revenue Agency (CRA) and steering committee member at the Canadian Arthritis Patient Alliance (CAPA).
"People need to become aware of the need for support and discuss those challenges and accommodation with their supervisor. This process can often be more difficult or be at odds with employer policies and practices — although I know there are many employers that are flexible and supportive of people with disabilities at work, so it's not always the case."
Once those talks have been had, its morally and legally the employer's responsibility to act, she says.
"Employers too need to adapt their procedures and are required by law to accommodate employees to the point of undue hardship. But the law and its application can also be two different things: the attitudes of supervisors and the approach of the organization as a whole can either make workplace accommodation quite straightforward or quite complicated and difficult to navigate," says Proulx.
Organization should always strive the create a clear accommodation policy, says an employment lawyer.
Raising awareness
While psoriasis can be particularly problematic for people to actually physically engage in work, with challenges with absenteeism, presenteeism and loss of sleep, there are also a lot of long-term challenges and broader issues, says Antonella Scali, executive director of the Canadian Psoriasis Network, who also spoke during the panel discussion about the report Working it Out: A Report on the Experiences of People with Psoriatic Disease in the Canadian Workplace, released in 2021.
"Things around being worried that the degree to which their disease is impacting their performance at work or their opportunities at work, and things like being worried about how their disease will help them stay employed or enable them to stay employed."
An earlier campaign by the network, in partnership with the Canadian Psoriasis Network and the Canadian Association of Psoriasis Patients (CAPP), that continues into 2023 will look at "specifically what employer and private plans can do to support people in the workplace," says Scali.
"We did derive some recommendations around how employers can take what they learned from the pandemic and work-from-home policies and use that to think about how they can be creative in supporting people with episodic disabilities like psoriatic disease."