'We're seeing new hires starting at higher rates than existing staff, and that can put a real inequity into an organization'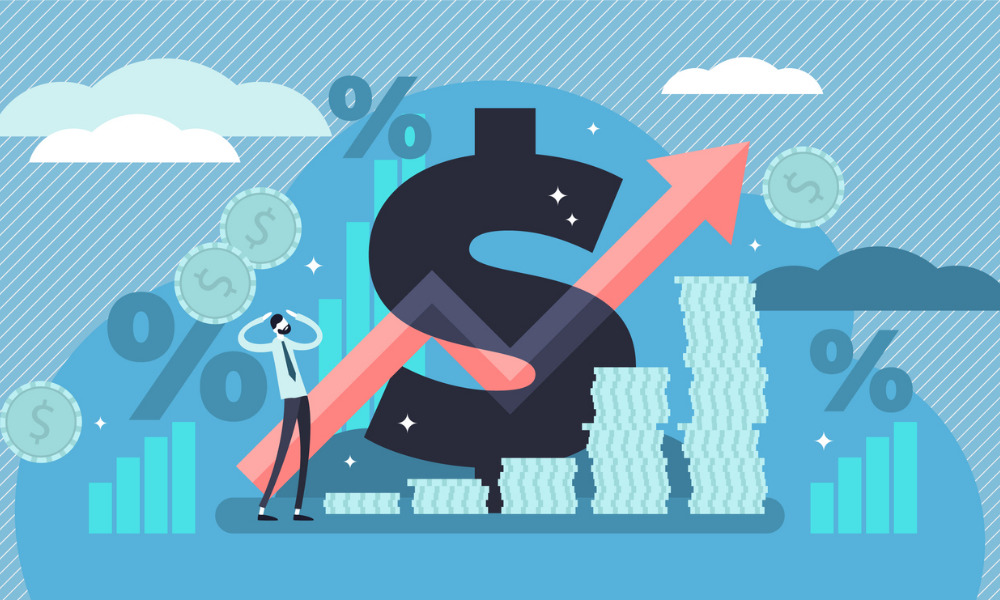 Compensation and benefits are a very hot issue right now, according to Robert Hosking, regional director at Robert Half Canada in Toronto.
"It's on the minds of most employers right now, recognizing that with inflation and the cost of living increasing significantly over the last little while, and the demand in the market for top talent… employers are certainly very aware of it in order to be able to attract individuals and also retain their team. They need to keep their finger on the pulse of what's happening."
In May, Canada's inflation rate was 7.7 per cent, compared to 3.6 per cent a year ago. The cost of pretty much everything is rising, making employees' compensation less and less valuable.
And while a lull in the pandemic has brought economic recovery, employers are now facing an uncertain future and talks of a recession.
So, what does this mean when it comes to compensation and benefits?
"There's just been a compounding effect of what was already a pretty dominant trend keeping employers up at night around that attract, retain and engage need that they have in order to achieve any business goals," says Melanie Jeannotte, CEO of Gallagher Benefits & HR Consulting – Canada, in Vancouver.
And that's leading to higher levels of compensation, along with greater creativity around total rewards, she says.
"[But] that just makes it even more difficult for them."
Caution advised
One of the big challenges is benchmarking, say Jeannotte.
"Any reliance or targets as they relate to compensation levels are really difficult to get at because the benchmarking just can't keep up, that data is not agile enough to keep up with the pace of change."
Changes are also not as strategic or consistent as they were in the past, but rather more reactionary, she says.
"Employers, I think, do have to be really careful about material change as it relates to overall compensation, particularly… salary, because it just may not be sustainable as we head into more unusual and perhaps recessionary times."
It's incumbent on employers to think more creatively around the flexibility equation inside of compensation and personalization, says Jeannotte, "so that we're not having to compete in the same direct way on a base salary increase because I think that's where we're going to see some pressure on benchmark and reactionary compensation offers."
Things will change again and markets may settle and so accelerating too much is not advisable, says Hosking.
"Or being in a situation where, when new employees begin, compensation levels are well beyond either market or required for today, but maybe look different tomorrow. So it's always that fine balance."
There are many factors to setting or establishing a competitive pay rate, and matching inflation is just one factor to consider, says Mélanie Presseault, a principal in the compensation practice at Normandin Beaudry in Vancouver.
"But it should not be the only driver. The best approach is really to look at multiple sources, including the salary surveys... And it's also important for employers to look at their ability to pay, because the decisions that they make today will impact the future. Quite often, we'll caution our clients to not make decisions that they would regret later."
Pay inequity and transparency
In a constrained labour market, retaining in-demand, mission-critical talent through traditional three- to four-per-cent salary budgets is challenging. Employers need to develop a common set of talent management strategies to manage internal retention with external attraction issues, she says.
"They need to be consistent for the purpose of internal equity."
Otherwise, they may recruit someone who earns $20,000 more than future colleagues, with less experience, she says. And with younger workers coming into the workforce, many aren't shy about talking about their salaries, unlike previous generations, says Presseault.
"Where you had engaged employees, you might have disengaged employees in the future, employees that will look for other opportunities. So employers need to be mindful, very, very mindful."
As people seek out new roles to secure higher wages, many long-service people will be unhappy to know they are being paid the same as newcomers, says Hosking.
"In some cases, we're even seeing new hires starting at higher rates or levels than existing staff, and that can put a real inequity into an organization."
From an organizational perspective, that means constantly looking at your internal teams and whether they're being compensated equitably, he says.
"Is there a plan for increases? Or has there been increased considerations for that team internally because that gap is closing?"
With a growing focus on pay transparency, employers may be forced into more traditional compensation and pay bands, which will be problematic considering the reactive offers being given out, says Jeannotte.
"It almost takes us down the opposite path of being able to be transparent because we're creating maybe inexplicable diversity in terms of what people are being paid."
However, people often leave organizations because they can't quite see where they're headed, she says.
"[They wonder] 'What can I achieve from a development, title, compensation perspective as next steps with my career?' And pay transparency is a part of that, but so is ultimately career growth. And I think employers are starting to realize that one comes with the other."
Employers really need to be careful with internal equity and take the opportunity to review salaries for all team members, says Marie-Noelle Morency, senior director of marketing and communication at Randstad in Montreal.
"That doesn't mean equal — there are variations, of course, but it needs to be fair and it needs to be viewed in a long-term lens, so that if you want to keep people around, they have to have a plan for their growth.
"People do want visibility on where they're going next. So what's their career development plan, what's the visibility on the next role they can they can get to? So that's also part of the picture in terms of retention."
Other types of compensation
It might be advisable for HR to rethink the traditional cadence of compensation, with more touchpoints and opportunities within the annual cycle, says Presseault.
"For example… could there be more frequent pay adjustments? Could they create opportunities for employees to reach their target position at a faster pace?" she says. "How often are the promotion opportunities within your organization? Could they consider incorporating a targeted, mid-year career progression opportunity into the annual cycle?"
Employee recognition such as spot awards are also an alternative.
"Is it well known? Is it well used? If not, they should communicate and make sure that employees and managers are aware of it," says Presseault.
Companies should be also aware that if they provide an employee with a retention bonus, the other employer may also offer a signing bonus.
"When we think about the external market pressure, it might be a good if we look at the spectrum of being proactive to reactive... an upfront investment for pay increases to address external market pressure might be a good solution as well," she says.
Read more: More than two in five (43 per cent) of employees globally are set to quit their job within the next 12 months, according to a report from EY.
Off-cycle increases have become more common, which aligns loosely around inflation, says Hosking, and often, these are project based, with the reward given out upon successful completion.
"That is something where [HR thinks] 'Maybe we can't increase somebody's compensation in an ongoing nature, but we can do it at the end of something, and so tie it to deliverables or tie it to something that helps drive the business results.'"
To get away from that sustained salary and compensation pressure, employers are considering short-term incentives such as spot or retention bonuses, says Jeannotte.
They may also try to support employee when it comes to higher gas prices and parking costs if people are coming into the office.
"Those are a few examples of things that wouldn't have that big salary pressure on them, but bring real value to people," she says.
On the other hand, longer term incentives are an alternative, to "really tie people to a longer journey together [and] kick the can down the road a little bit."
Total rewards and the EVP
But it's important to remember that compensation is just one part of the whole package, says Hosking.
"There's a lot of other levels or elements why people enjoy where they work, and who they work with, and the culture. And that's often why people will join a company, as well. So, while compensation is very important, it's really talking about and keeping in the forefront the other things that make the company unique, that make the company a great place to be and a great place to work, where people can be successful."
Organizations can take a step back and really look at: 'Why would somebody want to work here? What are the great things that keep people here? And how do we continue to promote that through our conversations and get people excited about the organization and the company?'" he says.
Read more: When it comes to employee turnover, workers and employers don't see eye-to-eye on numerous matters, according to a survey.
Many employers are reviewing their employee value proposition as a whole, and asking, "What is most important to my employees, and what is the most impactful way to spend?" says Presseault.
"There's also thoughtful companies that are responding by taking a holistic total rewards approach. And with the advances in work from anywhere, hybrid work, companies are now competing for talent outside of their typical geographic talent pool, so the offers need to be relevant and compelling, they need to talk about career pathing, promotion opportunities, connection to the purpose, good employer, the ESG and EDI are also items, notions that will bring interest from the applicant."
Many candidates and employees are not aware of the total rewards available, says Morency.
"They don't necessarily take into account the vacation, the paid-off time, the benefits, the health care plan, etcetera. So if you can do that exercise of showing your total rewards, a portrait, that can help… don't assume that people will do the addition."
Benefit considerations
Salary may be the biggest driver for people, but it's not the only one, she says.
"If you look at your full attraction and retention strategy, you need to look into benefits as well. And employers are getting very creative into what they're offerings to differentiate from their competitors."
For example, some companies are operating on four days a week, which is really compelling for some people.
Not all organizations have the ability to increase a significant amount, so it's important to look at the other benefits or perks that an organization may offer, says Hosking, citing as examples spending accounts or education subsidies, "which can be real perks and benefits and don't necessarily need to translate into dollars in salary or in compensation."
Read more: Nearly three-quarters of younger workers are prepared to leave their current employer for another that is offering what they would consider to be better benefits.
One area that continues to gain momentum is flexible spending accounts and personalization, says Jeannotte.
"That allows people to make their own choices, expanding access to different types of services," she says, along with programs around home purchases or student loan payments.
"It just keeps coming back to that flexibility and personalization inside of programs that have traditionally been pretty prescriptive."
When the pandemic started, employers were preoccupied by the health of employees, so they put in place or enhanced services around wellness and mental health, says Presseault.
"Today, though, with the uncertainty of what the economy future will be, we're seeing employers question the affordability and the sustainability of their programs."
As a result, many employers are asking themselves "What is the most impactful way to spend?" she says.
Employees are looking for flexible HR policies and practices, such as transportation subsidies, vacation time purchases, wellness accounts, daycare, telemedicine, unpaid leaves and flex time, says Presseault.
"It just shows that employers need to provide communication that will be holistic… [but] it needs to be meaningful to your employees."