Employers are realizing that many HR-related issues need to be reconfigured and revamped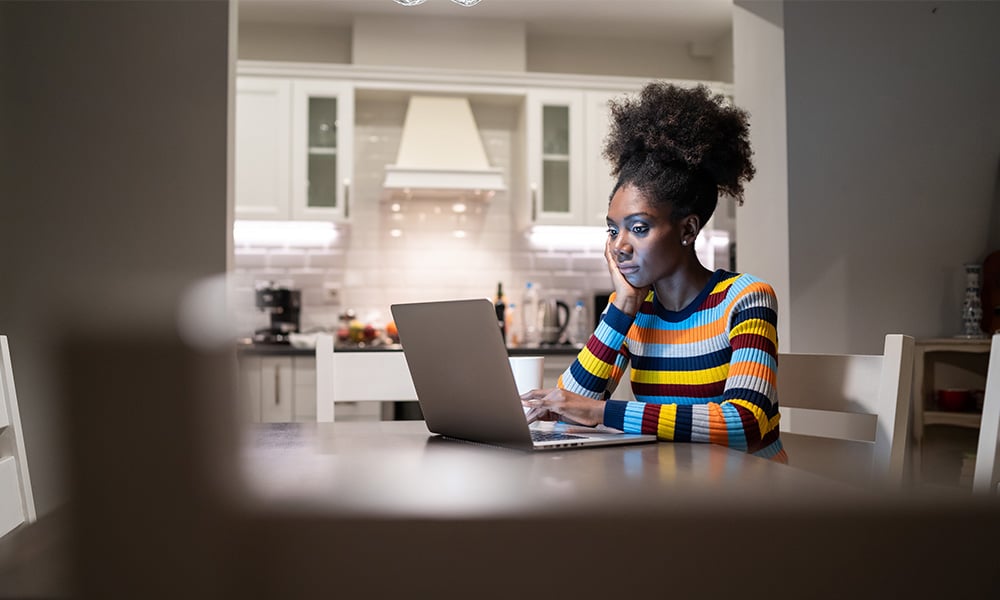 Back in March, like thousands of employers across Canada, Blueshore Financial sent its head office staff home and closed some of its branches.
Now, the credit union is evaluating what the new normal will look like for its workforce.
"If you're tempted to say, 'Well, this is how we used to do things, we have to go back to the way we used to do things,' you need to change your mindset to ask, 'How can we make this work?' because things have changed and we will never fully go back to the way things were," says Marni Johnson, senior vice president of HR and corporate affairs at BlueShore Financial in Vancouver.
And in a way, there's a silver lining to the pandemic, she says.
"We have a massive opportunity to leverage the organization's experience from how we responded to COVID-19 and use that to accelerate the future of work. Many organizations have advanced their digital employee experience over the past few months. And many of us have new practices that are in place that we can build on. So, from an HR perspective, it's a pretty exciting time."
The financial organization is still debating how many employees will continue to work remotely, but flexibility in working arrangements will be table stakes going forward, says Johnson.
"If you don't offer flexibility, you'll be at a competitive disadvantage."
Plus, staff at the 370-employee credit union have reported greater work life integration, higher productivity and the lack of a long commute as contributing to employee engagement, she says.
"[However], any remote work arrangements have to be mutually beneficial for both the employer and the employee. Because there has to be a balance between looking after the individual and making sure that you meet the needs of the organization so that you can both optimize employee engagement and their contribution can meet organizational goals. It has to be a two-way street; it can't be just one-sided."
With so many people continuing to work as remote workers, either full time or part time, employers will have plenty to consider as there are many HR areas that will be affected, including employment policies, performance management, communications, culture and recognition, recruitment and onboarding and health and safety.
Policy must-haves
If employers do decide to have more employees set up as remote workers, they definitely need a specific policy around that, says Patrick Trent, a partner at law firm BLG in Montreal.
For one, it should make it clear that this arrangement is not permanent.
"It should be clear that when an employee is authorized to do remote work, the employer is going to assess how that works out. And if it works well, good. If there are adjustments [needed], the employer will advise the employee," he says. "Remote work has to be a discretionary benefit that the employer… can revoke if it doesn't work out."
That's important to ensure the employee doesn't raise a constructive dismissal argument by saying that they considered remote work "an essential condition of their employment contract," says Trent.
The policy should also state that when an employee is working remotely, in most circumstances, the employer will require an exclusivity of service.
"You can't be using 25 per cent of your work time to be running [a side business]… You have to be dedicated and focused on your work," he says.
Employers should also set out the working hours in the policy as much as possible, says Trent.
"If employees want to have a slightly later start time or an earlier start time and an earlier finish time, that can be done, but I think that managers should always have a very clear idea of when the employee is available for work and when the employee is not available for work, for two reasons: a) to know when the employee is working, when the employee is on the clock and [b] to make sure that they're not disturbing these employees when the employees are not on because it's important to make sure that employees do have their downtime."
And as with in-office work, there should clear guidelines with respect to overtime and what kinds of authorizations may be needed, he says.
"The policies have to be clear on that as well so that there's no ambiguity and you don't end up with an employee who, six months down the road, says, 'Hey, by the way, you owe me 200 hours of overtime.'"
Going virtual with performance management
With so many people working outside of the office, performance management will also require careful consideration.
There's going to be a whole new way of evaluating performance and the co-creation of expectations and deliverables, says Tina Dacin, Stephen J.R. Smith chair of strategy and organizational behaviour at the Smith School of Business at Queen's University in Kingston, Ont.
"[It's about] sitting down with your boss or your supervisor or your manager and saying, 'Here's what I will attempt to get done in the next week. Does that meet with your expectations?' I think in some jobs, it's going to be easier than others. But it's that co-creation that's going to be really important and for managers to reinforce to employees that they're still adding value."
It's about shifting away from looking at how many hours people are putting in and instead looking at the deliverables, says Janet Salopek, president and senior consultant at Salopek & Associates in Calgary.
"With respect to the training and really helping people understand… it's about the importance of trust, because if you don't have trust as a foundation when you work remotely, it won't work."
A culture of mutual trust and accountability is key, says Johnson.
"If this remote work thing is going to work, you need to trust that your employees are working, even though they're out of sight, and that they'll get their work done. And that the organization, on the other hand, will support the employee, provide the coaching, the leadership and all that sort of thing. So, part of maintaining culture is ensuring that you've got very clear expectations on both sides."
On the issue of trust, many employers are using monitoring software to ensure that remote employees are doing the work promised. Those tools can also be used to facilitate the exchange of information between employees in project management and monitor how much time is dedicated to various tasks, says Trent.
"It's [technology] that can be used in a broader management perspective… and if [employers] feel that type of software and those types of tools can be useful for them, I think it's important that they let employees know that they're going to be using those tools and that software — I don't think that this is something that should be hidden."
Communication and leadership challenges
When it comes to the remote environment, managers must be "super communicators" in having regular contact with their team to provide direction and feedback and to motivate employees, says Trent.
"It's important to say to managers that they should, as much as possible, have verbal conversations with their employees, their teams and not just communicate with them with short little emails or texts all the time."
A lot of managers have A-type personalities, says Salopek, citing herself as an example, so there's a need to be "intentional."
"I have to really watch myself because I can get very focused on getting the work done right and forget that, if I don't make time to do a shoutout to bring people together on a social [meeting], it will not be good. So, we need to understand who we are as leaders and what our strengths are, but also where we are challenged and be intentional about closing any gaps that we might see that will challenge us as we work remotely."
It's also about having leaders understand that they need to be empathetic, they need to show a significant amount of kindness, says Caroline Levy, president of Randstad Technologies for Randstad Canada in Calgary.
"Some leaders, for example, can depend on their charm in person and that's how they're able to motivate a room. Well, now you're really not able to do that. What really has to happen is this deep listening, deep questioning, reflecting on what you're really hearing and really practising empathy."
Another big challenge for leaders is workers facing "Zoom fatigue" because of all the video calls. One alternative is to consider turning off the video for calls that don't require a shared screen, she says.
"Get out and go for a walk, but both of you go together so you're simulating if you were together [at the office] and going for a walk… get people into different environments."
Maintaining culture and recognition
Another big area that can be shaken by the rise of remote work is corporate culture, so it's "super important" that employees feel connected to the organization, says Johnson.
"One way to do this is through what I call relentless communication, both formal and informal, and at the macro and micro levels."
BlueShore, for example, does regular communication with staff on corporate performance, successes and challenges. It's featured a video message from its CEO from his home office and run several open mic sessions featuring executives in video conferences answering staff questions, she says.
On a micro level, the company encourages staff to do regular team check-ins and coffee chats with colleagues so social relationships are kept up, says Johnson.
"Our HR team set up a group chat on WhatsApp and that's a great way just to check in, to share funny things from Facebook. And it helps you really nurture that personal side of people — it isn't just all work — and that feeling of connection."
This pandemic has really underscored the importance of culture, says Levy.
"Organizations who had a strong culture prior to this happening are likely going to weather this a lot better because culture doesn't exist just within four walls. If you have that strong culture, you have people connected to why you exist as an organization, they have a meaningful connection for what they do, they're tight-knit with the colleagues that they have."
Employee recognition should also not be forgotten with so many workers out of the office. BlueShore introduced a new online, on-the-spot reward program during the pandemic that allows employees to recognize others with an instant thank you and gift card, says Johnson.
"It's easy when you are in person, you run into somebody in the lunchroom and you say, 'You did a great job on that project.' When you are working remotely, you have to take that extra step to send the person a note, call them, send them an instant message and ensure that that recognition is provided."
You also need to be very intentional with respect to how you recognize people in group meetings online, says Salopek.
"And then also in your correspondence… through email and things like that, making sure that if somebody does do a good job, you've recognized them within their peer group by copying their peer group and/or copying a manager that might be the next level up that would want to also give a shout-out to that person."
Recruitment, onboarding adjustments
Of course, one particularly challenging area in the heavily remote environment is recruitment and onboarding. Using video calls will make it harder to assess fit compared to face-to-face or deeper interviews, says Dacin. On the other hand, some roles will be filled more easily this way, she says.
Salopek says she has onboarded new members to the team virtually over the last three months.
"You're connecting them so that they're still seeing face-to-face visuals, but they're just not doing it across the desk or across the table, they're doing it electronically through Zoom. But you're doing the same steps, you're just using a different process."
It is difficult to replace the advantages of in-person interaction, says Johnson.
"We would prefer to bring people in, at least initially, so that they can start building those relationships."
But in hiring a couple of people recently, BlueShore has rolled out onboarding and orientation sessions with new staff fully online, she says.
"That even involved a [video] presentation and discussion with our CEO who would normally join the orientation in person."
And one of the advantages of remote work is that it provides opportunities to increase diversity in the workforce, because you can look further afield for talent, says Johnson.
"You could employ somebody in a different city who works 100-per-cent remotely. Even if you can provide remote working for one or two days a week, that can help you attract and retain somebody who has a long commute."
Health and safety considerations
While remote employees may not be on-site like usual, there are still several health and safety considerations for employers. For one, there's the whole issue of ergonomics and making sure that an employee is properly set up with the right equipment, says Trent.
"If an employer sends an employee home with their miniscule laptop with this 13-inch screen and expects that the employee is going to be able to sit at their kitchen table and be as productive as they would be at the office, with 22-inch screens and a keyboard and a mouse and proper chair, well, they're dreaming… While there is an expense associated with it… the investment will pay for itself very, very quickly if the employee has the proper equipment, proper setup at home. And the productivity gains will be significant."
There's also the more serious issue of potential harassment or even domestic abuse of employees working from home, and these should be addressed by the employer, he says. That can mean recommending the company's employee assistance program or even inviting the employee into the office to have a proper discussion.
"Where the employer feels that the employee is in a situation of risk on account of domestic abuse or those kinds of things, having the employee come into work so that they can sit down with someone from HR and have a discussion about this may be a good idea, as opposed to just having discussions about this over the phone or via text messages or email."
And, of course, it's also important to stay on top of remote workers' mental health.
Through the pandemic, BlueShore has provided many resources for staff through its employee and family assistance program and information that it's posted on the intranet, says Johnson.
"We have wellness Wednesdays and some weeks we post about meditation and yoga and other times we post about ergonomics if you're working from home and the importance of disconnecting from work, because this is not a sprint, it's a marathon. And we all need to make sure that we are safeguarding both our physical but also our mental health."
---
NEW VERSUS OLD MAKES A DIFFERENCE
31%
Number of newly remote workers who say that working from home has negatively affected their productivity
13%
Number of experienced remote workers who say that working from home has negatively affected their productivity
45%
Number of newly remote workers who say that their sense of belonging suffers at home
25%
Number of experienced remote workers who say that their sense of belonging suffers at home
Source: Slack
MIXED RESULTS FOR CANADIAN PRODUCTIVITY
38.69%
Number of workers who feel that they have been less productive working from home
22.63%
Number of workers who feel that they have been more productive working from home
38.69%
Number of workers who feel that their productivity is about the same working from home
Source: Sykes
FALLING ENGAGEMENT IN CANADA, U.S., U.K.
71.5%
Drop in employee sentiment about workplace culture since working remotely
20%
Drop in employee engagement since working remotely
12%
Drop in employee trust in leadership since working remotely
77%
Number of workers who say their workplace culture will not return to what it was before the pandemic
60%
Number of employees experiencing some level of depression during the pandemic
Source: O.C. Tanner