Retention challenges, labour shortages and high inflation lead to boosted salaries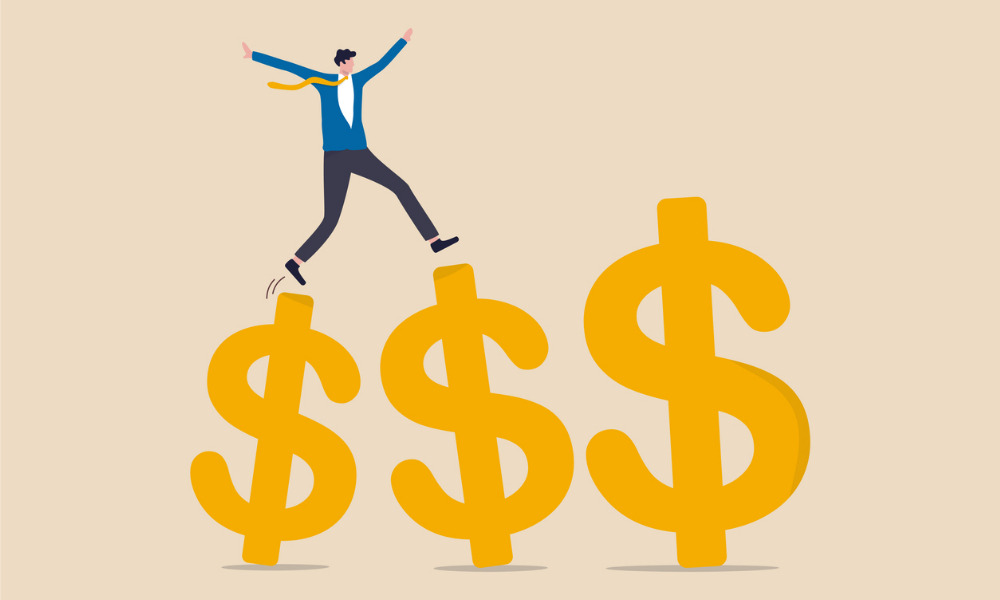 "It's probably the most significant or surprising change in salary increase budget data that I've seen in my career in almost 20 years."
So says Darcy Clark, principal for compensation at Normandin Beaudry in Toronto, looking at predictions for 2022.
In responding to high inflation, the "great resignation" and labour shortages, employers were predicting increases of 2.9 per cent before the summer — but now that's jumped to 3.3 per cent this fall, excluding salary freezes, he says.
"Companies are cautiously optimistic, but they recognize they can't just rest on their laurels, in terms of a 2.5-per-cent [increase] isn't going to cut it, particularly if you had freezes in the year before," says Clark.
"It's showing that companies are dead serious about keeping up with the Joneses, so to speak, in terms of competitiveness. So as the market's moving, you've got to move with it, and you've got to be aggressive."
Salary increases
Earlier in the year, employers also had roughly the same number of 2.8 or 2.9 per cent, but when employers delved into issues around retention, and internal equity, that seemed too limited, he says.
"[People realized] 'It's not going to solve our problems, any of our problems for that matter.'"
Previously, employers and boards were scared to spend any extra money if they didn't have to, because of all the unknowns, says Clark.
"But now… they're more crystallized in terms of direction, what companies are going to do; it's just a matter of when they're going to do it."
In looking at actual salary increase budgets for 2022 (excluding freezes), they average 2.5 per cent, finds a survey of 263 organizations by PCI Compensation Consulting.
That's the same as actual increases for 2021. But last year, nine per cent of employers froze salaries, and that's expected to fall to five per cent in 2022.
It's hard to say where the numbers will end up but inflation will be a big factor, says Dominic Girard, partner at PCI in Montreal.
"Companies are in a wait mode, based on that."
Plus, employers are having a lot of difficulty with recruitment, he says.
"Companies are thinking more in terms of global compensation, I would say. They try to remove some pressure that they can feel on the base salaries and direct compensation. And the important [thing] for them is… how they differentiate themselves as employers versus their peers."
Employers are projecting an annual base salary increase average of 2.7 per cent, excluding salary freezes, in 2022, according to a LifeWorks survey released in September.
Bonus payments
One of the more interesting parts of the latest survey by Normandin Beaudry shows that many employers have a "special budget," says Clark.
"In addition to their merit increase budget, half reported having an extra 1.5 per cent of budget to address all those other concerns beyond just keeping up with market inflation, inequities, attraction, retention, etc."
When you factor that in, the average increase climbs to 3.7 per cent, he says.
"They're also looking at, if you did have a gap year and you had a salary freeze... and that 3.5 or 3.3 per cent is the cake, and the 1.5 per cent would be the icing. It's really just making sure that you're fixing and addressing those little problems throughout the structuring of your organization."
Similarly, PCI found that 52 per cent of organizations surveyed have an additional budget for non-unionized employees to recognize special cases (including high-potential employees, fast-tracked employees and employees in jobs with labour shortages) of 1.5 per cent in 2022. That's up from 1.2 per cent in 2021.
Offering a big sign-on bonus can be an effective way to poach employees from competitors, and poaching has become a common practice among recruiters, according to one expert.
Paying too much?
For various positions, many companies feel compelled to offer higher salary, but it's like hiring a mercenary for a job, says Girard.
"You know that if you hire only based on salary to get the job done, you will most probably lose this person... for salary somewhere else. So that's a dangerous game."
For many years, employers could get away with just increasing salaries and there wasn't that much pressure in the markets but now, for some roles, such as IT and finance, the job market is very competitive, he says.
That's even more true today with many U.S. companies looking to hire talent from Canada. And the most significant impact involves university graduates, says Girard.
"They are the ones that seem to be more attracted by those jobs, and more willing to do the move and to get a job at a company that is located outside of Canada. So it has an impact on the salary [of] people who are graduating right now."
That will make a difference when it comes to salary increases down the line, he says.
"If [employers] want people to progress and recognize people who work there for three, four or five or 10 years, the budget needs to be significant."
If employers for the last year and a half have been buying talent on the market, inevitably, there are going to be inequities on pay relative to current staff in the same grades, says Clark.
"You're going to have to look at that and address that… because buying talent is more expensive than keeping talent — it's that old adage," he says.
"Even at 3.3 per cent, that's really just keeping up with market inflation — you haven't really addressed any serious problems yet."
Many U.S. employers were planning bigger pay raises for workers in 2022, according to a report from Willis Towers Watson released in July.
Non-monetary rewards
Among the organizations surveyed by PCI, almost all (92 per cent) report recruitment and retention challenges, with 90 per cent citing an upward trend in bidding wars at hiring.
As a result, 70 per cent of employers have adjusted entry-level salaries for qualified staff and 56 per cent expanded their geographic market for recruitment.
But the conversation should extend beyond salary increases to include perks such as work-life balance or vacations, says Girard.
Employers should understand why employees are working for their organization, and why are they leaving?
"Yes, more employees are leaving because of their salary than used to be in the past. But I think the conversation should be elevated above salaries. Even if it's a very tight market," he says.
To retain employees by increasing salaries or retention awards, employers are increasing their fixed costs for the foreseeable future, says Clark.
"If you start grossing up your salaries too high, when things cool off… then you're saddled with these high fixed costs, and you're no longer competitive from a labour perspective."
That's why employers should be conscious of their exit strategy, he says.
"Money works for a short period of time, but they've done a lot of research on that and, after X amount of months, [people] forget about that. And then you're back to vision, culture, what are the policies of the company, what's the career pathing? Those non-monetary elements of that employees value proposition come into play again, so you can't ignore those tools."
When it comes to attracting and retaining salary talent, it's also about your work-from-home policy and a culture of work-life balance, says Clark.
"It's living those policies as well, and making sure that you are keeping modern and current with the non-monetary aspects of a career within an organization."
When Canadians were asked about their top priorities today versus before the pandemic began, 31 per cent said "professional equilibrium" was most significant against 20 per cent who said salary was top of mind, according to a survey by ADP Canada.