How can employers better support workers?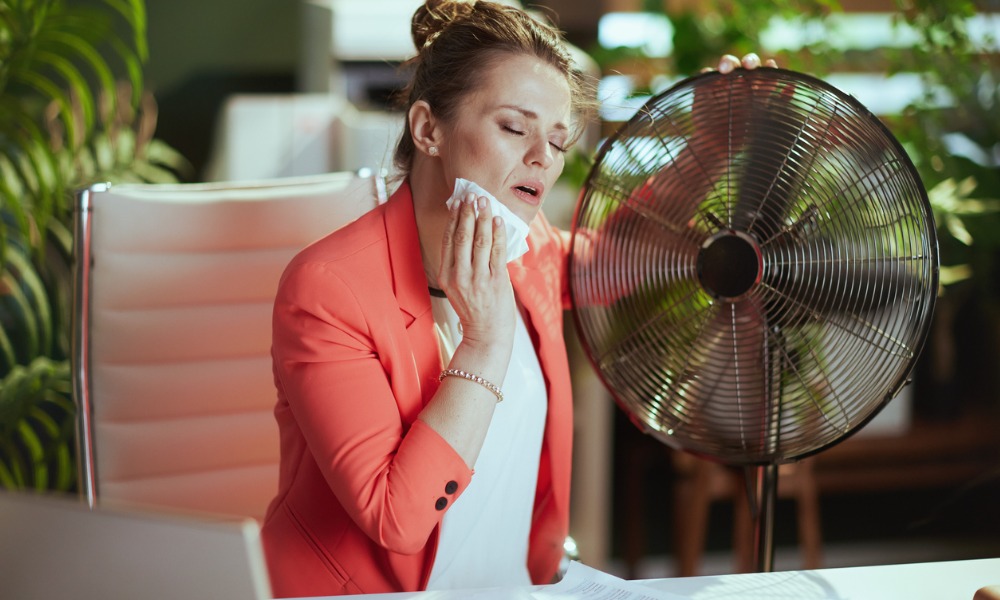 Roughly 540,000 lost days of work can be attributed to menopause symptom management, and this translates to billions of losses, according to a recent report.
Canadian employers lose about $237 million annually in lost productivity due to menopause, and it costs women $3.3 billion in lost income due to a reduction in hours or pay or leaving the workforce altogether, finds the Menopause Foundation of Canada.
"Women are too often blindsided by menopause in their prime working years, which leads to a loss of invaluable experience, skills and leadership in the workplace," says Janet Ko, president and co-founder.
"While this hurts employers and the economy overall, our research reveals that women bear the brunt of the impact, losing income during the time when they should be earning the most."
Employers have seen demand among workers for menopause support in the past few years, according to a previous report.
Menopausal symptoms
Despite menopause being a universal experience, nearly half (46 per cent) of women say they are unprepared for menopause, according to the Menopause Foundation of Canada's survey of 1,023 Canadian women aged 40-60, conducted in August.
This is the case even though 95 per cent report experiencing an average of seven of menopause's 30-plus symptoms, which range from hot flashes and sleep disturbances to brain fog, anxiety, joint pain and more.
In fact, one-third (32 per cent) of working women say their menopause symptoms negatively impacted their performance at work, and 24 per cent say they hid their symptoms at work.
"Employers have an exciting opportunity to reverse this trend by creating menopause-inclusive workplaces that tap into the full potential of women in their prime," says Ko.
Stigma around menopause at work
However, two-thirds (67 per cent) would not feel comfortable speaking to their supervisor or to someone in HR (70 per cent) about what they were experiencing, and 48 per cent would be too embarrassed to ask for help at work.
Plus, (87 per cent) feel their employer does not provide, or do not know if they provide, support related to menopause.
"Menopause doesn't stop during the workday. It's important employers have the right solutions and tools available to support their employees," says Marie-Chantal Côté, senior vice-president, for Group Benefits at Sun Life Canada, which sponsored the survey.
"We know that individuals rely on their employer benefits to support them through all of life's stages, including menopause. Employers who invest in their employees see the return – through retention, productivity and engagement, to name a few."
Supporting workers through menopause
Three-quarters of women surveyed would like to see workplaces offer supports, found the report, and the most commonly recommended are:
Medical insurance covering menopause treatments and therapies
Policies incorporating menopause, covering time off and flexible work arrangements
Adjustment to the work environment for those going through menopause
Toolkit for education and awareness for colleagues and managers
Menopause awareness sessions for employees