As economy reopens, dental benefits may be more popular than paramedical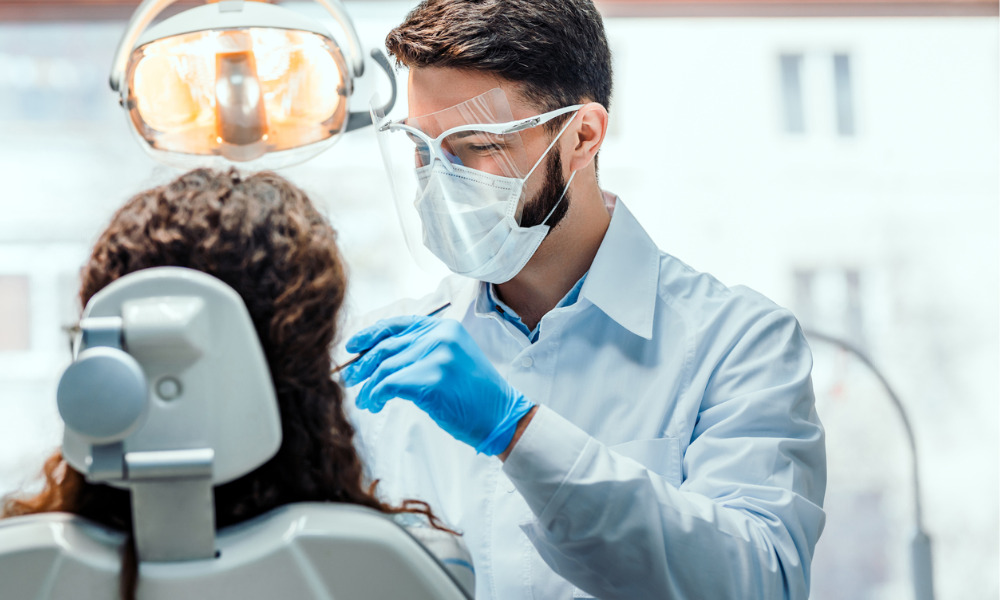 With many Canadians being prevented from going to the doctor due to the pandemic lockdown, many (74 per cent) are considering virtual health care as an alternative, according to a new survey.
"People seem much more willing to consider going to these new online services than they were last year for instance," says David Willows, executive vice-president innovation and marketing at Green Shield Canada in Toronto. "It's been one of those clichés: what does it take for a health-care system to change? And sometimes people would ruefully say, 'It's going to take some crisis for it to happen,' and maybe this is that crisis unfortunately, where we have very few options about getting out. But when they are forced to do it, they see the convenience and safety of it and it's probably getting folks over a barrier. They see that it works efficiently for them."
"Awareness of these services, combined with a willingness to try them, has gone up significantly. Obviously, it's not surprising at a time when you're being told not to leave the house, but you still have health-care needs, whether it be a consultation with a physician, a prescription, and maybe more challenging, a mental health issue," he says, adding suppliers of e-health have had "an explosion of website hits" from new customers.
Another 67 per cent reported they would be willing to get medication from an online pharmacy, found the survey of 517 people conducted between May 5 and 7. That could affect benefit-plan costs in the future, according to Willows.
"The cost of filling a prescription through an e-pharmacy is going to be lower because of the infrastructure costs that they don't have to incur on an online basis versus that bricks-and-mortar pharmacy."
Mental health options
Online mental-health services could also be popular, with 43 per cent of respondents say they would seek online support, including 63 per cent of those aged 18 to 34.
"People that were on waiting lists for psychologists and psychiatrists, who can get support online, literally the same day, that has to help people get to a better place faster than before, and maybe not force people to be in the workplace in a precarious position where they're not feeling well. Ideally, faster care will lead to less absenteeism and better productivity in the workforce, just through the fact that you have a healthier workforce in a shorter period of time," says Willows.
During the pandemic, more than half of respondents to one survey reported it was having a negative impact on their mental health, while another survey found that their personal cannabis, alcohol and tobacco use is rising in its wake.
Virtual health-care should be provided for in benefit plans, said 78 per cent of respondents to the Green Shield survey.
"Not that we ever thought that there'd be an elimination of in-person counselling, but when there are waiting lines and where there are cost savings being looked for in benefit plans, this can be a cheaper alternative," he says.
HR professionals should use some of these findings to "at least take another look at your benefits plan and recognize that we're seeing the change happen very rapidly right now," says Willows. "Most HR people have probably heard of some of these virtual options. And maybe there wasn't a burning platform to look at it, maybe you're going to wait till your next insurance renewal old to consider new options… But this is happening in real-time right now."
Benefit plan considerations
For dentist visits, 62 per cent of respondents indicated a willingness to return quickly, once they are reopened -- even pre-vaccine, found Green Shield.
"It was interesting to see that a majority of people were quite willing to get in the dentist's chair, which we thought there might be some aversion to somebody hovering over your mouth in very close quarters, but I think that's become part of people's rituals and they see that as important to their general health," says Willows.
But for paramedical visits, things were a bit different, according to the survey. Thirty-four per cent would visit a physiotherapist, 29 per cent were willing to seek out massage therapy and 28 per cent would access chiropractic care before a COVID-19 vaccine.
"That's certainly one that will have to be taken into account by those practitioners, how they can build up trust and confidence," he says. "For our industry, it means fewer claims, and our workforce planning has to be impacted by that as well."