Employers will need to be creative as freezes and low increases leave little room to reward workers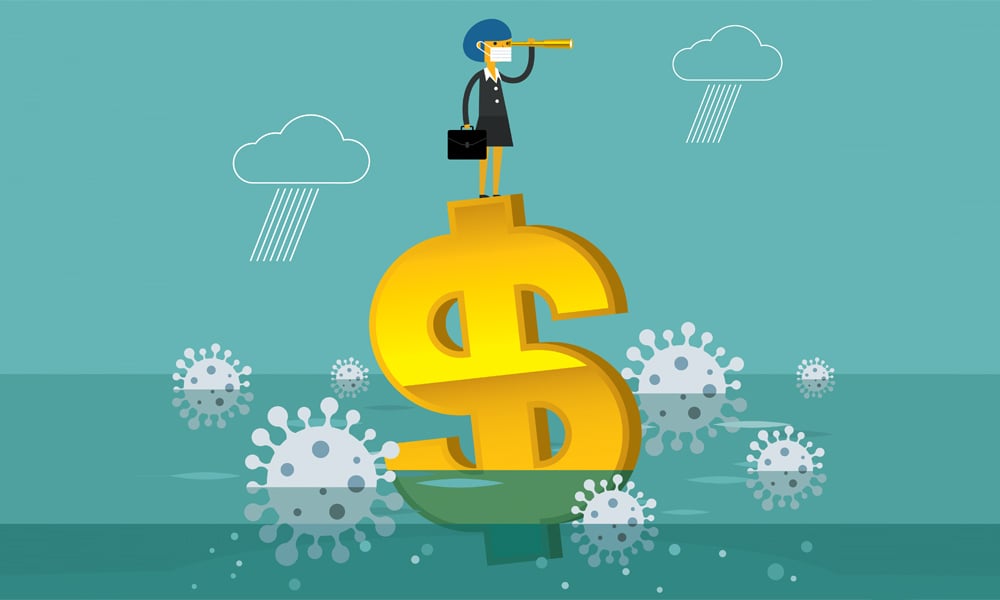 Back in 2008 when the financial crisis hit, compensation planning was no easy task as a Great Recession rolled across the globe. But with the COVID-19 pandemic, that kind of uncertainty has only intensified.
It's "uncharted territory," says Allison Cowan, director of human capital at the Conference Board of Canada in Ottawa.
"And it probably felt that way in 2008. This is playing out a little differently. It's not a straight recession; there are so many other factors going on. And as we navigate the second wave, there's a great deal of uncertainty about how this will impact the economy and employment situations. The labour market has already been hit hard by this and it will be a long road back to the employment levels that we saw early in 2020 when things were humming along well."
However, in the past eight months, organizations have gone through change on a large scale that we might not have thought possible, she says.
"They've been able to accomplish pretty amazing things in short order. So I think we need to count on employers still to adapt, to continue to put the health and safety of employees first, while at the same time doing their best to remain productive, sustainable and have an engaged workforce that's fairly rewarded for what they're doing."
Not a typical year
Unlike previous years — where salary increases averaged anywhere from 2.5 per cent to 2.7 per cent and there was full employment and a tighter labour force — all of a sudden Canada has seen two quarters of negative growth, it's in a recession and unemployment is skyrocketing into double digits, says Anand Parsan, vice president of the compensation consulting practice at Morneau Shepell in Toronto.
"A lot of organizations are really uncertain as to what the numbers should be for next year. Almost half of the [employers] haven't made a decision as yet. And 13 per cent have committed already to a freeze for 2021. So, it really shows... this is not a typical year."
With the previous downturns, you could see the light at the end of the tunnel, he says.
"With this pandemic, it's really hard to forecast and that's why we see the numbers how they are, in terms of so much uncertainty… It's very different than past economic events."
The compensation outlook is much more conservative than what we've seen in prior years, with only the crash of 2008 coming close to this level of disruption and volatility, says Gord Frost, a partner and career business leader at Mercer Canada in Montreal.
"The last time that we saw this during the financial crisis, certainly people's compensation budgets plunged, the number of salary freezes went up substantially, and there was much more variability from industry to industry and even company to company… It's even been amplified this year."
Freezes and salary increases
The Conference Board of Canada found that more than a third (40 per cent) of organizations did not yet have preliminary budget recommendations and, of those that did, 14 per cent were planning a freeze on salary increases across all employee groups.
One-third said they were holding their salary ranges constant, says Cowan.
"The freezes are even more prevalent when you look at executive levels, as well as trades and service and production staff. Those freezes are closer to 20 per cent for those groups."
The average pay increase for non-unionized employees is projected to be 2.1 per cent next year, keeping pace with the 2.1 per cent forecasted inflation rate.
"As more decisions are taken, we expect downward revisions, we expect more organizations to come in with pay freezes, which will bring that overall number down," she says. "Many organizations are struggling, many let us know that they're delaying their decisions around salary budgets and they're not sure what they can afford yet."
Unionized wages have also been hard hit, with negotiated wages for 2020 coming in at 1.7 per cent, compared to 1.9 per cent in 2019, according to the Conference Board's survey of 335 employers released in late September. Looking to 2021, increases are expected to reach only 1.6 per cent.
According to Morneau Shepell's survey, salary increases averaged 1.6 per cent in 2020, and that includes 36 per cent of organizations freezing salaries, says Parsan.
"That's not counting organizations that did temporary rollbacks and furloughs and so forth. So, coming off of that, this year, the numbers show a 1.9-per-cent increase, including freezes next year. But I put a big asterisk beside that because, with so many organizations uncertain as to what they're going to do, that number could easily drop. We're looking at a second wave, we're looking at potentially moving back to phase two or partial or full lockdown [so] all bets are off, the numbers could be vastly different."
More than one-third (36 per cent) of Canadian organizations froze salaries in 2020, compared to a pre-COVID forecast of just two per cent. And, for 2021, almost half (46 per cent) of employers are uncertain about whether to increase or freeze salaries while 13 per cent have already committed to freezing in 2021.
The national average base salary increase projection for 2021 is at 1.9 per cent, compared to the average salary increase of 2.4 per cent in 2020, including freezes, finds Morneau Shepell in its survey of 889 employers conducted in July and August.
Employers are projecting salaries to increase by 2.5 per cent in 2021 — down from the actual 2.6 per cent in 2020, excluding freezes.
"A lot of organizations are in survival mode. So, they're trying to be equal in terms of how they treat everyone with respect to increases and freezes and so forth," says Parsan.
Judging by Mercer's late September survey, 50 per cent of employers have set a budget, 10 per cent have said they're not making adjustments and 40 per cent still have not decided, says Frost.
"That level of undecided is very exceptional."
Excluding salary freezes, the average projected increase for 2021 is 2.4 per cent, he says, and including freezes, it drops to two per cent.
"Even those that are budgeting like a two- to two-and-a-half-per-cent budget, they'll probably use it differently. For instance, they may... delay when they do salary adjustments to later in the year. They may do more spot awards, for either key performers or really critical skillsets, but not do across-the-board salary adjustments. I think you'll see a lot more creativity or creative use of the salary adjustment budget this year."
Based on a survey of more than 400 participants in May and June, the Wynford Group found just four per cent of organizations experienced significant growth across Canada in 2020, compared to 57 per cent in 2019, while 38 per cent of organizations expected moderate decline in 2020 compared to just three per cent in 2019.
And, as of October, roughly half of employers haven't decided on their salary budgets for 2021, says Gail Evans, president of the Wynford Group in Calgary.
"Those that are [decided] are continuing or are still in that two-per-cent range, maybe a little bit less in Alberta — I think the number that keeps coming up is about 1.7 [per cent]. But I think there's a lot of uncertainty, and there's a lot of people using some of those work-share programs and things like that to try and keep people employed."
Variation by region, industry
The Wynford Group survey also found 2020 base salary adjustments averaged -1.5 per cent and varied considerably by industry, ranging from 2.4 per cent for utility/telecom, 2.1 per cent for IT services and 2.08 per cent for financial services to -8.44 per cent for energy/energy services, -7.5 per cent for construction and negative two per cent for manufacturing.
The compensation increases vary widely by region and industry, unlike last year where there was almost no variation by region across Canada, with a solid 2.7 per cent to 2.8 per cent across the board, says Frost.
"This year is really all over the map."
Industries such as high tech and ecommerce are planning higher increases as they're "booming," he says, while the lower end is seen in sectors such as energy in Alberta or anything that's related to travel, tourism and transportation, such as airlines, hotels and restaurants.
"They've obviously been impacted the worst by the pandemic," says Frost. "It really is interesting how it's almost at the sub-segment level or company by company. And it really does depend on the circumstances that your organization is in, and how severely you've been impacted by the pandemic."
By sector, salary projections for 2021 are highest among Crown corporations, at 2.5 per cent, followed by public and private sector organizations, both projecting increases of 2.2 per cent, finds the Conference Board.
Industries that lend themselves well to remote work, such as financial professional services, saw minimal job losses and are recovering quickly, while those that shut down for short periods, such as tourism and recreation, will be much slower to recover, says Cowan.
"The story here is really it's a vastly different experience, depending what industry you're in, and where you are in the country."
The Morneau Shepell survey found that 42 per cent of employers in arts, entertainment and recreation and 25 per cent of employers in educational services have committed to freezing salaries in 2021, while those performing well and not planning to freeze salaries include 58 per cent of employers in real estate, rental and leasing, 57 per cent of employers in utilities, 56 per cent of employers in agriculture, forestry, fishing and hunting and 51 per cent of employers in finance and insurance.
"Industries that rely on in-person activities and so forth, they're going to be more negatively impacted," says Parsan. "And then you have the other side of the coin, where organizations in other industries such as real estate or utilities, agriculture and finance, they held their ground pretty well, all showing in the 50s in terms of percentage of organizations not planning to freeze."
There were a lot of rollbacks this year, particularly in the energy sector, but also in construction, retail and the hospitality sector, "which has been just decimated," says Evans.
"The areas that were not affected very much were software development, utilities, IT services. IT services are probably even more in demand than ever, and financial services."
Provincially, New Brunswick and Quebec look strongest for next year, at 2.3 per cent, followed by British Columbia, Saskatchewan, Ontario, Nova Scotia, Prince Edward Island and Newfoundland and Labrador at 2.2 per cent, Manitoba at 2.1 per cent, Northern Canada at two per cent and Alberta at 1.7 per cent, according to the Conference Board.
"Alberta is really feeling the brunt of this… This province, of course, was hit hard both by COVID-19 shutdowns and disruption in the energy sector. Other provinces in Canada are closer to the national average."
Sixteen per cent of employers in Alberta are expecting more salary freezes, more than any other province, driven in large part by a dramatic decline in commodity prices, says Parsan.
Meanwhile, Atlantic Canada is looking relatively stable for 2021, with eight per cent of employers in New Brunswick expecting salary freezes, followed by nine per cent of employers both in Nova Scotia and in Newfoundland and Labrador and 10 per cent in Prince Edward Island.
"It's interesting to note that, on the East Coast, it seems where they've had that pandemic bubble and this restricted travel across Canada and so forth, provinces like New Brunswick are showing 2.1 per cent [salary increases], which is tied for the highest with Quebec, including salary freezes. And then the other is Nova Scotia and Prince Edward Island, and Newfoundland and Labrador — two per cent all across the board. So quite robust numbers," he says.
Variable pay trends
When it comes to incentive payouts, the type of industry involved once again makes a difference, says Cowan.
"What we're seeing for 2021 is organizations pretty much across the board are adjusting their targets downwards, with the biggest adjustments, in many cases, at the executive level. There are certain industries that tend to be more focused on incentives, and many of them still have higher targets, relatively speaking, but we are seeing a lot of downward adjustments."
In the high-tech sector, for example, "the competition for hot skills is still very much alive and well so organizations that do have money are really looking to put it where it counts and make the biggest difference," she says.
While many organizations have moved toward variable pay programs or pay for performance in recent years, they're now rethinking how those programs are designed, says Frost.
"[They're asking] 'What are the measures in our plan? Are those the right measures for us going forward because maybe whatever they were in 2019 aren't relevant anymore?' So, I think a lot of organizations are rethinking their programs or taking the opportunity to recalibrate those to say, 'Are we really sure that our performance-based pay programs are motivating people to deliver the right performance for what we need for now?'"
Many employers are going to "sprinkle" rewards more toward the high performers of their organizations and freeze employees that are just meeting expectations, says Parsan.
"If you have limited funds, I think it will go to the high performers or high-potential employees," he says. "You're probably going to see, more than usual, organizations using discretion in terms of the bonus pools for this year, and how people get paid bonuses. I think it'll be more of a judgment call, as opposed to relying on the straight numbers and the formulas."
Creative budgeting
If you're an employer that was counting on base pay to be competitive and you're no longer able to do that, "it's time to dust off your skills" and get creative, says Cowan.
"Make sure that you're offering recognition, formal and informal recognition, flexibility in the workplace development opportunities [and a] broad range of health and wellness offerings as well. This is a time when that's more important than ever, and employees do appreciate investments in this space."
Regardless of how much money organizations might have to spend, she says, employees "have pretty good memories for how their employers handled this and what was on the table for them — whether it is cash in the form of base pay or incentives or whether it's non-monetary rewards. Across the board, this is a really good time for organizations to take stock of the rewards."
A lot of organizations are not as concerned about retention, but they are concerned about engaging employees, says Frost, "making sure that people feel valued, making sure that people feel recognized for their hard work, especially... if they've got an incentive plan or an annual bonus plan and those programs may not get high payouts for 2020."
Employers will try to be creative in how they use their budgets, so they may take some of the dollars and put that into other areas such as career development or increased vacation time or benefits, he says.
"For instance, a lot of people will have flexible spending accounts. And [employers are] opening up the parameters of those," he says, such as allowing people to buy at-home gym equipment or an ergonomic chair so people "can work from home more effectively."