'We can do better at helping members understand what it is and empowering them to handle their condition'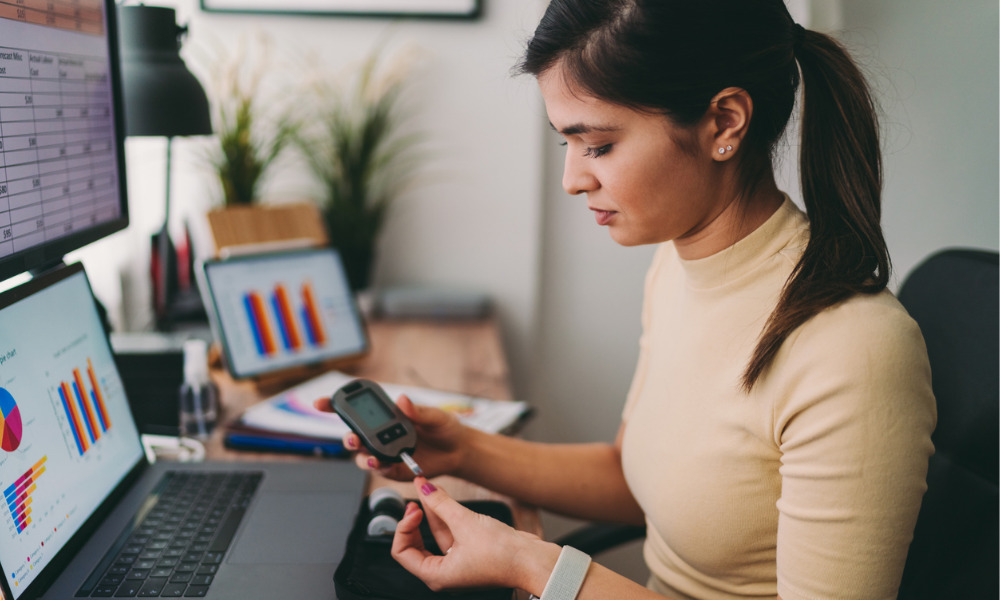 In Canada, employers are wrestling with increased costs for diabetic care, making it the number two driver of growth for private plan expenditures, with the number one driver being biologics to treat autoimmune conditions.
It now represents about 10 per cent of all health spending, according to Colleen Adams, digital health employee benefits leader at Medavie Blue Cross in Moncton, N.B.
"It's a rapidly growing, complex medical condition in Canada and around the world. Back in 2000, less than four per cent of the Canadian population had diabetes and the incidence has more than doubled in only two decades; by 2021, it had jumped to 8.8 per cent of the Canadian population [who] had been diagnosed with diabetes — and there's another 6.1 per cent at high risk for developing diabetes."
The costs for diabetes hit an estimated US$966 billion worldwide in 2021, according to the International Diabetes Federation (IDF).
New tech, treatments raise costs
New technology for treatment and management of the disease has also factored into the rise in expense, says another benefits expert.
"There's been new technologies that have been coming to the market — whether it's continuous glucose monitors, the intermittent scan glucose monitors, the flash-style monitors — and also new pharmaceutical agents, new drugs that have come onto the market," says Christine Than, pharmacy lead at Aon in Montreal.
"They've been around for maybe a few years now but what's happened also is clinicians, doctors have had more experience prescribing them so the more they prescribe, the more confident they are; the more they prescribe."
Many of the new treatment also revolves around other areas of concern for diabetics, says Than, which are costly but effective.
"Diabetes is a disease but you want to prevent heart attacks 10 years from now for diabetic patients so those new agents, those more expensive drugs, were proven to protect against cardiovascular events and also protect other complications as well. They have proved their worth in the last few years and that's where there's been an uptick in the use of these medications."
Potentially hundreds of thousands of Canadians may be living with undiagnosed chronic conditions such as diabetes, according to a prescription drugs expert.
Diabetes an also be a factor in mental health, according to Adams, which illustrates another large driver of costs.
"If we look at those living with long-term, physical health problems, including diabetes, they are twice as likely to experience depression and anxiety as the general population so embracing solutions that have the physical health and the mental health component together is key; it comes back to taking care of the whole person, a holistic approach to care."
Check coverage, provide education
With all this new technology appearing in the market, it's a good idea for plan sponsors and HR professionals to "check their current coverage, make sure it's up to date, ensure it covers not only traditional drugs and traditional medical devices like test strips but also ensure you have coverage for the newer technologies like continuous glucose monitoring, known as CGM, because those are tools that can really help people with care," says Adams.
It's important to know that diabetic care is not at all simple and it should include a multi-faceted approach, she says.
"It's a trend in the overall Canadian population that's growing and as insurers and as employers, it's important to recognize that trend and to intervene with solutions: make sure you have the right coverage; make sure you're considering the impacts to employees beyond just managing blood sugar, because we know taking care of any chronic condition, there's a lot more at play: there's living with it every day, there's the impact on mental health, there's the comorbidities that exists."
Read more: Animal hospital owner discriminates against diabetic employee
Education is a key part of any chronic condition, including members living with diabetes, says Adams.
"[Diabetes is] a disease that is very prevalent in the Canadian population but I think we can do a better job of helping members understand what it is and then also empowering them to handle their chronic condition and live with it every day because it is something that can be very well-managed these days."
And ensure that employers and leaders "come from the lens of supporting these folks in managing their disease," says Than.
"Diabetes, like other chronic diseases, are progressive diseases so as years go by the disease — if it's not well-controlled — becomes worse and worse and you need more drugs, and everything becomes more complicated, and there's a higher risk of mortality. If we could look at it from that standpoint to say that if we can prevent the disease with diet and exercise and stress management but also patients who are actually been diagnosed with the disease, if we can help them control it, that would help as well but also help control costs."
A preventative approach
Promoting wellness and self-care might also help non-diabetic employees from being diagnosed and could further save employers money, says Adams.
"Really helping with some of the modifiable risk factors, recognizing things like aging has an impact on that but you can have an impact on some of the other things like obesity and sedentary lifestyles. When considering the cost beyond just diabetes from an employer perspective, from our own block of data, members living with diabetes have a three times higher cost per claimant than claimants without diabetes."
To get a firm grasp on what might be needed to support employees, data on employee uptake is important in knowing what is desired, says Than.
"Who's the populations being affected and who could be diagnosed but it's not diagnosed right now? That's important to know as well so some analytics around that would be the first step."
Read more: An employer violated the Ontario Human Rights Code by requiring a diabetic employee to leave his workstation to test his blood glucose and to inject insulin.
As well, don't forget to tap into benefits providers' expertise — and others in the industry — for even more robust figures, she says.
"Some of the insurers have great data that's available to them and if they don't necessarily have that their specialty, they can reach out to benefits consultants that can help them support that."