Wages, safety among concerns, finds survey, as Supreme Court rules on pay equity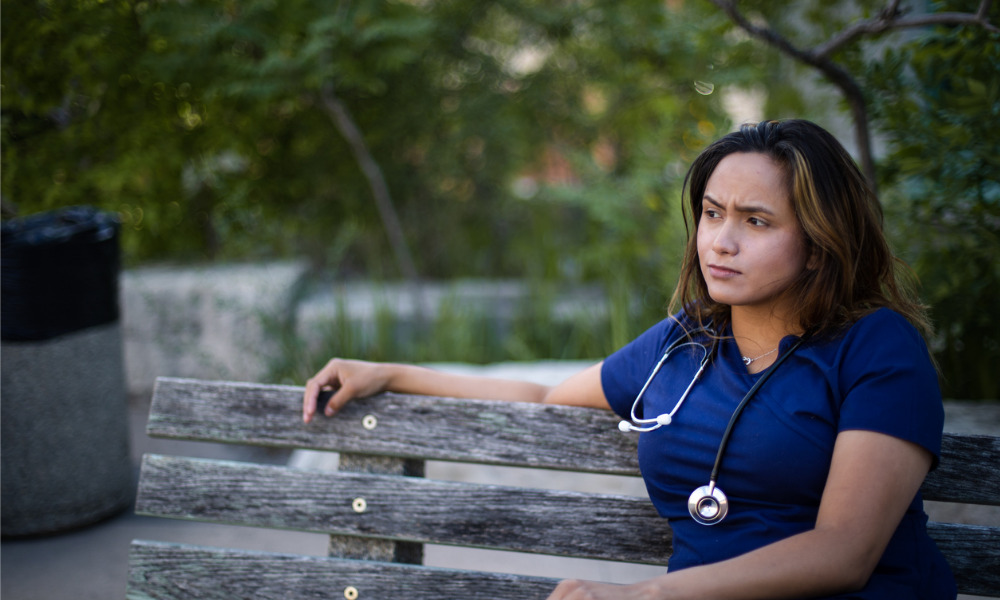 More than half (54 per cent) of healthcare workers in Ontario say they are considering leaving their jobs to find a job in another sector — and it's not because of COVID-19 vaccine mandates.
Their primary reason for quitting are poor wages and unsafe working conditions (70 per cent), found a survey by SEIU Healthcare of 3,038 workers in October.
"Poor wages and working conditions are 20 times* more likely to be the reason for healthcare workers leaving the system than vaccine mandates. But vaccines are like the tip of the iceberg that captures all our attention. While we're focusing on a very small percentage of healthcare workers who might in fact quit over vaccine mandates, we're ignoring the bulk of the iceberg beneath the surface," says Sharleen Stewart, president of SEIU Healthcare.
Amid the COVID-19 pandemic, healthcare workers have put their lives at risk to do their jobs. Sadly, there have been alarming reports of violence towards frontline workers increasing amid the health crisis.
More than two-fifths (44 per cent) of respondents have worked in the healthcare system for 15 years or more.
Only 22 per cent are considering leaving the healthcare system because of vaccine mandates with less than 10 per cent yet to be fully vaccinated.
"Ontario's health system is like the Titanic that is getting capsized by the lack of full-time jobs, by the lack of mental health support for workers traumatized by the pandemic, and primarily by low wages that deny this female-dominated workforce the economic security needed to make ends meet for their families," says Stewart.
Pay equity decision
The survey coincides with a recent Supreme Court of Canada decision to deny the Attorney General of Ontario's appeal that granted personal support workers, nurses and other healthcare workers in private nursing homes without access to male comparators in their workplaces the right to maintain pay equity with continuing reference to a male comparator.
That appeal – filed by the Doug Ford government and affected for-profit nursing homes in an Ontario Divisional Court in May 2019 – was heard by the Ontario Court of Appeal, and was ruled in favour of working women this past March, before it was brought to the Supreme Court. The legal battle first began in 1995.
"Today's ruling is a historic and conclusive win for women working in the care economy… it's time Premier Ford and the for-profit nursing home chains drop any further attempt to deny women working in long-term care the pay equity they deserve," says Stewart.
Almost three years after it was first introduced, the Pay Equity Act has finally come into force in Canada for federally regulated employers.
The Ontario Nurses' Association (ONA) also celebrated the Supreme Court's decision, calling it a "huge victory".
"We are thrilled that we can now move forward once and for all and we can begin to implement the Court of Appeal decision," says Vicki McKenna, ONA president.
"Our members – as well as all working women in female-dominated workplaces in the public sector – will see that their work is valued and receive the compensation that they are entitled to. This decision will greatly improve workers' wages in the sector, which can be helpful with recruitment and retention efforts."
In August, several unions demanded an urgent and comprehensive strategy from the Ontario government to address what they describe as a worsening HR crisis in the province.
*Clarification from SEIU Healthcare: With 10 per cent not vaccinated, the true percentage of those who would leave due to a policy is two per cent. With 70 per cent of the 54 per cent who responded concerned about wages and working conditions, that puts it at 39 per cent of all respondents. So "20 times" comes from two per cent of the total respondents who are considering leaving healthcare because of the vaccine and 39 per cent who are considering leaving healthcare due to wages and working conditions. This is of all healthcare workers surveyed, not just those considering leaving.