Years of advancement faltered with the COVID-19 outbreak — but there's hope on the horizon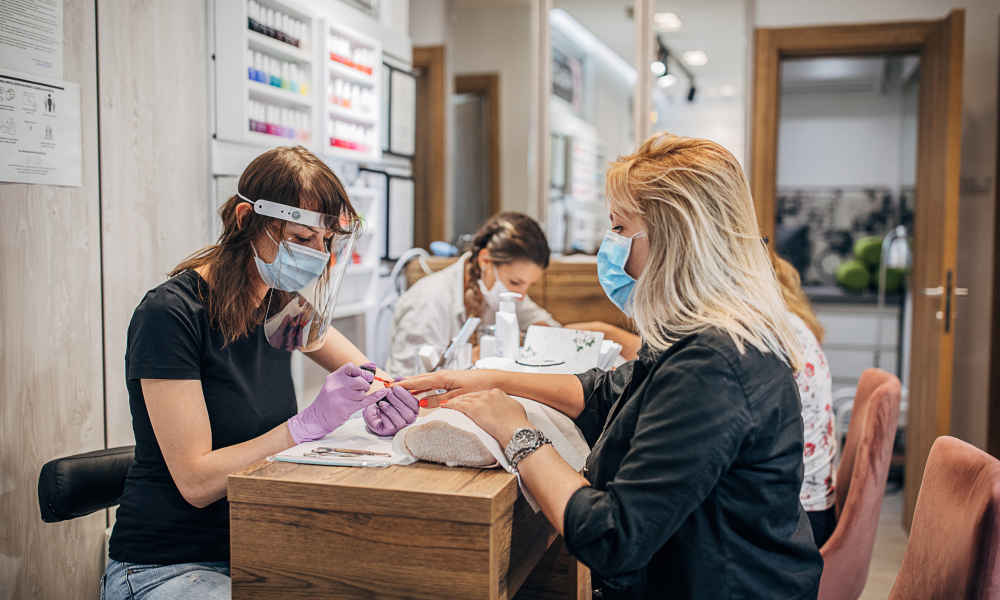 The coronavirus pandemic has drastically affected many workers, but for Canadian women, the impact is much more negative than it has been for men.
"Women are falling out of the labour force while men are joining it," says Carrie Freestone, economist at RBC in Toronto and author of the report Canadian Women Continue to Exit the Labour Force. "Between February and October, just under 21,000 women fell out of the labour force and 60,000 men joined."
"Women's participation was at the lowest level in 18 years," she says.
Women in the age groups of 20 to 24 and 35 to 39 left the labour force even faster than other groups, says Freestone.
"Two-thirds of the women aged 35 to 39 who fell out of the labour force between February and October had a young child under six and they only made up 41 per cent of the labour force in February... This group is experiencing an outsized impact."
Certain categories more impacted
For many women in female-dominated job classes, the numbers are even more worrying, according to another report.
"Women lost jobs at a rate of two to one compared to men, so that hit women's sectors very hard," says Ann Decter, senior director of community initiatives at the Canadian Women's Foundation in Toronto.
"We find more women among lower-wage earners than men. There was so much heavy impact and we've seen a slower recovery for women."
Resetting Normal: Women, Decent Work and Canada's Fractured Care Economy was jointly produced by the Canadian Women's Foundation, the Canadian Centre for Policy Alternatives (CCPA) and the Ontario Nonprofit Network (ONN).
The primary and long-term care areas of health care were particularly hard hit by COVID-19, especially economically, found the report. Around 90 per cent of all nurses and personal support workers (PSWs) are women.
"Women are employed largely in essential worker categories that have been at the forefront of containing and fighting the pandemic, whether that's health-care workers, personal support workers and long-term care. They've also been disproportionately impacted as [those] employed in front-facing service sectors have experienced huge layoffs," says Katherine Scott, senior researcher at the CCPA in Ottawa.
"[In] personal services businesses, estheticians and the like, women have been disproportionately represented in the sectors that are in the throes of yet another lockdown with the second wave. In all of these different ways, women have been hugely disproportionately impacted by the pandemic."
Women accounted for 300,000 lost jobs between February and March, representing 70 per cent of Canadians aged 25 to 54 who lost work during that time, says the report. Overall, 1.5 million women have lost jobs since the outbreak began.
Various sectors hit hard
Another sector that was slammed hard was not-for-profit organizations.
"The pandemic has really impacted non-profit, which will impact the 1.6 million women who work in our labour force," says Pamela Uppal, policy advisor at ONN in Toronto.
The sector, which includes community and primary care facilities, experienced income losses that cut deep.
"Between March and June, a lot of non-profits resorted to pay cuts, and 10 per cent of respondents [to the report] were using their own personal funds to meet the financial needs of their organization," she says.
Some daycare centres are part of the non-profit sector and with one in five on the brink of permanent closure, this is distressing for many women, says Uppal.
"It'll impact jobs in our sector, and that disproportionately impacts women. Anecdotally, we have been hearing that women are leaving our sector."
The lack of safe and affordable childcare has been another challenge, she says, as a lot of women rely on daycare to be able to work.
In the accommodation and food services sectors, women accounted for about 80 per cent of layoffs, found the RBC report, in contrast to the professional, scientific and technical services industry, which gained 55,000 jobs between February and October, and e-commerce activity, which experienced an uptick.
"Men made up three-quarters of the job gains in the tech sector throughout the pandemic," says Freestone.
Wages, equity suffer
As the pandemic affects the economy as a whole, the wage gap — which had been making positive gains over the years — is suffering from downward pressure, says Freestone.
"If women's participation was equal to men's and there was no wage gap, then essentially our GDP would be $100 billion higher each year. It's costing our economy $100 billion every year that we have this wage gap."
Plus, the battle to have more women involved in STEM (science, technology, engineering and math) subjects has not improved with the pandemic, says Scott.
"It's been a really intractable challenge," she says. "If you look at where women are working in the economy, where they were working 50 years ago [and] today, there's actually not much difference. And those kinds of barriers are hard."
In addition, the level of equity in the workplace should be negatively impacted by COVID-19, says Scott, as diversity and inclusion strategies may be set aside.
"We're going to have to wait and see whether companies feel that it's just more red tape as opposed to understanding that it's transformational and will generate an economic benefit of its own."
Possible remedies on horizon
Encouragingly, the message that women are being more acutely affected by the lockdown is being heard, says Decter, judging by a recent Canadian Women's Foundation survey.
"Sixty-three per cent of Canadians are concerned that women face more exposure [to] COVID-19 given their role in service and care industries, and 60 per cent would like to see recovery plans that address the impacts of the pandemic on women."
For employers, implementing such measures as paid sick leave would go a long way to help alleviate some of the problems, says Decter. "It makes for a better workplace in the long term."
Governments also have a role to play in the recovery, says Scott, and they should take the opportunity to make certain reforms "to labour legislation and employment standards, to raise the bar such that we have stronger support services available to precarious temporary work because they've been so disproportionately hit."
And while there could be an erosion of skills with so many women out of the workforce, modifications to the federal employment insurance (EI) program are encouraging, says Decter.
"We've seen some really interesting suggestions around modernizing of EI and connecting that to employment and new skills training. If there is a population of women who are displaced from the labour force and as the pandemic lifts and are looking to return, EI could be well used on reskilling," she says.
"That is a way to reach women, especially if childcare gets in place. Women will be looking for skilling and EI could provide a great deal to do that."
A national child-care scheme would go a long way in helping women, says Decter.
"If you look to the Quebec example of when they brought in low-cost, broadly accessible childcare in 1996, between then and 2008, more than 50 per cent of single mothers left social assistance and got work. You can see that it really is an access-to-work support," she says, adding that she's hopeful now that the federal government has promised such a program in an economic update.
"We've gone beyond inching toward broad-based, accessible, national childcare to actual movement. This government has committed to it on several occasions," says Decter. "That kind of conversation and direction needs to continue so that Canada is as productive as possible and getting the most out of the workforce."