Women also more likely to be harassed by clients, customers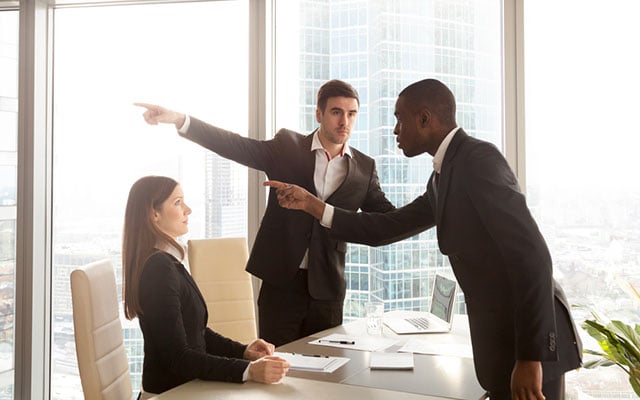 Harassment and abuse on the job continue to plague many Canadian workplaces, according to a Statistics Canada study.
Almost one-fifth (19 per cent) of women and 13 per cent of men reported they suffered some form of harassment in the past year, according to Harassment in Canadian Workplaces, which used data from the 2016 General Social Survey on Canadians at Work and Home:
"Harassment in the workplace comes in a variety of forms, as it can range from interpersonal mistreatment, such as disrespect, condescension and degradation, to more physical forms of harassment such as physical assault, sexual assault, bullying or the threat of harm."
The problem persists despite efforts to address it, according to Irit Kelman, workplace investigator and trainer at Rubin Thomlinson in Toronto.
"We do see harassment allegations all the time but (you can see) how pervasive it is when you look at the percentages and convert it: You've got almost one in five working women and one in seven working men who say they've experienced harassment in the past year."
Women (53 per cent) are also more likely to say they received harassment from a client or customer than men (42 per cent), found Statistics Canada.
Harassment in all forms — sexual harassment, bullying or harassment — has been going on for centuries, said Wendy Giuffre, president and principal consultant at Wendy Ellen HR consultancy in Calgary.
"It's only in the last 10 years that it's come to the forefront."
But most employers are getting the message that harassment cannot be tolerated, according to Kent Highnam, program director at the School of Health, Community & Social Justice at the Justice Institute of British Columbia in Vancouver.
"We're surrounded in society by the #MeToo movement and other social groundswells of awareness and advocacy, and that has to have an impact on the workplace," said Highnam.
"There is also a generational shift, there's more diversity in the workplaces now, there are people who identify with one or a number of different genders, and it's almost not an option for employers to not become more aware of and more sensitive to how this diversity needs to be accommodated in the workplace."
Harassment and the bottom line
Eliminating harassment is not only the right thing to do morally, but also financially, said Dan Boucher, director of regulatory affairs research at Chartered Professionals in Human Resources (CPHR) Alberta, in Calgary.
"In the short term, you've got costs associated with investigations, with legal advice, but in the long term, the workplace where harassment is not addressed is going to suffer from higher turnover from lower engagement and lower productivity," he said.
"Our research in Alberta shows that the average cost for turnover per employee is just under $25,500," said Boucher.
"On top of that, harassment can impact an employer's brand. If an employer is known to disregard harassment, then it's going to become all the more difficult to recruit talent, and the public relation costs to the organization are pretty substantial."
Statistics Canada also found about 47 per cent of men and 34 per cent of women who had been harassed by a supervisor or manager had a weak sense of belonging to their current organization, compared with 16 per cent of both women and men who said they had not been harassed at work in the past year.
Lower worker productivity can become more acute in abusive workplaces, according to Kelman.
"The impact on someone who has witnessed harassment (can be) just as strong on the person who's experiencing it because it really creates a toxic work environment and people start thinking, 'Oh, am I next?' And then it creates a feeling of helplessness and then you end up (with) higher turnover where people may just choose to leave."
Training, culture important
One way to get out in front of workplace harassment and abuse is to adopt a more stringent education regime, said Boucher.
"Our research indicates the most successful tool for reducing harassment involves workplace training," he said.
"For managers and front-line supervisors, they need training that's going to help them enforce the zero-tolerance policy around harassment."
But there must be an ongoing process for training to succeed because a lot of people think one time is good enough, according to Giuffre.
"It's like any education, it's got to be an ongoing or recurring theme. It can't just be 'Yep, we can check that box off. We've talked about our anti-harassment policy and procedures.' It's got to be ongoing, and you have to foster a culture of acceptance of diverse cultures, races every day."
Training also needs to be underscored for those who witness workplace abuse, according to Highnam.
"By far, the most powerful demographic in the workplace are bystanders. To say that 'We're going to bully-proof targets' or 'We're going to hunt down all the bullies' is probably not advisable or even possible. We try to address the bystanders as the most prevalent and the most influential component of creating (a positive) workplace environment."
But that training needs to be followed up with a corporate culture shift, he said.
"Education and training is essential but it has to be embedded in a corporate or workplace culture that says, 'We're also going to support you when you (report) it,' because when people take a step out onto the limb and try and call people on their behaviour and management doesn't support them, then they learn pretty quickly that that's not a safe thing to do."
The large-scale culture change must begin in the C-suite, according to Boucher.
"Addressing harassment in the workplace shouldn't just be a concern for human resources, it needs to be a priority for senior leadership," he said.
"They set the tone and they communicate in a lot of ways by their actions what the company culture is. If you have a culture that accepts harassment, that's going to embolden harassers, and it's going to dissuade people from reporting harassment."
For human resources, the message must be consistently reinforced, said Giuffre, citing employers that say, "I want our culture to be this."
"You can't just state a culture, you've got to create culture and policies are a big part of that. But there's more to that — there's communication, evidence-based culture where you show that you practise what you preach, those kinds of things."
Communicating to clients and customers
Communicating an anti-harassment message to clients and customers is also crucial to preventing workplace abuse, according to Highnam.
"Often, people don't realize that the obligations of creating a safe and respectful workplace extend to service providers and contractors. Communication is obviously the most important preventive piece for any contract for service that you extend; it should have that respectful workplace type of clause in it."
Even though employers might be reluctant to chastise customers for uncivil behaviour towards employees, it is a necessary endeavour, said Giuffre.
"If you become aware of an abusive situation with a client, you have to show that you're protecting your employees and that you don't tolerate that inside your organization or outside your organization," she said.
"That's a tough one because that's money coming in the door — but you also have to show that you stand up for your employees."
SIDEBAR
Focus on health care
The problem of harassment in the workplace is most acute for health-care workers, with 22 per cent reporting an incident of abuse during the past year, according to Statistics Canada.
That number is not surprising, said Michael Hurley, president of the Ontario Council of Hospital Unions (OCHU) in Toronto.
"The workforce in health care is predominantly female, probably 85 per cent female, and Canadian society has a very high tolerance of violence directed against women."
Unique challenges in the health-care industry are also why there is a high number of incidents, he said.
"People are more likely to be working by themselves and more vulnerable to being threatened and… we see people who are intoxicated."
OCHU data has found even higher numbers for health-care harassment, said Hurley.
"In the hospitals, 70 per cent, approximately, of front-line care workers reported that they were physically or verbally assaulted at least once in the last year, and 20 per cent were assaulted more than nine times. And 42 per cent reported that they were sexually harassed or sexually assaulted."