Amid the upheaval of the pandemic, Canadian leaders are putting employees and customers first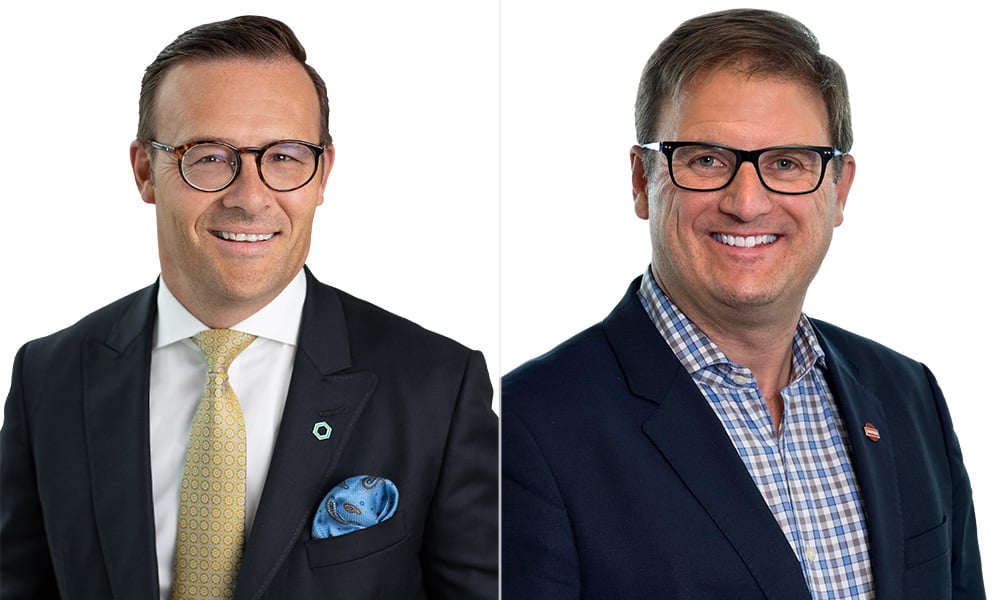 Guy Cormier
President and CEO of Desjardins Group
Based in Quebec, the financial services co-operative has 48,000 employees
While many employers have said they put their employees first amid the pandemic, Desjardins truly came through.
For one, it quickly made the decision not to do any layoffs. That meant having more than 80 per cent of staff working from home, and they were kept busy dealing with many questions from customers dealing with the economic crisis.
"It brought less uncertainty for our staff because when you are managing a situation like we all had to manage since the beginning of March… you want to keep 48,000 employees as motivated and as focused as they should be," says Guy Cormier, president and CEO.
The co-op also decided to give up to $700 to each employee to cover any at-home expenses for ergonomic or IT equipment and introduced flexible schedules for remote workers. Parents were also given an allowance for child-care expenses, and employees who did have to go into work were reimbursed for parking and taxis, he says.
In addition, any employees that were still on-site at Desjardins locations in Quebec or Ontario were given an extra half-day of vacation for each week of work.
The generosity extended to the customer side, as Desjardins launched several relief measures that included deferral payments and reduced interest rates. It also increased contactless payment limits to $250 from $100 so people could be safer with their transactions and launched a $3,000 emergency loan on the retail banking side, says Cormier.
"Hundreds of thousands of members and clients have used these relief measures. So, it was important for us not only because we're a co-op but because we are so strong in Quebec but also in the country… to act properly and lead by example."
Strong culture
One of the big reasons why Desjardins was able to act so proactively and quickly is because of its values and culture, he says.
"It was so clear that doing what is best for our members and clients was the only way to contribute to help the society, our members, clients and the country go through this situation. There was no conflict about 'OK, there's the net profit at the end of the year' or 'There's our growth' or 'There are some investors that will look at our results' and all these things," says Cormier.
"It's not only the fact that we were ready, but our culture was so strong and it was so clear in our mind [what we] must do in a situation like that, so it can help us to take really quick decisions and the right decisions."
During a crisis like this one, people were also looking to their leaders to be behind them, to provide alignment and listen and adjust, he says. To that end, Cormier decided to hold weekly webcasts with all employees, in both French and English, with up to 30,000 employees joining in.
"This connection with them, for me, was really important; first, to listen to them… just by their questions and their comments, it was easier for me to have a feeling of what was bothering them or what was the mood of our people right now; and second, it was also really helpful, just as the president and CEO, to not lead by example, but [by] being really human and telling them what were my expectations. Sometimes, I haven't all the answers [so it was about] being really honest about the fact that 'I'll listen to you; I'll bring back the answer next week.'"
Looking ahead
Looking down the road, Desjardins will continue to be prudent and cautious about fully reopening. For the most part, people will keep working from home until the end of 2020, he says.
"We asked everyone to stay home, don't come back in the offices… So, we'll be able to bring back some employees carefully in our offices, specifically, but really slowly in the next few months. But the main message is to keep everyone happy at home, to contribute, to stop a second wave and to be sure that everyone feels safe."
Even in 2021 and beyond, people will continue to work from home, and a hybrid model might make sense, says Cormier.
"We all learned that it's possible to stay productive, and so we're going to use the next few months to adjust to see what maybe we should change or what we should learn. But it's sure that the new normal means probably 60-50 or 60-40 time at home in a way where people can feel not only safe but can feel that they can do their job."
David Boone
CEO of Staples Canada
The 10,000-employee office supply company is based in Richmond Hill, Ont.
When the COVID-19 threat first hit and lockdowns quickly followed, there were a lot of different elements involved, says David Boone, CEO of Staples Canada.
"[We] certainly have lots of plans for business interruption, business continuity, but I think the scale and the scope of the disruption was unprecedented. So, there was a combination of working with our existing plans and then modifying as we go."
First off, the health and safety of employees and customers was critical, he says.
"I cannot underestimate how much effort and energy we put into having the right protocols for our associates to work in our store environment. We actually ended up branding the program 'Shop Safe' and created a set of shopping experiences, a set of materials, a set of protocols, and also every sort of scenario that could unfold to ensure that we were keeping the environment that people were working in safe."
Secondly, with much of Staples' services considered essential, the company was quickly providing technology to clinics and hospitals and government, says Boone.
"I could list you 100 stories of different organizations that counted on us to help them operate in the pandemic, so that was everything from putting technology in the hallway of a hospital, iPads, laptops, because they were expecting a surge of cases; to printing travel advisories for the government overnight; to providing disinfectant to first responders in a province," he says.
Thirdly, the retailer focused on getting its 500 or so office workers set up at home, along with Staples customers, says Boone.
"It went relatively smooth because we did it so quickly. And we're a little bit advantaged because most of the equipment and products that we provide, and impact services that we're providing to other companies, we can provide to ourselves."
Leadership and culture
Staples set up a working group to manage its response to the pandemic, combined with executive oversight that met twice a day at the height of the crisis. And human resources had a major role in all that, he says.
"There's a tremendous amount of work in just managing communication and managing the employee experience around that and making sure that we're treating our folks properly from a benefits point of view, understanding what we're going to offer and what the various government programs [are] as they rapidly came out."
Through all this upheaval, leadership is massively important. That has meant being visible and engaging with employees and dramatically changing communications, says Boone.
"We switched gears pretty quickly to have the entire senior leadership team of Staples on a conference call every week talking to our entire organization and giving them a chance to ask us questions directly that we could answer or take feedback [on], and we would go resolve issues on behalf of them."
Having such a strong sense of purpose — in supplying much-needed supplies to various stakeholders — rallied the teams at Staples, he says.
"We knew we had a role to play that was beyond driving revenues every day; it was to help our customers and, quite frankly, important parts of the community, important parts of the government."
Next steps
Speaking in mid-September, Boone says office workers are slowly coming back, as the company began opening office facilities in late summer with a limited number of people.
"What we are experiencing, and what our associates are telling us, is there's a certain group of folks who definitely would prefer to work remote on a permanent basis; that is the minority of people. And then there's another group that would want to be in the office every day… the majority of our associates want some flexibility around their schedule and timing in the office," he says.
"So, the vast majority of what we're going to be doing from an office point of view is a hybrid model."
Overall, the company has greater visibility to the future, says Boone.
"We have a sustainable approach to how we're going to serve our customers, and what channels they're going to use and what products they need in this new normal. But what we are doing in that is ensuring that if there's a second wave, if other unforeseen circumstances arise, that we know how to respond, and we're certainly prepared to respond so that we can do things safely and also preserve the success of our company."
Emmie Leung
Founder and CEO of Emterra
The recycling and waste management company has 1,100 employees and is based in Burlington, Ont.
Panic. That's what everybody felt when the government announced there was an emergency, "including me," says Emmie Leung, CEO and founder of Emterra, a recycling and waste management company.
However, her team was able to keep calm and immediately put together a multi-discipline and multi-jurisdiction pandemic action committee to come up with a plan, she says.
"[The] focus or the guiding principle of the pandemic committee is calm, care and continuity… Panic is not going to help us. Everybody is throwing their arms up, but we need to keep calm... With that in mind, we are able to continue our business and also able to keep our employees calm and feel safe and continue to come to work every day."
The company also boosted its communication, both internally and to the community it serves, says Leung.
"Our focus in the past [has been] more toward the community, but now we are focused more toward our employees."
A newsletter sent out every two weeks to all employees details the latest developments and public announcements. It also "gives them tips as to how improve their health, how to deal with family issues with all the kids running around. So [it's about] more communication that would pull the team together," she says.
Happily, the company did not have to carry out any layoffs because of COVID-19, and the whole crisis has actually brought people together, says Leung.
"They feel that that the company does care. There are times you care, but they don't see it that way. And now we have this communication [that's] more intense toward them. And we focus on the health and their well-being. So, it creates a better sense of belonging with the company… people are working together as a team."
Safety changes
Emterra has made several changes to the way it does business, particularly when it comes to policies that embrace safety. For instance, it started staggering shift start times for the many employees dispatched on trucks, to avoid too much congestion in the compound in the morning, she says.
"All these ideas came from our employees… and I think that makes a change more acceptable because it's coming from them. It is also very applicable. It's not from the top, it's from the bottom up and I believe that that [makes] us a little bit different from other companies in handling this situation a lot better."
Another exciting development involved sanitizer. In the early days of the pandemic when people were scrambling to find enough product, Emterra realized its ethanol division could help make hand sanitizer. The company first used the product to sterilize the workplace, and it also donated supplies to essential workers at hospitals and fire departments, says Leung.
"Within a month, we applied to Health Canada for FDA approval, and we got it. We've created a new business for hand sanitizer. Isn't that amazing?"
Another big change set to transform the company will be the introduction of robots on the recycling line. In addition to preventive measures such as masks, the company is looking to keep workers well separated by having the machines between them, she says.
"We're continuing to progress in terms of how [we] use technology to ensure employee safety and, at the same time, to stay competitive and continue our business."
As for the "new normal," Leung doesn't think there is one.
"Our company prides ourselves to be resilient and agile… So, with the COVID-19, we have to change, and as the economy opens or the emergency is lifted or the schools [reopen], we are continuing to change with the changing environment. And that is what we have been doing well, and we will continue to do that. And by doing so, we can keep staying in the business."
Kevin Johnson
CEO of MediaCom Canada
The marketing and advertising company has 150 employees across three offices
"That was a huge change," says Kevin Johnson, CEO of MediaCom Canada, in describing the firm's sudden shift to a remote working environment when COVID-19 lockdowns began.
Until then, only a small percentage of employees were consistently working from home, he says.
"All of that put together was a lot to deal with, so I think those first couple of weeks were extremely tough for us as an agency."
Johnson admits there were concerns about sustaining productivity levels in relocating about 150 people from three different office spaces.
"We were all holding our breath a little bit around the transition," he says. "We were all trying to really find our way within this new environment that we were dealing with. Not only were we trying to get through a system, not only were we trying to find new ways of connecting with our groups, our peers, our teams, but also you had the kids, for some of us, [who] were sitting right beside us."
But the advertising and marketing agency was able to get through it all, and much of that success was thanks to the technology used, says Johnson.
"If you had asked me in February if I had my team of 150 people working from home [and] would it be as productive, I would say, 'Definitely not.' But here we are, several months later, and I am grateful and point to the tools, the systems and the technologies that have really not only helped the team get their day-to-day job done but also be able to connect and communicate within their teams as well as clients. So that's a huge win for us."
MediaCom Canada was also diligent in delivering when it came to its ongoing relationship with clients, he says.
"We've been able to continue in this path, not only being able to meet the expectations of our clients, recognizing the time that we're in, but also to demonstrate ourselves as providing good counsel and good advisors through this time."
Connections important
Leadership and communication were also critical, says Johnson.
"Even in a pre-COVID world, we would regularly have town halls where we were very strategic about the information that we were sharing with them, what we're going after, our focus, celebrations… Now that we are in a time where we're not physically together, even more so that is important for us to continue that, and that town hall is now virtual," he says.
"I think the team really felt the effects of the lack of unity or closeness or proximity, having everybody work remotely, and so those are some of the key challenges that I thought we had to work through."
The stability and mental health side of staff is also important from a leadership perspective, says Johnson.
"I've felt the need to call individually across the group and just do a really quick check-in, with no other intention other than to say, 'Hey, how are you? How are you doing? Is there anything that we can do to help make your life easier?' And also remind them about some of the employee assistance programs that we have that can help — anything from talking to somebody to yoga — just to keep the mental health top of mind and make sure that they are taking care of themselves as they work for our clients as well."
Returning to work
In looking at a return to the workplace, MediaCom is regularly surveying employees to gauge their comfort levels, he says.
"We are overlaying that with the expectations and the guidance that we're getting from our organization, as well as from the provincial and federal guidelines that we're getting. And, so, with that, we are looking at some type of return-to-work strategy in January," says Johnson.
"Having people physically together is very important. But... the health and safety of our people trumps all. So, we will continue to allow technology to help us mitigate some of that 'physical distance.' And, hopefully, we'll be in a position early next year that we'll be able to get back into the office."