Many workers keen on flexible approach but concerned about management response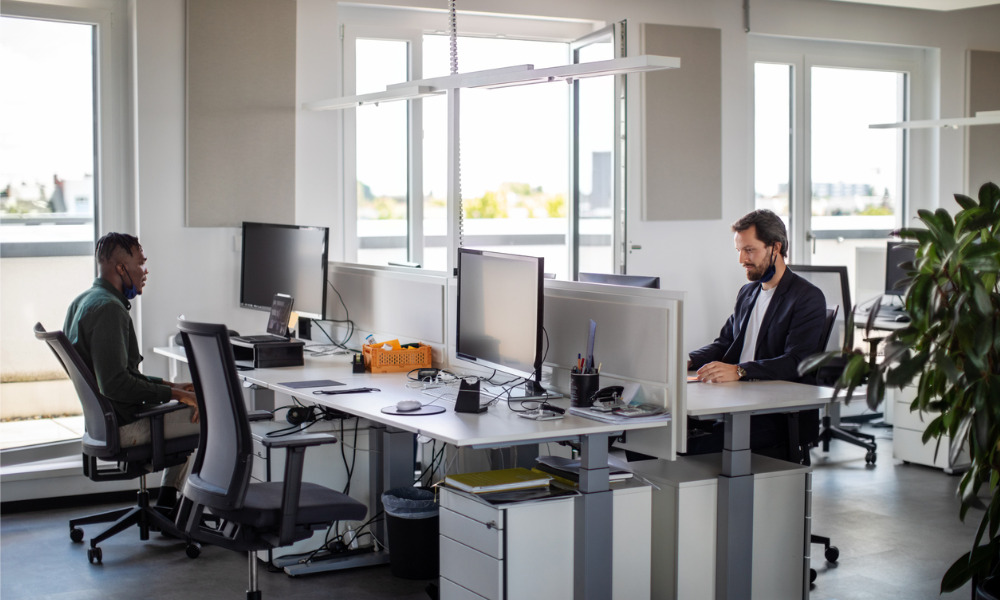 More than three-quarters (77 per cent) of Canadians want the flexibility to work both in the office and remotely, and 71 per cent believe a hybrid workplace should be the standard model for all organizations.
However, many Canadians worry about how their managers will handle this approach, according to a survey from KPMG in Canada.
More than four in five (81 per cent) expressed concern that their bosses aren't prepared or equipped to manage hybrid workplace models and 49 per cent feel they could be overlooked for promotions or face discrimination if they wanted to continue working from home.
Also, 46 per cent feel their managers would treat them differently or penalize them if they didn't go into the office every day, and 45 per cent believe their employer does not understand the implications of a hybrid workplace model.
"Although the novelty of everyone working remotely for months on end has worn off, Canadians definitely crave the flexibility to stay at home or go into the office when required," says Doron Melnick, partner and national leader of KPMG's people and change practice.
"It's equally clear that Canadians have a lot of concerns about how that will work. For many organizations, it's uncharted territory. But, the risks can be addressed with supports, such as training, technology, guidelines, and policies."
Nearly half (49 per cent) of workers say that flexibility over the hours and location of their work is more important now compared to pre-COVID times (40 per cent) while 45 per cent say work-life balance has become more important (compared to 44 per cent who say it's the same), according to a separate report.
Return to office
More than two-thirds (67 per cent) of workers are satisfied with their current work-from-home environment and 51 per cent feel more productive/effective working in a virtual work environment.
However, more than three in five (63 per cent) Canadians say that they want to return to their physical workplace or office, found KPMG in Canada's survey of 2,003 respondents conducted in March.
"This isn't surprising given that our previous research showed the pandemic is negatively impacting Canadians' mental health and many feel overworked and burnt out," says Leigh Harris, a management consulting partner, who leads KPMG's federal government practice. "COVID-19 lifted much of the inertia around challenging the what, how, when, and where people work, and organizations now have an opportunity to articulate and plan for the future shape of their workforce."
This is in contrast to a previous report that found 33 per cent of employees currently working from home say that they will quit their job if forced to return to the workplace full time.
COVID concerns
Still, there are challenges to return to the workplace.
More than seven in 10 (72 per cent) employees are worried about taking public transportation, and 59 per cent worry about travelling for work within their province, Canada or abroad. Another 68 per cent ranked contracting COVID from colleagues coming to work sick or asymptomatic as a top three concern about returning to the workplace.
More than half (54 per cent) believe that their employer should require proof of vaccination or vaccine passports, with 57 per cent saying employers have the right to demand staff be vaccinated before allowing them to enter the workplace
Another 72 per cent would agree to be tested regularly for COVID in the workplace.
Canadian HR Reporter recently spoke with a legal expert about whether workers can be mandated to take the vaccine by employers.
Why consider flex work?
Employers should consider implementing flexible work options because there are a lot of benefits, according to the Canadian Centre for Occupational Health and Safety (CCOHS). Flexible work arrangements can help employees manage their responsibilities outside of work and help employers with:
increased ability to attract, retain and motivate high-performing and experienced employees
reduced absenteeism and presenteeism
increased job satisfaction, energy, creativity, and ability to handle stress
increased diversity and inclusivity
lower office overhead costs
a positive impact on the climate