Compressed workweeks, split shifts also common during pandemic: survey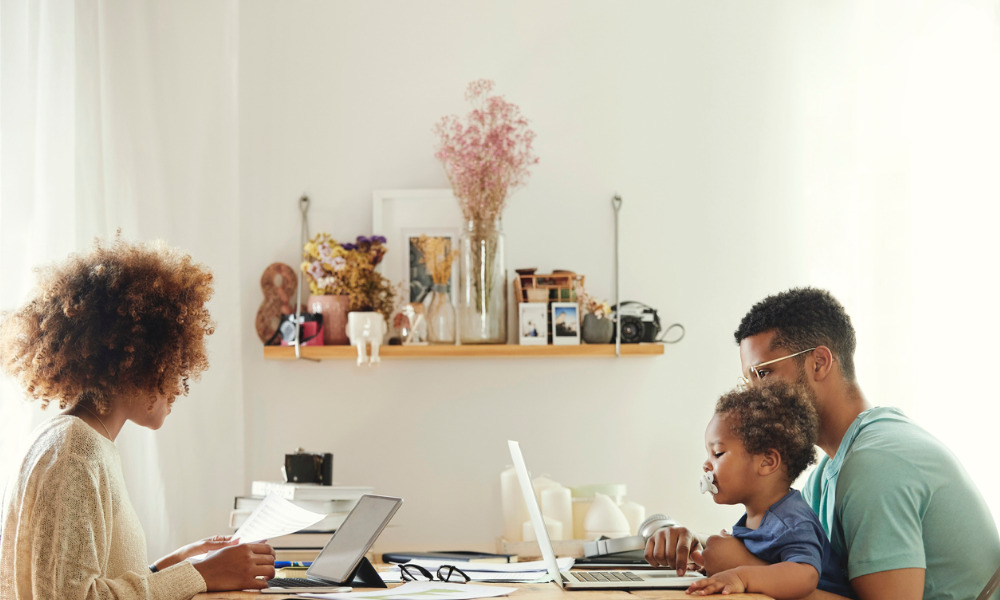 For employees who cannot work their regular working hours due to caregiving needs, a majority of Canadian employers (83 per cent) are providing flex time as accommodation.
More than half (56 per cent) are providing flex time around core hours while 55 per cent are offering reduced hours, found a survey by the Conference Board of Canada.
Also popular are compressed workweeks (34 per cent) and split shifts (28 per cent), followed by job-sharing (11 per cent), found the survey of 283 organizations on April 6.
"Businesses are expanding what the definition of core hours are to some extent so that you can have meetings at six o'clock at night if [they] need to, rather than trying to confine them into a regular workday period," says Michael Burt, executive director at the Conference Board of Canada in Orleans, Ont.
Compensation considerations
Not surprisingly, 86 per cent of the employers say they have employees who can't work their regular work schedule due to family responsibilities (defined as caring for children, elderly parents, disabled family members, sick family members or other dependent family members of any age). Among those, 79 per cent are able to work regular hours with accommodation, 65 per cent are unable to work full hours and 41 per cent are unable to work at all, found the survey.
"Obviously, daycares are closed, schools are closed, and if you have young children, it can make it very challenging for people to work full-time hours in an environment where you're also trying to entertain your children, take care of them, feed them and hopefully try and keep up with their education too, so I'm not at all surprised to see this," says Burt. "It's something many people are dealing with right now."
For employees who remain employed but can't work full hours due to family responsibilities, 50 per cent of organizations surveyed continue to offer regular pay. Other approaches include:
regular pay for a period, then paid leave (16 per cent)
paid leave for a period, then unpaid leave (13 per cent)
paid leave (nine per cent)
regular pay for a period, then unpaid (nine per cent)
unpaid leave (three per cent)
Productivity considerations
For some organizations, output may suffer, at least in the short term.
"It's certainly having an impact on profit; we can't measure it yet, but I'd be very surprised if we're not seeing an impact on productivity. People are less able to focus, even if they are able to work; they may get called away frequently to deal with family issues, maybe they are getting their hours in, but it's broken up and they get a couple hours in early in the morning and a little bit in the day and then the rest at night," says Burt.
"You're not able to connect to people in the way you should, there's productivity implications," he says. "People are trying to cope with these family situations at home and they're having to cut back on their hours because they can't be both full-time parents and full-time workers at the same time."
For employers to best manage the workplace disruption, they need to engage with employees, says Burt.
"This [pandemic] was a very quick thing, everyone literally was overnight, 'OK, we're going to do this.' Understanding what [workers'] challenges are and then how you might accommodate [them], that is important."
And HR departments should be creative in accepting new ways of doing business, he says.
"We have our toolkit around job sharing, part-time work, temporary leaves: These are all standard things for your typical HR department. But we may actually see new ideas come out of this in terms of how do we accommodate the situation and that may actually help address most productivity concerns and also help people with that ongoing work-life balance situation, even after the COVID crisis has passed," says Burt.
"I expect we will see some good ideas coming out of staff in terms of: How do you address these challenges?"