'We really want employees to have a say in what their work environment looks like': HR manager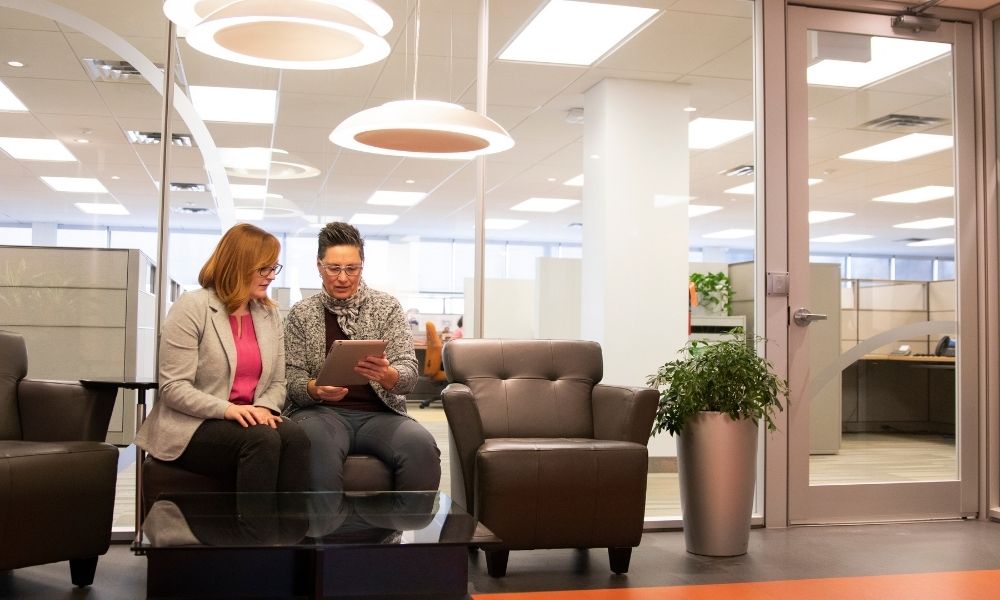 "Fingers crossed, this is the one, and this is the time that we'll be able to stay and continue to grow."
So says Candace Synchyshyn, HR manager at Payworks, in discussing her company's plans to return to the office — in some form — in the coming weeks.
Back in 2020, the organization brought some employees back to the office, more out of need, and it did so again after waves of COVID passed, she says.
But now that omicron seems to have settled down, the 380-employee company hopes to welcome workers back soon.
"We're all excited," says Synchyshyn. "For me, as an HR professional, I count a lot on having those relationships, I'm a person that values face-to-face conversations… I love building those relationships with our employees and I feel that I'm in a better position to do that when I see them, when I can have those passing conversations."
Back in December, the City of Toronto had to revise its plans to return to the office after the threat of omicron.
Back to the office?
But looking around right now, it's a mixed bag when it comes to employers contemplating a bigger return to the office, she says.
"I am seeing some employers who are 'OK, you're back to the office now.' And just like, bam, back to the office on this day, without really having that conversation with their employees... And I think employees have really been able to demonstrate that 'We can do this from home.'"
To that end, some employers are closing down offices, allowing employees to work from wherever works best for them full time.
Read more: Employers have several factors to consider if they go fully remote, say experts.
But Payworks has always been one of those cultures that thrives with in-person contacts, says Synchyshyn.
"When we talk to our employees and say, 'What do you like most about working here?' the number one thing is always the people."
And there's a lot of excitement, she says. For example, in the Winnipeg office, roughly 70 per cent of the staff said they wanted to come back to the office in some fashion.
Many employees are reluctant about a return to the workplace, says Cissy Pau, principal consultant at Clear HR Consulting in Vancouver.
"For one, people are still anxious and concerned and, two, [employers] might not have the space if they want to now make sure that there's a bit of distance… and, three, the employee interest in actually going back full time in the office is not there."
And those people who may not be as interested may then not be as engaged, leading to potential retention issues, she says.
"You have to balance that off with it [being] so hard to find skilled talent these days… are you prepared to have those employees who may not be super vocal?"
While some workers may speak out against returning to the office, many will not be as outspoken and quietly start looking for work somewhere else, says Pau.
"As an employer, how do you deal with it if you've got key employees who are just not as engaged or who are going to leave? Can you replace them?"
The "great resignation" is in full swing, with 43 per cent of workers saying they intend to switch jobs in 2022, according to a survey by Randstad Canada.
Employee communications key
One way to find out how staff feel is to do a survey or at least solicit feedback. At Payworks, giving employees a voice "is extremely important," says Synchyshyn, "and I would say, even now, as we navigate this new reality that we're in, it's even more key."
The company didn't have a remote workforce before so it is keen to do it well going forward.
"We want to make sure that we are living by our purpose and doing right by our people and ensuring that the decisions we make collectively as a business really work with our employees, because without them, we're nothing," she says.
"We treat our employees as adults. And we really want them to be able to have a say in what their work environment looks like."
But the company also wants to "give people a glimpse into the office life" at Payworks, so it's asked employees to select their preference, whether that be work in the office, work in their cozy home office, or the best of both worlds while still remaining flexible, says Synchyshyn.
And HR has asked all the people leaders to find out what their team members are looking for.
"It's just really leaving it up to the employees… while still understanding that there may be those times where there's an in-person event or there's a training event that is taking place in-person," she says.
It's also about making sure people know that their decision isn't final, so if they need to readjust in three months, that's OK.
"Even for those who are choosing not to come back to the office at all, who've never stepped in it, we'd just like them to come and see the environment and make your decision from there, if you want to be in the office or not," says Synchyshyn.
Employers should determine who makes that final decision on the return to the office, says Pau.
"Is it a free-for-all that employees get to decide when they come in and when they don't? Are there parameters that the employer sets in place?" she says.
"Is it really up to the employee to decide? When you're asking for feedback, you're also setting the expectation of what it's going to be."
To be safe, employers should couch the return by telling employees they're using a hybrid model, and then looking for feedback, says Pau.
And ongoing communication is key.
"The more you can communicate about what you think the plans will be down the road, the better," she says. "If you don't let them know, as an employer, employees are going to fill in the blanks themselves. And they're going to make assumptions that may or may not be true."
Every Payworks office has its own return-to-work plan because there are different restrictions and mandates in different areas, and a committee made up of finance, legal, HR and internal efficiencies looks at different risks in different areas, says Synchyshyn.
"Together, we help form the communication along with our CEO, who shares what the future of work looks like."
Back in August 2021, many workers still don't know what their working arrangements would be in the foreseeable future and in the long term, according to a report from LinkedIn.
Welcoming people back
An important first step in welcoming people back to the office is first-day tours, she says.
"One of the things that we're really keeping top of mind is that there are a number of team members that have never even stepped into a Payworks office, have never seen their colleagues face to face. They've seen them in these little boxes [onscreen] and they don't even know how tall their colleagues are."
So, similar to the onboarding experience, people are being shown where everything is at the office, while having a chance to connect with their teams, she says.
"Ultimately, we just want our people to go at their own pace and what feels right to them."
Employers should take note of the fact that not everyone will be comfortable with big reunions with the return to the office, says Pau.
"I can see people who have been anxious about reintegrating up really quickly, I don't think they're going to be comfortable with that. So it depends on your people," she says.
"We've had clients where they've said that employees are literally afraid to come back to work, not because they think the workplace is unsafe or they don't want to interact, but the action of leaving their house and hopping on a bus or… going in an elevator, where they might be sharing with other people or going up the stairwell, that causes them anxiety, because they've been isolated for the last couple of years, or they've been super careful for a couple of years, or they are just really cautious."
It's also about demonstrating empathy, and trying to understand where people are at, says Pau, and "at the same time, making sure that operationally you're able to function and be efficient and productive."
Risk levels can really vary and it's a good idea to find a middle point that accommodates all sides, she says.
"It's setting the expectations, establishing expectations clearly, but also… being flexible and compassionate. And not expecting that everybody's going to be coming at it at the same pace. And I think some employers are going to have a harder time with that than others."