With the COVID-19 pandemic, employers are facing unprecedented change and tough decisions, so business continuity planning, employee communications and remote work are taking centre stage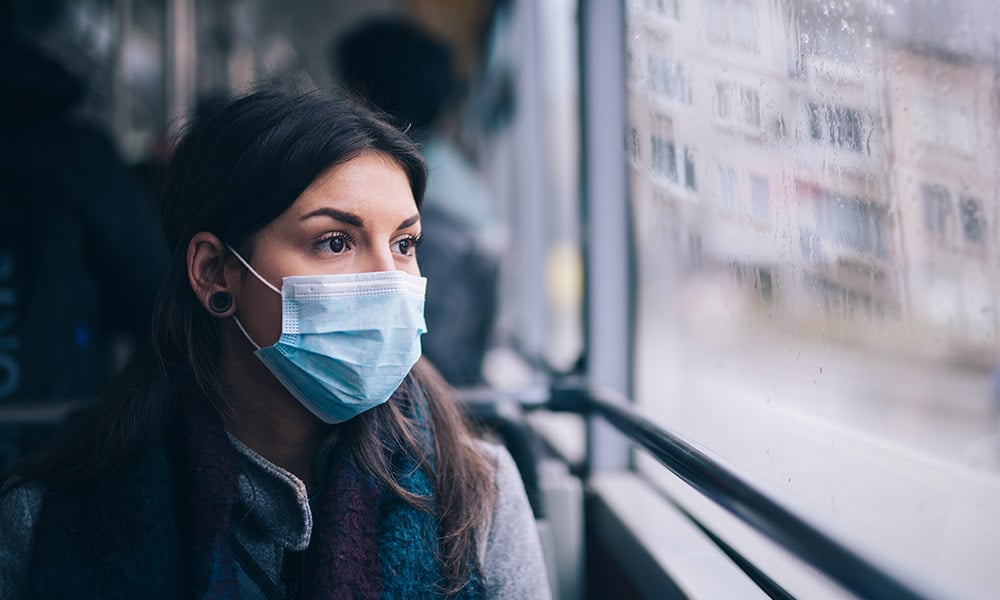 "Every time you go out, there is police everywhere and they ask you to identify yourself and to explain the reason why you are out... It's just like being in a war."
That was the situation facing Francesca Bossi, CHRO of Docebo in Milan in March, when her company was among many in Italy that underwent a severe lockdown enforced both by local police and the army.
"It's quite difficult, but we already know it is something we have to do to stop the virus, so it's not just an imposition, it's something that we are doing for our future."
And there are lessons to be learned from the pandemic, for now and the future, says Bossi.
"The most important lesson is to try to think in advance. Being a little paranoid in the beginning could really help you to manage the situation."
It is difficult to deal with something as unprecedented as this, where many employers are trying to figure out if they'll be able to open up for business the next day, says Plamen Petkov, vice president of legislative affairs and business resources at CFIB in Toronto.
"I could compare this to perhaps businesses that existed during the Second World War, for example, and what that looked like back then... but in recent history, I cannot really pinpoint another event, a global event or even Canadian event that has generated this type of anxiety and uncertainty. And I do think that, once we go through this, there will be a lot of lessons learned. And, hopefully, that would prepare us for being able to deal better with similar events in the future."
Business continuity planning in spotlight
Docebo was ready. Back in January, it was aware of the virus emerging in China, and when the infection arrived in Italy in February, the company had its contingency plan done, says Bossi.
"It was very easy for us to deliver it and then copy and paste it in English and Canada when the emergency came there."
Most of the business continuity planning that's done by employers is more about what percentage of people would need to be out of an office, for a short duration, says Ed Rodriguez, vice president and general manager of Canada sales at Citrix in Miami.
"Winter storms certainly can keep us out of the office for days at a time but never weeks or months. I think a lot of organizations are set for days, potentially weeks, but certainly not the duration that we're faced with today."
For those employers that already have some remote workers, the pandemic has meant expanding their infrastructure, programs and policies out to the broader base, he says.
"Those folks tend to be in a bit more of a calm and a better state in handling things as they come in and not having to over- [or] under-provision things."
Microsoft Canada was in good shape, according to Lisa Gibson, head of communications and business manager to the president. Being a global company, it has done a lot of simulations from a natural disaster perspective, such as tsunamis or earthquakes, and it's done scenario planning, taking three to four hours to go through a situation with its crisis management team.
"A lot of that simulation, while it doesn't entirely prepare you for what's happening right now, I think it does give you a good foundation and it's already built in place a lot of the process and a lot of the teams and a lot of the ability to work together," she says. "Not many organizations do simulations and meetings fairly regularly when there isn't an issue or crisis, so I think that's something that definitely organizations will think about, moving forward, a lot more."
For many organizations, the area of business continuity planning is still pretty weak, says Brian Kropp, distinguished vice president and chief of HR research at Gartner in Arlington, Virg.
"All the scenarios that they looked at were isolated events in one place where they do work. So, if a hurricane hits somewhere, there's an earthquake, there's a terrorist attack in one location... The contingency plan, for the most part, didn't imagine scenarios where everything was shut down."
To come up with a plan when the pandemic is full swing is really too late, he says.
"Reality is unfolding as you're trying to come up with a plan. What you have to do, if you didn't have that plan in place, is a reactive move, and the mindset that you have to adopt as an organization is really shift how you think about decision-making and how you think about empowering employees," says Kropp.
"What you have to do as an organization is switch to a default 'yes' approach... You need to set out a set of rules for employees, which are the things that they can't do; as long as they're not doing one of the things that they can't do, the assumption should be that yes, they can do it.
"The organizations that will be the most successful through this process and coming out of this process are the ones that are most responsive."
Communications key to preparedness
When it came to communications, Docebo started very early to prepare staff, says Bossi.
"We started in the beginning of February to send out communication about what was going on, so trying to work on the awareness of our employees about the epidemic that was going to spread around the world, trying to educate them to implement prevention and new habits, like how to wash hands correctly, social distance and things like that. So, it was a slow process at the beginning, so everybody was quite prepared."
Once it became obvious that there was a pandemic, the company focused on remote work and preventing the spread of the virus, she says.
"Everybody was quite receptive to this kind of communication because they were able to position it like something that you're doing not just for your company but for everybody."
With the onset of the pandemic, many employers were unsure about how and what to communicate to their workforce, says Cissy Pau, principal consultant at Clear HR Consulting in Vancouver.
"If you think there's talk and you think there's anxiety, then quell it. Have a conversation, send out a memo, have a staff meeting, send out an email — whatever it is to make sure employees know where you as an employer stand," she says. "As situations change, and it might change your normal company practice, then you update your staff."
In this kind of situation, everyone has a heightened sense of concern and anxiety, says Pau.
"As an employer, how you communicate and what you communicate is really important. And especially if you're setting the tone from the top," she says. "It's a good opportunity to work on that retention piece, too, to show them you care and mention your wellness side of things."
But the communication also has to be genuine and authentic, says Pau.
"It can't just be, 'Oh, here's a checklist that I need to go down'… It needs to be reflective of the company. You can see leaders of businesses around the world and politicians where it just doesn't quite feel authentic or genuine… It won't go over well."
With events evolving so quickly, Microsoft Canada wanted to make sure that it was giving regular updates to employees and being as transparent as possible, says Gibson.
The company has used its web-based collaborative tool SharePoint and social networking service Yammer to provide regular updates and allow for common HR-related questions, such as caregiver allowance or vacation carryover, she says.
"We wanted to make sure we had a forum where employees could ask questions."
Leadership also provided regular updates by email, says Gibson.
"For us, it really is about communicating often, but, at the same time, particularly early on, we really wanted to make sure it was the right cadence so you're providing all the information that you need to provide but you're not creating a sense of panic, if you will. So, it's about having the right balance, being as transparent as you can and making sure you open up the lines of communication."
Remote work goes full time
Being a tech company, Docebo was well positioned to have all staff work from home if needed. Luckily, everybody reacted in a very positive way, says Bossi.
"It was really surprising to see how much people were really enjoying the situation despite, of course, the emergency. But just working at home for them is really a great benefit because they are [helping] very much the environment, they are spending more quality time with their families or dogs and they don't have to spend time commuting. And they can pretty much organize their time in the way they wish, in the morning or in the evening, and this is very much a great benefit including the work[-life] balance."
In checking key performance indicators, such as the reply times to customers, the results have been amazing from both sides, she says.
"We continually check in with employees… We are seeing that almost 90 per cent of our employees are really engaged and it's having a positive impact on their productivity," says Bossi. "They feel that they are really much more engaged and we are seeing that, so we are considering to extend the option to work from home more than once a week… starting to reshape the company for the future."
The vast majority of employees who are working in remote environments will be just as productive as they were before. However, there's a variety of things that organizations need to do to make sure that they are achieving that, says Kropp.
"You need to make sure that the technologies are in place for robust and sustained remote work."
For example, does the videocamera capability create a good experience, is the VPN robust enough for that many employees at home and is the employee's internet bandwidth strong enough?
"That's a situation where employees want to be productive, but the infrastructure that you're using is preventing them from being fully productive," he says.
Workers at Microsoft Canada are well versed when it comes to remote work, but with the pandemic requiring people at home each day, the company made a point to check that they had the proper office equipment and comfortable space to work, says Gibson.
"We have been… sharing a lot of tips to keep teams motivated and connected, so [for example] when they're doing conference calls, make sure they put video on."
It's also about empowering people so they don't feel guilty if, for example, they have to schedule meetings when kids are napping, she says.
"Really, it's about the outcome of the work [rather] than it is how you get it done," says Gibson. "[For employers], it is a culture shift, changing the way they think about accountability and empowering their employees."
While there may be concerns about employees being less productive, Gibson says she has seen more of the opposite.
"Sometimes, people feel like they have to be online all the time, late into the evening, way longer than they would normally be."
Managing remote work differently
People who start working in a remote environment also lose the collaboration of a traditional office setting, meaning the sharing of information and being able to get answers quickly to things, along with the camaraderie that takes place, says Rodriguez.
"How managers are managing employees needs to be further changed and modified as well because… when you can't monitor activities at the same level as you used to, you have to shift gears and think of it more about how do you monitor outcomes, how do you support your employees in terms of driving those outcomes?"
Some managers make a point to schedule videoed coffee breaks, as an example, setting up allocated times for people to chit chat, he says.
"It's not just the business collaboration but the overall peer-employee collaboration that [employees are] used to and that allows them to really feel more comfortable with their work environment."
In moving to a remote workforce, there's a set of fundamental mindset shifts in which leaders need to engage. For one, they have to focus a lot more on outcomes than process, says Kropp.
"What you really need to pay attention to is: Are people getting work done rather than how are people getting work done? This idea that you can see them, monitor them, track them, be aware of everything they're working on and so on is just not realistic."
Managers also have to become dramatically more intentional in terms of talking with their employees, he says.
"The idea that you're going to bump into them and update them on things or as you're walking down the hallway or getting lunch or getting coffee or whatever it might be, it's just not realistic anymore… Everything that happens to enable workflows by just bumping into people completely goes away. You have to create these intentional moments of serendipity, intentional moments of interaction to make sure that the work keeps flowing."
In the end, the one big macro trend that's going to come out of the COVID19 pandemic is more employees will keep working remotely, says Kropp.
"Companies will have to make sure they're making the right investments in technology to enable employees to be successful in a new, more remote workforce and working experience than we've ever seen before."
As one executive mentioned, "We're unintentionally running the global pilot on remote work. And we're going to learn a lot in that process," he says. "And there's going to be some things coming out of it that will push us more to have more employees working [remotely]. And there'll be a ton of implications that come out of that once all this gets settled."
---
CANADIAN EMPLOYERS NOT STAYING UP TO DATE
How often do you review your business continuity plan?
30%
Once per year
14%
Every few years
8%
More than once per year
6%
Never
Source: Angus Reid Global for FirstOnSite Restoration
CANADIAN EMPLOYERS NOT WELL PREPARED
1 in 4
Number of businesses fully prepared to deal with future emergencies or disasters
2 in 5
Number of businesses that don't have a business continuity plan
1 in 4
Number of businesses that don't know if they have a business continuity plan
Source: Angus Reid Global/FirstOnSite Restoration
REMOTE WORK POPULAR WITH CANADIANS
53%
Percentage of companies that have policies or technology in place to work remotely in case of a natural disaster
55%
Percentage of people who would be more or as productive working remotely than in the office
51%
Percentage of workers who say that their jobs can be performed remotely if allowed
83%
Percentage of 18- to 24-year-olds who are most inclined to work for a company that allows them to work remotely
73%
Percentage of 24- to 34-year-olds who are most inclined to work for a company that allows them to work remotely
Source: Citrix Canada