Employers such as IBM Canada and Thinkific have much to consider when it comes to the new normal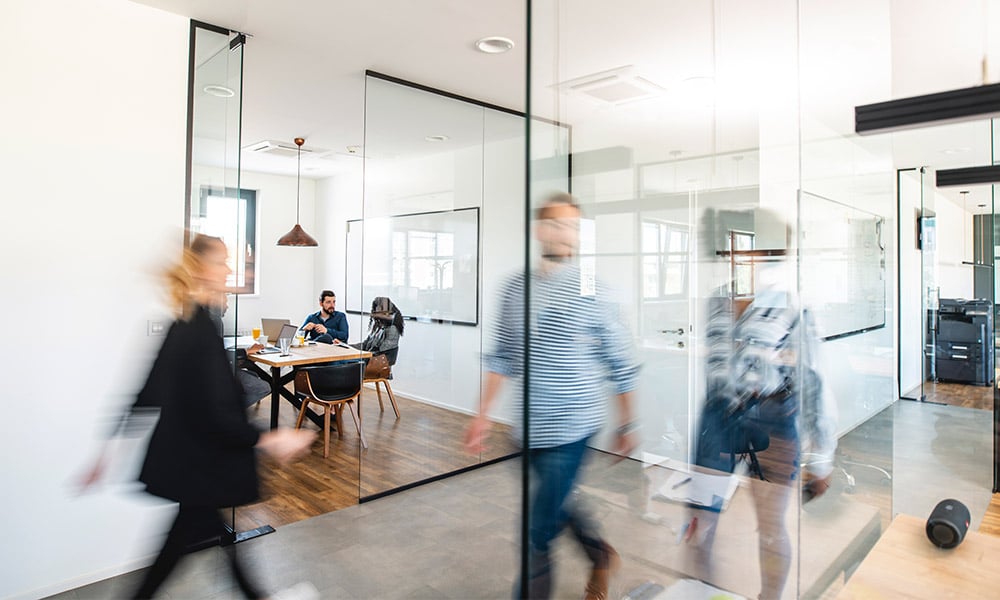 Before the arrival of COVID-19 in Canada, Thinkific employees could work from home one or two days a week. Looking to the post-pandemic future, that equation will likely be inverted, says Amanda Nagy, senior manager of people operations at Thinkific in Vancouver.
"We're not going to be office based anymore."
With the pandemic now a year old in Canada, the online learning company has firmly established itself as a distributed-first team. While Thinkific still has private offices available, along with meeting rooms that meet all the requirements for social distancing and safety, Nagy says, "The way that we're fundamentally going to be treating our office space going into the future is looking at it more as a space to congregate and not necessarily a space with our open concept where people have to go into work.
"Our office space will primarily be used for opportunities for events or to congregate or maybe have in-person meetings, for collaborative purposes, but not necessarily for the purposes of working at a desk for six to eight hours a day," she says.
Surveys point to many more employers embracing a hybrid approach once things return to normal, with employees splitting their work time between the office and a remote location such as home. As employers contemplate the new normal, there's much to consider around the office environment, shared spaces, culture, human behaviour and HR's role.
There are key questions to be answered, says Erica Pimentel, a researcher at Concordia University in Montreal, such as: Do we really need people to be in the office? What is the office for? What does the office represent?
"At the end of the day, they should be looking at: Where can employees work and be the most productive?" she says. "[The office] becomes a place you go with intent and purpose, and you go there when you need to."
Embracing a flexible workspace
There are no easy answers, especially after employers have seen overall engagement rise among people working from home, says Samantha Sannella, managing director of strategic consulting at Cushman & Wakefield in Toronto.
"We're in that pivot mode where we've seen a lot of clients say, 'OK, we recognize there need to be some changes. What should those changes be?'"
While many employers are considering downsizing because people seem happy to work off-site, Sannella says, "Not so fast," because there will be a rebound from the pandemic "and it's going to be hard to get that space back."
"It's one thing to work from home for six months, nine months, through a terrible winter; it's another thing to work from home for years on end. And you really want to build employee loyalty. And if you want to do that, you're really thinking about the long term. So that's one reason to promote flexible space."
Considering the history of pandemics across the world, this will likely not be our last, so it's worthwhile for people who are developing office space "to really start thinking heavily about these things that will differentiate themselves in the marketplace in the future," says Sannella.
Type of work makes a difference
In contemplating the hybrid approach to office space, the type of work matters, says Bhushan Sethi, joint global leader, people and organization, at PwC in New York. So, if it's synchronous work that can be done together and is somewhat creative — such as thinking through new products, new pricing strategies or doing due diligence — that can be easier in a physical environment as opposed to a virtual one.
"But if it's heads-down work, where you're closing the financial books or executing certain transactions... it's different," he says. "There's also some work that carries more risk or access to proprietary technology; [for example], trading in a financial services firm — you can trade from home, but there's probably more compliance risks."
Being able to work on your own can be done anywhere. And that needs to be wherever the employee can work best, says Pimentel.
"I really don't think it's about luring people back to the office with a nice coffee pot and an onsite gym. It's really about rethinking where people do their best work," she says. "I don't think that a model of everyone staying home forever is the best thing for innovation and collaboration, because you need to be in the face of someone to have them stimulate those ideas."
Employers need a space where people can come together and throw around ideas and use a whiteboard because the technological solutions haven't been able to "adequately replicate" that experience, says Pimentel.
"We've all been in Zoom meetings, and it's hard to stay focused and it's hard to stay on task after a while. So, the in-person communication really helps for that innovation, collaboration, that group-type work. And I think human contact really helps."
Designing with intent
Thinkific is looking at its offices more like a co-working space, compared to the past when 80 to 90 per cent of the workforce was there four or five days a week, says Na g y.
"We're looking at it more as this very open kind of flexible space where people will come and go, there's a lot more fluidity to when people will show up, when people will leave, how they actually use our space, which rooms within our office are being used," she says.
"You go in with an intention and a purpose, and not necessarily just to do the sort of heads-down work that you can easily do at home... [It's about] making sure that we're a little bit more intentional and purposeful with what we're actually doing with our in-person office space."
The company is treating the office space more like a house than an office, designating different rooms for different purposes. That means having rooms for in-person collaboration and rooms for meetings or presentations with the right AV equipment and technology, while allowing distributed team members to dial in, says Nagy.
"Some of the longer-term plans for the office [are]... not to create silos or divisions but to have more living walls and stuff for sound-proofing, but also to create more intimacy between teams that may be working together. Because we were finding the fully open-work concept, especially nowadays, would not work. So, we're trying to figure out ways that we can expand our space, create a little bit more separation and privacy, but also keep that general open nature and fluidity in terms of how you navigate through our office space."
Flexible, green spaces
At IBM, offices will become places that employees visit with purpose, according to Katherine Faichnie, director of HR at IBM Canada in Toronto.
"The future workplace will be lean, flexible and focused on experience."
IBM's space design will evolve around three key themes: technology, space and well-being, she says.
"Given the current pandemic, the focus will be to continue to increase automated and touchless elements. The layout will take into consideration the increased use of digital tools, and our space planning will leverage intelligent space management systems."
The workspace should be "flexible, reconfigurable and fit for purpose," says Faichnie, and it will be important to incorporate green elements.
"It will provide wellness-related layouts and areas for community and social gatherings."
In large cities such as Toronto or Vancouver, a lot of people live in small abodes with no green space, so providing that element in the workplace is important to a person's psychology, says Sannella. It's about optimizing the type of space you have and how it suits the employee's work profile.
"We had already seen a big trend and a push toward biophilic design in the past... To most people, that means 'Oh, let's just stick plants around the workplace.' Well, no, that's not exactly what it means. It's incorporating the idea of natural materials and the natural forest and the natural world into how we design physical space. And if we can do that, we've accomplished a lot," she says.
"It's way better than sitting in my steel box 40 floors up."
When it comes to enticing people back into the office, "it's going to have to be pretty special to get you out of your bunny slippers," says Sannella.
That means places of work might be more socially focused, with more amenities to make the workplace special. For example, a "sunshine room" can encourage people to take a break for 20 minutes.
"Unusual draws might be something good to bring people back to the workplace," she says.
And while this particular pandemic may subside, other viruses will come along, in addition to the common flu, so that is leading to innovations in design such as fewer open-concept spaces, along with antimicrobial materials and touchless fixtures, says Sannella.
"Those things will become common-place and more standard in the workplace. Things that you can clean more easily, things you can disinfect. Different types of lighting may be used for disinfection [and] gender-neutral washrooms where all washrooms are individual rather than grouped together."
The psychology of hot desking
One trend that's almost certain to grow with the hybrid workplace is hot desking or hotelling, where employees share the same desks on different schedules, says Pimentel.
"Certainly, there will be a sense of loss for folks who maybe had a beautiful office, with a window and a door, and now you're telling them go work in the bullpen and make sure you pick up everything when you leave at the end of the day," she says.
"But there's a compromise to be made about, 'Well you can have the flexibility to work from home when it suits you. And in exchange, you're going to have to accept this reality that we can't just keep an office empty three days a week if you decide to work from home three days a week.' And, so, it requires a bit of a mindset change for employees and a recognition for employees that just having a desk that's assigned to you doesn't mean that you're any more or less part of the corporation, part of the company... You're still one of us, although the ties that you have may be more digital than physical."
Switching to hot desking is a big debate for many employers, including Thinkific.
"Previously, everyone had a desk and you could personalize it and set it up. But, fundamentally, if more people are going to be working from home, it doesn't necessarily make sense to have designated desk spaces," says Nagy.
"[It's about] being a bit selective in how we lay out the space going back. But it's thinking about maybe more in the hot-desking mentality where you get the desk based on when you show up and less private spaces that may not be used to too often."
The idea of fewer individually assigned desks and more sharing in the workplace may seem counterintuitive in a pandemic, but once the COVID-19 virus has subsided, companies will want to make the most use of the space they have, says Sannella.
"One way to do that is to have undefined space," she says. "It shouldn't be daunting... There's all these great apps you have on your phone and scheduling systems that help you with this and reminders, and you can map it out... to actually see which workspaces are available... there's also software that helps with capacity planning."
It's also important to manage behav-ioural protocols in an assigned space, says Sannella.
"People like to personalize their space; they like to have the pictures of their dogs and have what I call territorial markers — it's part of our human nature. So, shifting the behaviour of people to operate in unassigned space is an important part of our change management program. They can no longer have those territorial markers. So, how do you give them a sense of territory in a place that's unassigned? This is very important to the underlying psychology of how people operate. And that's something that's often overlooked when these programs are implemented, and it makes them a failure."
IBM has always had mobility centres and hotelling space, and an intelligent space management system eases the scheduling as well as finding people who are in the office, says Faichnie.
"We're using technology to help employees reserve desks and meeting rooms before coming to an office. This will ensure spaces intended for use are socially distanced while also triggering cleaning work orders so we're not reusing workspaces until they have been confirmed clean."
There will also be changes for leader-ship, she says. "Managers will become 'designers of work' who will determine how projects will be managed across a distributed workforce."
HR's changing role
In planning the hybrid models of returning to the workplace, the CHRO's job is critical to help create a blueprint for what that might look like, says Faichnie.
"In short, they're therapists, benefits counsellors and strategists. We work closely with our business and management teams to really listen to our workforce with empathy and foster transparent dialogue, build bonds of cultural affinity and maintain constant communication."
Through all this, HR needs to focus on the employee experience and drive reskilling, cultural transformation and new models of work, she says.
"What enterprises need now is a sustainable workforce. Just like energy sustainability, an enterprise cultivates a sustainable workforce by shifting its view of employees from a resource to be tapped to one that is cared for, protected and nourished."
There's a lot of work that HR is going to have to focus on next year, such as accelerating digital transformations, communication and upskilling, says Sethi.
"They're going to have to double down on the well-being programs, they're going to have to support business around their priorities, which are going to be some element of accelerating digital... [and] acquisitions and divestitures. That's going to have a big strain on people, in terms of people's concerns, the work around integration," he says.
"The role of HR is going to have to be stay close to your business, make sure that leaders are leaning in and speaking to their people, mining the data they have, understanding their preferences, focusing on well-being."
Every company must also ensure their people are engaged, empowered and productive — whether they're working remotely or in the office, says Faichnie. That means constant and reliable communication, resources and support services to address employees' mental health and well-being, virtual get-togethers and providing flexibility.
"Being flexible in how we work, where we work and how we become resilient are critical to sustaining a positive work culture."