'Many employees still feel they are not in control of how and when they work, leading some to look for other options'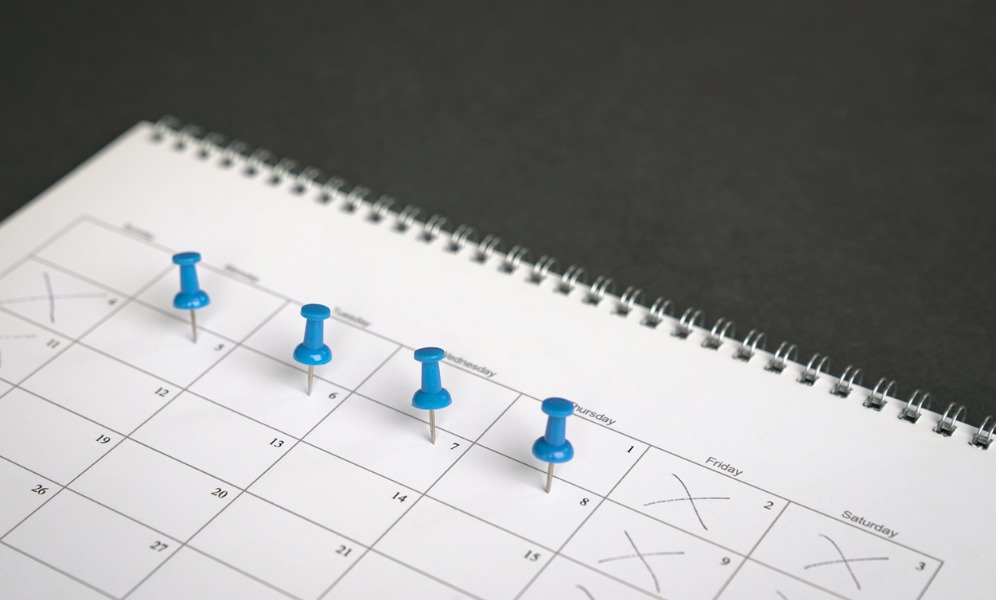 The shift to a four-day work week seems to be gaining momentum among HR leaders, judging by a recent survey.
Currently, more than half (51 per cent) of HR leaders globally have already implemented a four-day work week (nine per cent) or are considering it (42 per cent).
In Canada, 41 per cent of employers are considering a four-day work week for employees and nine per cent are unsure.
"HR leaders are not making this decision in a vacuum," says Natalie Baumgartner, chief workforce scientist at the Achievers Workforce Institute, which did the survey.
"Work flexibility has become incredibly important to employees in the last few years. For the first time in the six years that we have been doing this research, work flexibility is the number one reason to job hunt in 2023, equal with career progression."
Ninety-one per cent of senior managers say they would support having fewer working days in the week for their teams, according to a previous report.
One foot out
This attention to flexibility bodes well for employers. Currently, 38 per cent of employers globally are looking for a new job while 23 per cent are unsure.
In Canada, the numbers are 33 per cent and 25 per cent, respectively.
Flexibility ties career progression (both 28 per cent) as the top reason for employees wanting to jump ship. In contrast, 13 per cent cite compensation, according to the report titled 2023 Engagement and Retention Report, which surveyed over 5,000 respondents – including 1,400 HR leaders – from Australia, Canada, Singapore, the UK and US.
Flexibility (27 per cent) is also the top reason why employees would stay put, surpassing a strong sense of belonging (12 per cent) and having a strong working relationship with their manager (11 per cent).
And employers are delivering. Over half (52 per cent) of companies are prioritizing increased flexibility with where and when employee work this year, just behind employee wellbeing (57 per cent).
"After being forced to support employees working from home due to COVID-19, many employers have seen the tail end of the pandemic as an opportunity to return to 2019 business practices. Employees who have benefited from remote work are asking for flexibility, leading to business leaders offering hybrid work such as three days in the office and two days at home," says Baumgartner.
"This is a limited view of flexibility. Many employees still feel they are not in control of how and when they work, leading some hybrid workers to look for other options."
One Toronto-based employer saw great success when switching to the four-day week, in an industry known for its "burnout" culture.
Benefits
Employers who offer greater flexibility will reap multiple rewards, according to Randstad Canada, by having employees who:
are motivated and happy when they're at work because they see their employers as trusting them to get the job done without micromanaging them
are more likely to become long-term employees, especially when the flexibility offered by their employer isn't easily found with other companies
are more effective during working hours because they have the space to attend to work-life balance, including eating healthy meals, sleeping well, exercising more and enjoying an overall-higher quality of life with friends and family
are more productive and less prone to burnout because of all the factors listed above
"Flexibility in the workplace is not a fad or trend with a short-term expiration date," it says. "Employees of all types have experienced the freedom that comes with flexibility, and they don't want to return to working environments that don't support it."