'We recognize that like a full virtual team, there's still a place for in-person bonding and interaction'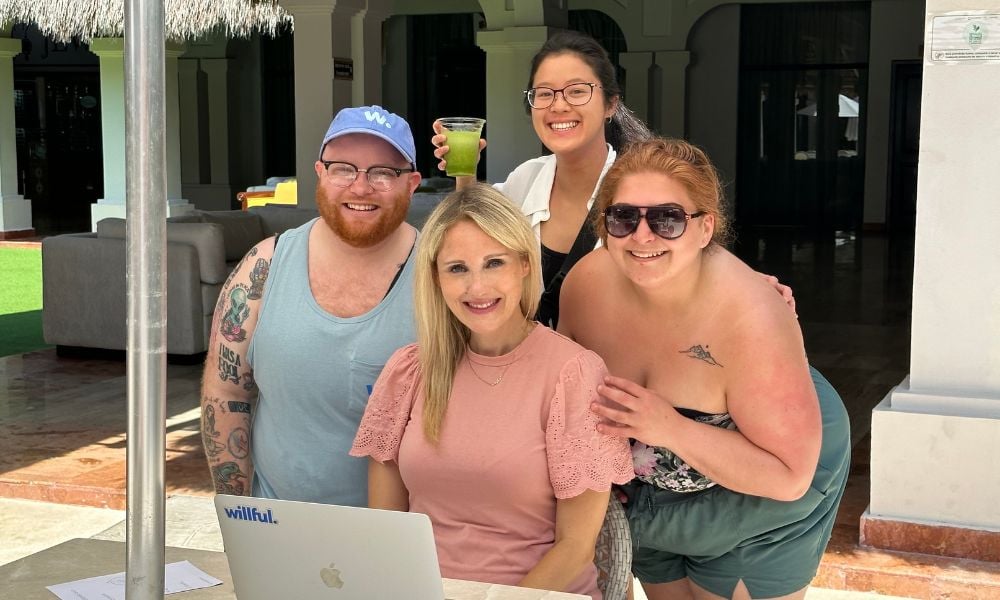 When Willful's CEO took a look at options for the company's annual summer retreat, it found that Canadian destinations were quite expensive.
"As we started looking into pricing things out separately: flights, hotel, meeting rooms, meals, beverages, it just became clear that it was going to be thousands of dollars per person, not including incidentals," says Erin Bury, CEO and cofounder of online estate preparation company Willful in Toronto.
Instead of looking in-country, Bury was inspired by a bachelorette party she attended in Jamaica.
"They were just having such a great time I got home and said to our COO, Julia [Staffen], why don't we look into an all-inclusive? It's central for everyone to get to; it's obviously more exciting than doing something a couple hours from home, and probably more cost-effective because it includes drinks and food and activities and all that good stuff."
For those looking for a staycation retreat, four Canadian cities made a worldwide list of best destinations.
Combining business with pleasure
This week, the entire roster of 18 employees is in Cancun for a retreat that also includes some fun events and a free day for team members.
"We recognize that like a full virtual team, there's still a place for in-person bonding and interaction and so every six months, we hold an in-person, companywide retreat," says Bury.
The early part of the week is designed as a year-end meeting as Willful's fiscal year begins July 1, she says.
"We really use this June retreat as a way to look back at the year that just was, and the plan for the year ahead, and to make sure everyone's bought in and excited about that, and use it as an opportunity for cross-team collaboration."
But it's not supposed to be all business.
"Last June, we did an activity where people were paired off into teams, and they had to conceptualize a Willful TV commercial and act it out for everyone and the teams voted on which teams was the best commercial," says Bury.
For the latter parts of the day, other events are planned, according to Bury.
"We have team-bonding time: we're going on a sunset boat cruise, we're doing a dinner on the beach, we're doing a tour to the local cenote to go swimming. I think a pretty good mix of work and team bonding."
On Thursday, that is designated as free time for employees.
"A bunch of folks are self organizing, they're going on a taco tour. We have folks who are just going golfing, we have a couple of people like me who are just going to sit by the pool and read a book. So for folks in a meeting room thinking, 'Oh my god, this is my only chance to sit by the pool.' They have a whole dedicated day to do that," says Bury.
'People are very pumped'
When the Mexico event was first revealed to employees during a town-hall event, "people were blown away," says Bury.
"People are very pumped. We have a retreat-specific Slack channel, and everyone's in there talking about packing and how excited they are and there's a lot of energy around it."
For one person, this will be the first day worked at Willful.
"It's another level of bravery to get on a plane and fly to an international destination and literally, the first day on the job is meeting your colleagues in the retreat in Mexico."
By having these types of "intentional" efforts, the company is trying to send a strong message to outside candidates, says Bury.
"What I'd like it to say to people is we are a remote-first company. I've had multiple friends and family members work for companies recently who have changed their tune on remote work and are now forcing a return to the office and to be honest, it's not being received well by my network. First and foremost, we're committed to being a remote-first company: we absolutely love it."
"We don't have a physical space, we don't have an intention to return to office and that in and of itself is a differentiator right now," she says.
As more employers are forcing employees back into the office, attrition rates of rising, found a survey.
Don't forget about in-person events
While the remote-first aspect is a strong value proposition, that can't be the only way to operate, says Bury.
"I think back to some of the companies I've worked at in my career, and some of the most meaningful memories I've had have been at these in-person retreats and events and so the takeaway for HR professionals is to not ignore in-person — even if you're remote first — to invest in opportunities for your team to connect that aren't just sitting in a meeting room listening to a presentation."