Features include office sensors, 'neighbourhood' spaces, booking apps and lunch for staff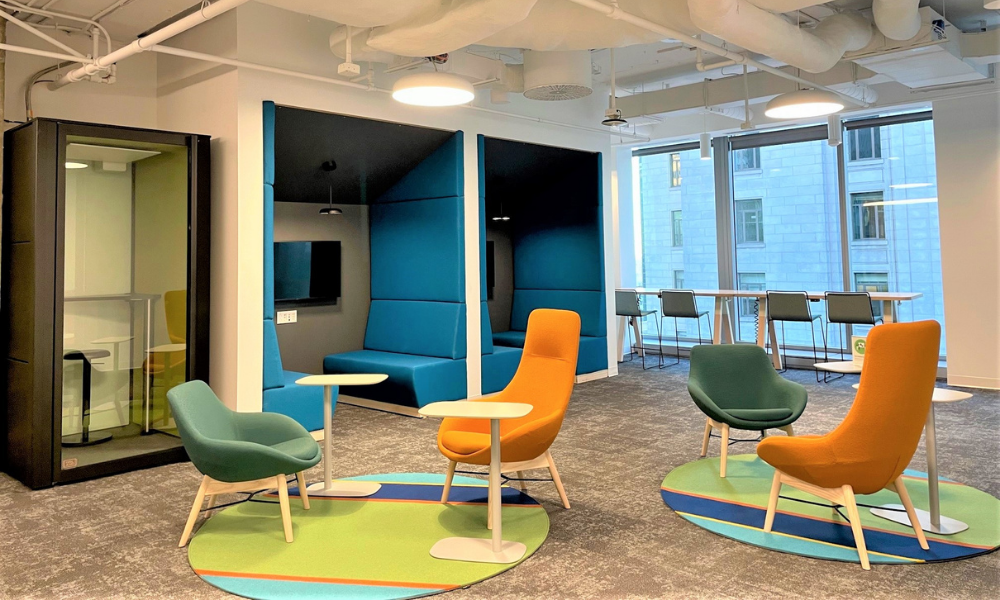 SAP Canada has unveiled a new workspace meant to provide employees with greater flexibility when it comes to planning the workweek.
The 65,000-square-foot office, located at Place Ville Marie in Montreal, will house some 1,000 employees over the top two floors. The redesign resulted in a 60-per-cent space reduction from the old footprint.
Planning first began in summer 2020, which was a time of great upheaval and uncertainty for everybody, says Cindy Fagen, managing director of SAP Labs Canada in Montreal.
"That really had us take pause when we had to sit down and look at: What would the space look like? What would the destination and office be? What would we need? And that's hard enough to do when you're thinking two years forward and for the long term but as you think back two years ago, at the height of the pandemic, not many companies were taking bets and making big investments, certainly in the urban downtown core of Montreal."
For interns, working remotely has been less than ideal, according to a new survey.
Collaborative workdays
The new space will not be based around single-user desks but "neighbourhoods," in which teams can congregate for collaborative workdays, she says.
"The big thing we're trying to achieve is designing space that will be something that's an elevated experience for employees; they have an option now whether they want to work from home, and they've got to decide as a team with their manager when they're going to choose to come into the office; and when they do, it has to be an elevated experience," says Fagen.
This includes providing sit-stand desks, 38-inch monitors and a variety of different seating options.
"We've really designed the space thinking about that: the elevated experience, the overall space, lots of variety of space, because what we've realized is [staff] come in, they want to meet as a team, and they want to do a variety of tasks. A lot of the sit-at-a desk work, they're doing that at home. A lot of employees do want to come back Monday to Friday, and they do want to have desks and we accommodate for that."
But these new spaces are not hoteling desks, which had become a somewhat popular concept before the pandemic, says Fagen.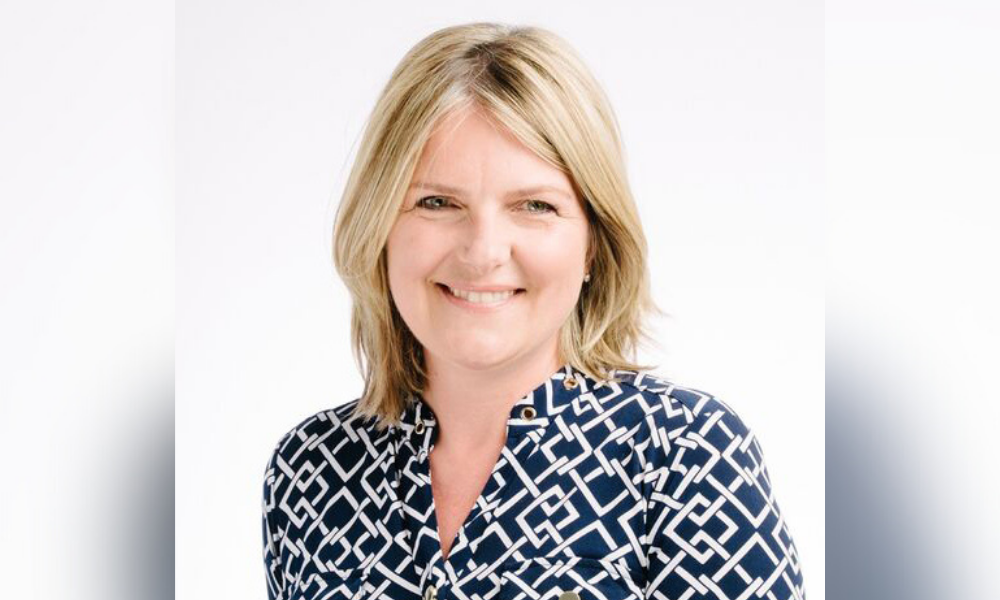 Cindy Fagen
"Each neighbourhood is really cool clusters of collaboration space and they all have medium and large and small conference rooms and little phone booths, and lots of soft seating and so many choices for the team to decide what they need to get done in the day, and that's a really cool concept about this project is this concept of the neighbourhood and hub."
Is hybrid really the best new model for the future or work?
The top floor includes an end-to-end work café complete with games areas as well as collaboration space and a "360-degree [view] of the city — it's pretty impressive," she says.
"The idea is you can be in the games room and get together and have a game of pool, you can sit by the fireplace, you can have a one-to-one — everything is connected, meaning that you can just pop on your laptop and do a team meeting, a workshop. It's a place where people gather but it's a place where they also can come together to do work."
Booking app for scheduling
The company has also rolled out a new booking app so employees can plan their workweeks and book various spaces, according to Fagen.
"I booked myself a sit-stand desk and my team neighbourhood. I booked a larger conference room for later in the day because I'm having a big team meeting. So I booked the space that I need for the day, I released the space I don't."
This also allows workers to create "circles" so they can see which other teammates will also be attending the office that day.
"The app lets you check in with colleagues and create a circle so that you can know, as you plan your week, who's coming in on which day, which is a really nice feature to have, and over time it also gives us a data point to understand how people are using space."
By employing the app — as well as a network of sensors throughout the office — SAP will be able to monitor and adjust certain areas based on usage, which will be a boon to the facilities team, says Fagen.
"That's important for me because, back in the day, I'd have badge reporting as data to know if you were coming in but that doesn't tell me if John came in today and sat by the fireplace all day. I want to understand the kinds of spaces that you need. We're going to adjust the space and adapt it based on the data, based on the sentiment, the feedback we get from employees so the app helps us in part to do that because we've got data," says Fagen.
The company has also partnered with a third-party organization and will offer $25-per-day lunch credits (with a quarterly maximum) with downtown restaurants for workers who come into the office.
Team effort
The big effort could not have been made possible with assists from other teams, according to Fagen, and this included HR.
"Never before have I seen this kind of project, as such, interlock between HR and facilities and IT; that was more important than ever because we were launching a pledge to flex at the same time as building out this future workspace and so we worked hand-in-hand with HR, we were one team. We really had to make sure that we were trying to envision the future as much as we could."