With remote workers isolated at home, how can employers combat the erosion of workplace culture?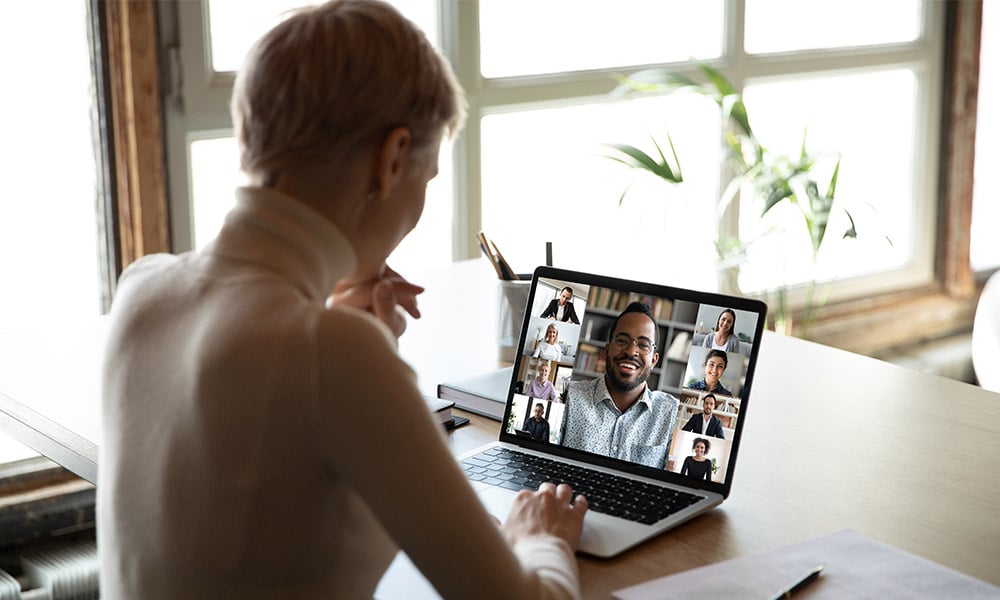 With almost 35,000 of his company's 50,000 employees working from home as of August, Albert Galarza has come to know well the concept of remote work. "Ninety to ninety-three per cent of our front lines are working from home right now and have been since late March, early April," says the global vice president of HR at TELUS International.
"It's been quite a reinvention of our HR function over the last four months."
The workers are located in 20 countries that include the Philippines, Guatemala, El Salvador, India, Bulgaria, Ireland, the U.S. and Canada. Any employees working on site were based in countries that got a handle on the pandemic early on, such as Germany and Austria, he says.
But recent surveys suggest the massive move to remote work could have serious consequences.
TELUS International, for example, found that half (51 per cent) of American workers said they were feeling less connected to their company culture while working from home. And a survey by HR compliance training and data analytics company Emtrain found workplace culture has been impacted by both the coronavirus pandemic and the #BlackLivesMatter protests in several significant ways.
Back in May, employee sentiment about workplace culture plummeted 71.5 per cent, while engagement fell by 20 per cent and employee trust in their leaders dropped by 12 per cent. A full 77 per cent of all employees surveyed said their workplace culture would never return to what it was before COVID-19, according to the O.C. Tanner survey.
"Companies are patting themselves on the back because they got everyone up and running and saying, 'We're good,' not realizing how that sense of belonging is leaching away from people over time because they're not as connected as they should be," says Steven Fitzgerald, president of Habanero Consulting in Vancouver.
"This is different than having a few people telecommuting, working a few days a week from home. It's the lack of ability for people to really connect on a human level and in organizations not finding other ways. It's one thing for a few people in your organization to have a virtual beers or a trivia night, but it's [about] the organization doing the deeper work to really keep people connected at a human level."
This period right now is quite brand defining, he says, "so the decisions and the actions companies have taken will have an impact on how their employees, partners and customers react to them in not just the months ahead but the years ahead. It's like any relationship: When things are really tough, it really matters what you do, and it matters for the rest of your relationship. Organizations that haven't done a great job right now, they're going to have a tough time ever recovering from that because this is such a defining moment in our culture."
Personal interactions missed by many
So, what are workers missing the most as they work remotely? Small talk and interacting with colleagues (57 per cent), followed by collaborating in person with a team (53 per cent) and the separation between work and home (50 per cent), found the TELUS International survey of 1,000 Americans.
Personal interactions or group interactions are not always easy online, with participation in video group calls a challenge, says Anil Verma, professor emeritus of industrial relations and HR management at the University of Toronto's Rotman School of Management.
"In a real-life situation, there's always some side conversation or exchange going on... before the meeting and after the meeting, but these Zoom meetings are pretty much you dial in at a certain time, you transact business and then... that's it."
Bigger tech companies such as Google, Microsoft and Apple design their workplaces based on the premise that innovations take place when people are randomly interacting with each other. That's why there's the emphasis on huge auditoriums and huge cafeterias in their buildings, he says.
"This is how you fuel innovation. And that would be sorely lacking, this view of the world where we are all locked away in our own home offices and we are working by remote. So, it's a piece of the organizational culture, but it's important enough that it deserves its own mention."
TELUS International — a subsidiary of the telecom company TELUS — has found its internal social media platform has been important in keeping people connected, says Galarza.
"In the call centre environment... you are next to a lot of people, but everybody's focused on the monitor, everybody has a headset. However, at breaktime, at lunchtime, after office, before office, that's where a lot of the interaction would go on. And so that's what we have tried to maintain even though we're in the remote environment."
For example, since employees no longer have access to the on-site gym, the company set up weekly fitness challenges where people were encouraged to share their best routines, along with their best meal for keeping fit and best sleeping habits.
"We would then select the best of the best and recognize those as well," he says.
TELUS International also deployed an "awesome teammate" challenge where people could submit a picture of a colleague and describe what made them awesome, competing for prizes.
"In this environment, you actually have to step up your rewards and recognition to continue to drive the engagement piece," says Galarza.
What's made remote work hard is people don't have those normal social interactions, and employers can't really provide those right now. As a result, many employers are moving away from the face-to-face, "tribal" culture to more of a written, explicit culture, which is much more inclusive, says Daneal Charney, an executive in residence at MaRS Discovery District in Toronto.
"It's less about if you're in a physical environment in your headquarters, you have a lot more access to the network, you're probably more likely to be promoted, you're going to bump into that top executive and maybe share your ideas. This remote culture has been a more inclusive culture, location-agnostic, no matter where you are. So that's been a positive."
Several companies have said that their non-headquarters employees are now participating more and recognized more "because these online mediums are more of an equalizer," she says.
"[They're] getting more of an equal access to information and visibility, which is always something that people complain about. Like: What are the expectations? How am I doing?' Now you're having to really be, for managers, very intentional about expectations and how someone's doing. You're having to do much more formalized one on one if you want to make sure that your employees are engaged."
Instead of the face-to-face culture, people are working more in an asynchronous way, with a lot more collaboration around Google Docs or within the Slack forum, says Charney.
"You're having a lot more transparency around what the goals are, what the outcomes are... because, in a remote culture, you have to be more transparent, visible; it's more of a written culture."
But people are still missing the in-person aspect because they're social creatures, she says.
"Once it's really safe, there's going to be team retreats and team get-togethers to really [satisfy] that need for continued connection and team-building and things like that."
Communication and leadership help build, maintain culture
Communication is also key to that continued connection, as seen in a TELUS International survey of its employees about how the company was handling the pandemic. The results were "amazingly positive," says Galarza, but there were some lessons, too.
"In a call centre environment, you're used to having every support person around you, and in the remote environment, it's just you. And, so, we quickly launched campaigns to ensure that we over-communicate with our remote employees."
At the same time, it was important to figure out how to communicate, with many employees preferring the internal social media platform, he says.
"There are folks who want to be spoken to via chat rooms, other folks want to use WhatsApp, other folks want to see an email; there's still folks who'd rather have a phone call."
Previously, the company was largely about "pushing" information out to staff, but now it's also about "pulling" through channels that people are used to using, such as Instagram and Facebook, or its internal platform "Cosmos," says Galarza.
"You're actually able to upload pictures [and] comment on company articles and company news. And so that has enabled folks to feel a little bit more like their voices are being heard, because we actually have what you would call internal moderators that... respond to some of those questions... which is exactly what we wanted, to get the dialogue going."
The organizations that are more successful are being more agile and upfront with workers, says Fitzgerald.
"Not telling people what's going on has been really deeply frustrating for people. So, organizations are... being more transparent and they're not making long-term commitments that they know they can't keep. They're not saying, 'Oh, we'll all be in the office by this date' when they know that they have no certainty about that. But what they are doing is being agile to keep people up to date; they're making frequent changes."
Through all of this, many managers have become a lot more empathetic and intentional, building their culture by design and really thinking about how they create an experience for employees, says Charney.
"If you're not checking in and you're not showing leadership as a front-line manager, that connection between the organization and your team is just growing apart very fast because you don't have this physical [proximity], you don't have the office," she says. "You really have to, as a front-line manager, be very intentional about your check-ins and really listening to employees and seeing 'What are some of the issues that we need to deal with very quickly?'"
The top leadership is also critically important in terms of connecting people back to the purpose of their organization and their goals and communicating when progress is made, says Charney.
"People need hope. People need to focus on the future because, right now, people are still focused on the past. And you really need them to focus on both the present and making it easy for them to get work done and the future and why they should be excited... It gives people a sense of control."
Focus on work-life balance key to employee health
Part of that control extends to the work-from-home situation, where many people are working longer hours, whether because of a heavier workload or distractions on the homefront.
It's really important for an organization to create avenues for people to surface what's going on with them, says Fitzgerald, who has family and pets at home while he works.
"[Employees'] needs are so dramatically different, so what's required here is for organizations to start to expose what's going on for people on that level so we all develop empathy around our situation. This is a new part of our empathetic muscle because it's never affected my relationship with [a colleague]... before because we're all in the office together. So, the more that organizations can get real conversations going and give insight into what it's like for different people in different situations, [the better]."
And while Habanero has always had a performance-based culture, with no fixed hours, it's had to be more diligent amid the pandemic and earnestly model off-hour time, he says.
"We've had to actually say, 'OK, well, here's a chunk of time every week where let's not book any meetings where people can just get focus,'" says Fitzgerald.
"So, we've had to develop some new patterns and behaviours and habits around this because what we're finding is people [are] deeply exhausted by the end of the day, just from being online so much... It was really deeply tiring for people, burning them out."
TELUS International quickly recog-nized that many of its workers in countries such as the Philippines and Bulgaria were not equipped to work from home, says Galarza.
"It wasn't just the equipment — because all that does is allow you to work — but how you work is where I think we did better than most companies in quickly giving tips on ergonomics within the home, quickly giving tips on work-life balance when you're working from home... That's a different dynamic that we quickly started speaking about in terms of mental health. [So] good work-life balance where you don't feel like you're being pressured from every angle, the family and the work."
It's also important to embrace and welcome the diversity of the work-from-home environment, such as children or pets who unexpectedly demand attention, he says.
"In fact, it's quite nice to see people's children and people's significant others and sometimes even their parents. Because I think it makes the human connection even more important. To us, if we were going to take the work home, we have to welcome the home to work," says Galarza.
"We actually encouraged [people] to share more about [their] home in that new environment than we did trying to go back to the way that it used to be before [where] we were expected to have quietness all around."
When the pandemic first started, management's biggest fear was that people at home were going to watch Netflix or play games all day — but the opposite was true, he says.
"We've got a lot of people working around the clock non-stop, and we need them to take a break."
In a lot of countries where TELUS International operates, to meet the local jurisdiction, it has to have either a medical doctor or medical nurse on site. More recently, the company has hired psychologists and psychiatrists to help with the mental wellness of staff, says Galarza, "because, all of a sudden, there's four or five family members working from home that can make a challenge. And then, on top of that, there's no place to go after work — you can't go to the movies, you can't go to the gym; in some countries, you can't even go to the park."
And while people are very limited when it comes to going on holiday, that doesn't mean they can't take some type of holiday to maintain their mental health, he says.
"We have also been encouraging folks to take their vacation and holiday, and we've been working with management so they have accurate data as to what is the vacation holiday balances the team members have so they can in fact take that time and disconnect."