'There's no playbook; we're going to muddle through this, we're going to make mistakes… and it's OK'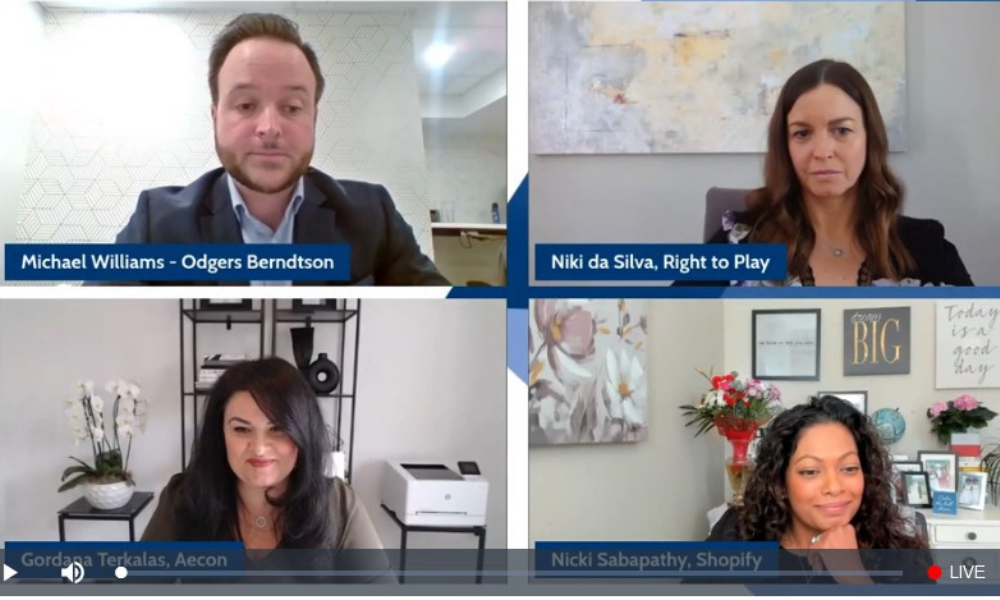 When it comes to figuring out the "future of work," it's already here, says Gordana Terkalas, senior vice president of human resources at Aecon.
"The future happened — I think it was March 16, 2020 — when we were thrown into an entirely new way of approaching work. For us, it was remote work for office staff, and revised and updated protocols for our construction people on the ground."
Terkalas joined two HR colleagues as part of a panel on the CEOx1Day Future Leaders Summit on Feb. 25, which connects executives and students for a day of mentorship and growth, by Odgers Berndtson in Toronto.
"The common thread through the pandemic… as a society and as a global community, is the need to be resilient, the need to be adaptive, the need to pick yourself up and figure out how to keep moving forward," she says.
"That's true at the very, very top executive levels… all the way through to our recent graduates who sadly had to start their career in the midst of a pandemic and, in some instances, never meet a human being in-person before joining or working with an organization."
When it comes to the future of work, that's a topic that is unfolding in real time, says Niki da Silva, global chief people officer at Right to Play International, who was also on the panel.
"[It] is truly around learning; learning and being responsive to what employees are looking for, and new ways of working."
Before the pandemic, it was rare for anyone at the charity to work from home even one day a week, so the move to remote work has been "a massive experiment," she says.
"We have learned a tremendous amount. And now we're institutionalizing and implementing and trying to really redesign around what have we learned and how can we operate in a way that's optimal for this organization, keep the best of what we've learned through the pandemic, and also regain some of that in-person or culture-driven activity that keeps us feeling like a community."
It's hard to always know what's needed, but it's about being open to figuring it out, says Nicki Sabapathy, director of global talent at Shopify.
"There's no playbook. We're just going to muddle through this, we're going to make mistakes… and it's OK if you don't get it right," she says.
"We've got to get away from that mentality of 'perfection is the way to go' — there's no such thing, especially with what we've seen in the last two-and-a-half years in this pandemic; we've all had to pivot really quickly. And [it's about] having that ability to do it."
With so many employees separated from their colleagues for so long, it's crucial that leaders work to have strong relationships with their teams, says an HR professor, in discussing best practices.
Is hybrid work the answer?
The upheaval of the pandemic has led to huge changes in the workplace, with one of the biggest being the shift to a hybrid approach, where people work both at home and at the office.
It's an area where Right to Play International continues to experiment, says da Silva, and includes initiatives such big virtual connectivity events to showcase its programs.
"The second piece is actually becoming more intentional about that asynchronous offline access, because what's happened, as we've increased this side of the organization, is it's become overwhelming. And you could spend your whole day in meetings or in a virtual session. So we've really built out an internal platform [which] our teams can access on their own time, and help them regain some control."
The most important piece is making sure people feel connected, she says.
"We've been in more isolation in our own homes, so how do we maintain those points of connectivity in big-touch and small-touch ways? And now how do we evolve all of those experiments and throw out the stuff that's not working and create better ways to connect on our own time?"
To enjoy more premium content — including in-depth analysis, exclusive webinars, access to our employment law archives and early access to Special Reports — subscribe to Canadian HR Reporter today.
It would not be genuine to say Aecon has it all figured out, says Terkalas.
"Our industry is definitely inclined to want to hang on to some of the traditional ways of working because we physically have to — we can't build things remotely. So how do we create an environment where we can strike a healthy balance of working at the workplace, while giving people flexibility?"
For people in construction and engineering, it's not so much about being physically present as it is offering flexibility and options, such as the projects they're given, their hours of work or greater autonomy on the job, she says, adding "It's not easy, it takes a lot of commitment from leaders."
The number one concern among executives with respect to flexible work today is the potential for inequities to develop between remote and in-office employees, according to a recent report.
Another challenge is that not everybody wants to be in a fully remove environment, says Sabapathy.
"A lot of folks join the organization to be in a cool, startup-type environment, and when you take that away from them, no matter what you replace that with, it's not the same thing."
The company has had to be intentional in showing the right kind of fun things, and it's still experimenting, she says. That includes a culture team focused on building out "bursts" when people do come into the office.
"We burst once a quarter, once a month, and so it's intentionally coming together to have a burst in relationships, creativity, whatever… so the future is here and we're working through it," she says.
"[It's about] trying to create some spark in how we work together, because that is so important… You just don't get that human connection, regardless of what you say, it's just not the same thing. So we're really trying to be intentional about it."
And with peers across the globe, it's hard to build relationships through your laptops, says Sabapathy.
"And budgets are really expensive — if you're going to take a large team across the globe, it starts to really add up so figuring out how to navigate through that — it's a work in progress for sure."
But while COVID restrictions have not made it easy for staff to get together, a sense of normalcy is returning, she says.