Salary reviews, employee recognition, regular check-ins can help boost morale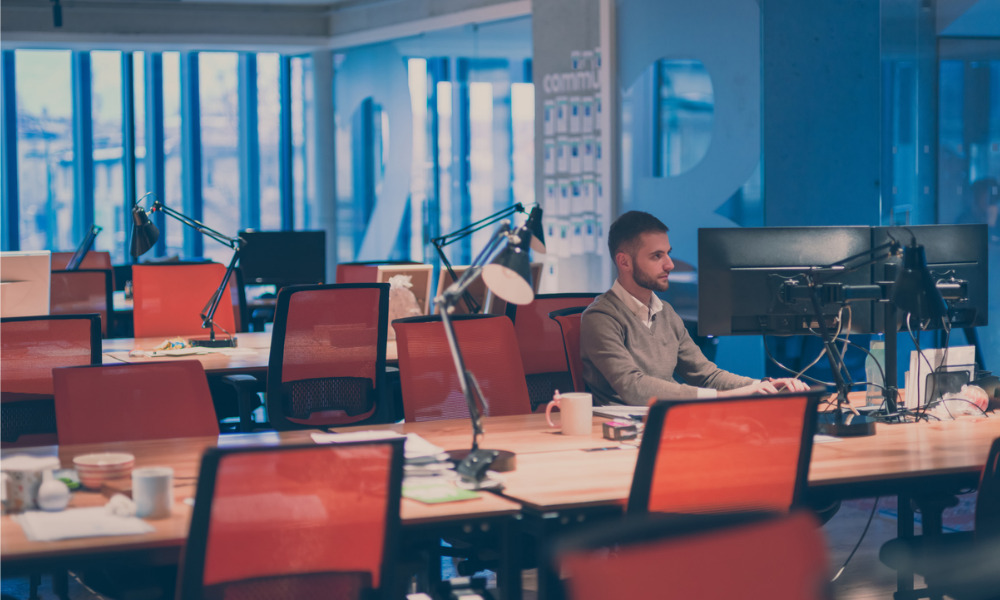 With COVID-19 upending personal and professional lives, many workers are asking: "What do I want to do with the rest of my working life?"
That's leading to the "great resignation" or "great reckoning," especially when many employers don't seem to recognize the world has changed and are not providing what workers now crave.
"A lot of people felt left behind when they moved online," says Erica Pimentel, assistant professor at the Smith School of Business at Queen's University in Kingston, Ont.
"A lot of people told me 'What I used to love about my work was the human connection; I used to love my work buddies; we would do lunches, we would go see clients, and all that really fun stuff is gone and all I'm left with is the technical grind. I've lost the human connection.'"
As a result, it's become really easy to change jobs, she says.
"If you're a top talent… if you are someone with experience, with a qualification, the market is yours."
Deteriorating workplace cultures are making a lot more workers look to greener pastures, found a recent survey.
Shifting priorities
People are looking for companies that provide EAP programs and counselling services along with work-life balance, and diversity and inclusion, says Jessica Lin, HR leader at ScaleX Work, an HR consultancy in Toronto.
"I'm seeing that [for] a lot of people, especially the newer generation coming into the workplace, it's a job seekers' market right now. They can choose which companies align with [their] values: 'Am I going to come to organizations where people are going to look like me, and have the same values and make me feel safe in being my authentic self' Candidates have actually been asking for that."
As a result, many employers are reexamining internal procedures, says Eli Federman, practice leader for omnichannel and contact centres at Burnie Group, a management consultancy in Toronto.
"There's a reenergized focus on employee engagement, and the kind of programs, support, development, processes; all the variables that employees truly think about when it comes to: do they want to stay with their current employer?" he says.
"They've got to figure out how to hold on to those they have and then what are they doing to provide a competitive advantage to acquire others? It's certainly a red-hot topic."
Some employers are relying heavily on predictive data to prevent employees from leaving en masse.
Remaining workforce feel disconnected
But what about those workers who have remain behind? How are they coping?
"Unless there's a concerted effort to really say what is our culture going to look like in a hybrid organization, and to really try to build a new culture, the folks that are left in this quasi in-between are going to either feel disconnected or going to be looking for the next opportunity," says Pimentel.
"People feel checked out and they fear that culture is changing because let's say you want to make new work friends and you're like, 'I don't know if this person is going to be around in six months, why am I going to even invest in these people?'"
How the remaining leaders react to a great exodus will go a long way toward keeping those left behind engaged and motivated, says Lin.
"I was on a town hall with a client and it was all different reasons [why employees left]: some people retired, some people left because of health reasons, some people left for other jobs in a short time. And the morale is low and the owners of the organization, they were [saying] 'A lot of people have left and everything's great. Don't worry we're resilient.'"
That cavalier assessment wasn't what staff wanted to hear, she says.
"The feedback from employees that we heard after that was: Why are the owners not being more vulnerable? This is not good, we're panicking; they wanted the owners to be more transparent in saying: 'This is not a good thing but here's what we're doing. We're aggressively recruiting and branding ourselves as a better employer.'"
Deteriorating workplace cultures are making a lot more workers look to greener pastures, found a recent survey.
How to boost staff morale
Now is the time for HR to look at factors such as salary levels and see if they can be better aligned with what other companies are offering, according to Federman.
"It's [about] being very diligent in terms of salary review… looking at the market, and making some smart decisions ahead of time before employees start to think that they're not being paid well enough."
In addition, organizations are revisiting their performance management or performance review programs, specifically on the career ladders, in terms of where people can go within the company, says Lin.
"Maybe some companies are flat, there's not a hierarchy, there's not a clear path. You won't become president or CEO or CFO but it's just about job enrichment, about where they can get that from their current roles. They can shadow somebody in another position. I've seen some success with that as well. People are finding value in the work that they're doing and also organizations sharing what individual contributors can do in their roles and how their job goals contribute to the overall goals of your organization."
As well, employers stretched thin in efforts to stem the tide of attrition might want to "focus on top talent, the people who, if they leave, will be the biggest blow to the organizations so people in key positions," says Pimentel.
"Meet with them individually; a lot of people are telling me, 'I felt like my employer forgot about me during the pandemic. I was at home, I don't see my colleagues, my boss exists only on Teams or the occasional email and I just feel left out to sea.' Check in with those people periodically, offer them mentoring opportunities, just to let them know that [you] care so it becomes more difficult for them to leave if an opportunity presents itself."
Appreciation shouldn't be neglected, especially these days, says Federman.
"It's just more important than ever, especially in light of how many Canadians have fallen ill to this pandemic. [It's about] being really mindful of just the effort and energy it takes to go in and have a good day's work; those details can't go unnoticed. And so appreciation, recognition, it can't be an event, it has to be an everyday activity, and it has to be genuine and sincere, he says.
"That, for me, is something that stands out as a as a primary responsibility of leaders today."