When it comes to accommodating trans and gender-nonconforming needs, there are gaps in providing truly inclusive workplaces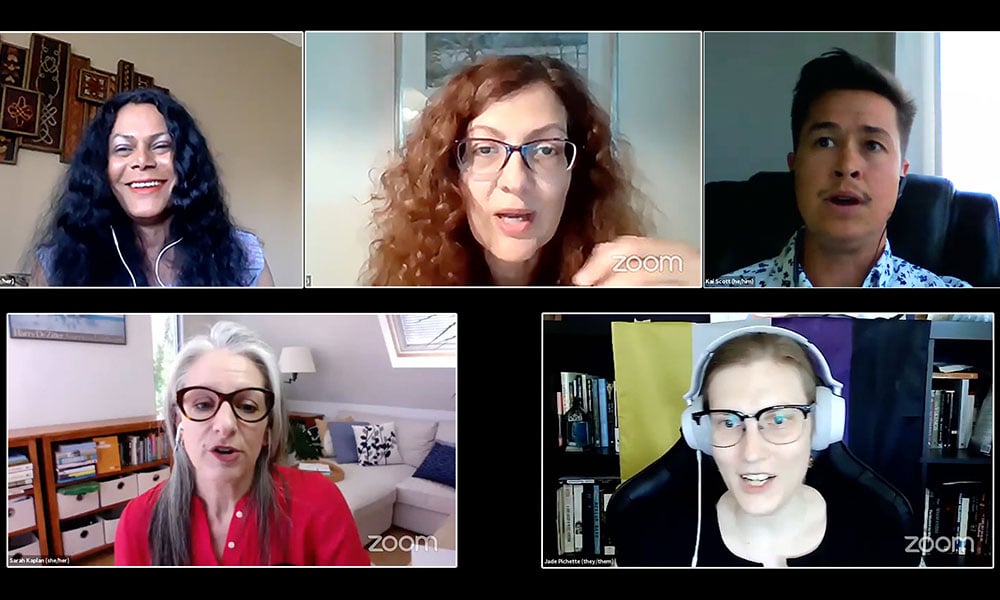 Its all about being proactive.
So says Laleh Moshiri, national director of diversity and inclusion at Borden Ladner Gervais in Toronto in talking about her firm's decision to roll out a trans inclusivity and accommodation policy. The initiative has also included firm-wide training, creating all-gender washrooms and removing references to gender in its dress code, along with adding gender identity as a prohibited ground of discrimination and removing gendered pronouns from its other policies.
Being ready is a key step to ensuring transgender inclusion at work, she says.
"We wanted to ensure that we had thought through all the issues and that we had processes and supports in place to address the specific needs of trans individuals. We didn't want to be reacting in the moment if someone came forward and shared that they wanted to transition."
And, about a year later, an employee came forward to say he was transitioning, says Moshiri.
"He specifically stated that it was because of all the work that we had done that he was coming forward at that time," she says. "When we talk about diversity and inclusion in the workplace, it's that inclusion that drives the diversity — it's not the other way around."
Gaps in providing inclusive workplaces
Moshiri shared her words of advice during a webinar in June by Pride at Work Canada and the Institute for Gender and the Economy (GATE) discussing their report Transitioning Employers: A survey of policies and practices for trans inclusive workplaces.
It looks at how organizations have begun to acknowledge and address disparities faced by transgender and gender-nonconforming people through a variety of trans-inclusion practices and policies, such as washroom retrofitting, employee resource groups and mentorship programs.
A survey done for the report found that many employers are taking first steps toward basic accommodations: 74 per cent have at least one all-gender washroom, 65 per cent have conducted some form of gender audit of their forms and applications to ensure gender information is requested only when necessary and 45 per cent have gender-inclusive dress codes or uniform policies.
But in looking beyond the basic accommodations to understand true practices of inclusion, there's less progress there, says Sarah Kaplan, director at GATE in Toronto.
"While employers listed a number of practices that we might even call best practice — such as community networking, employee resource groups and allyship — nearly all of these were done under the umbrella of the broader LGBTQ-plus community without any focus specifically on transgender inclusion," she says.
"While it's great that companies are doing these kinds of inclusion initiatives for the queer community, the specific needs for the transgender and gender-nonconforming community may be lost under this broad umbrella."
The report cites several gaps in providing truly inclusive workplaces. For example, 38 per cent of employers do not have explicit gender identity and gender expression anti-discrimination policies — despite the fact that these protections are legally mandated.
Only 33 per cent of the 69 survey respondents have a standard in which everyone displays their pronouns in email signatures and just 17 per cent have offered a mentorship program to support trans and gender-nonconforming employees once they are hired.
Another challenge? While flexible policies will help to signal to employees that they will be supported, only 39 per cent of employers have a written transition plan that includes a process for notifying the employee's co-workers and managers to assist in the process.
Mistakes and missteps
Often, employers are well meaning and excited about trans inclusion, but they'll look for quick fixes, instead of taking a measured and deliberative approach, says Kai Scott, president of TransFocus Consulting in Vancouver.
"They'll reach for something and think 'This is the end-all-be-all… and then hopefully we're done.' Unfortunately, sometimes, people rush into things and put something together in a cobbled sort of way."
One example is including "man/woman/other" or "man/woman/trans" on a form.
"For those who are non-binary, that feels like an afterthought… Trans is actually not a gender identity, it's more of a status or a history qualifier," he says. "There's a handful of [fixes] that organizations grab because they want to address these issues but… there's a lot of nuance around gender data."
As part of that excitement, some employers may decide to celebrate somebody who is transitioning — without their consent, says Jade Pichette, manager of programs at Pride at Work Canada in Toronto.
"I've also seen that happen with a public profile, where a trans person was profiled by their organization publicly on their social media account without their consent, which resulted in them becoming the target of quite a number of hate attacks."
Another challenge? Tokenism. Often, one trans person is expected to have all the answers at a workplace, says Yasmeen Persad, education and training facilitator at the 519 in Toronto, an organization dedicated to advocacy for the inclusion of LGBTQ communities.
"Being the one token trans person in that work environment can be really exhausting and draining when everything that comes up has to be pointed to you."
A lot of employers also lack awareness when it comes to legal considerations, such as the Human Rights Act, she says.
"They often don't know that gender identity, gender expression, that's covered under these protective grounds for folks in the workplace… This is absolutely shocking to me."
Some employers might also take a linear approach to the trans community and not understand other barriers, says Persad, citing racism as an example.
"We're not just trans people; we have so many multi-layered identities and all these different aspects to life… And you might be addressing the trans issues, but you also need to look at people from an intersectional lens," she says.
Another problem? Training may not be offered to everyone, such as management, and there's often little followup.
Best practices
The training should be mandatory for all staff, new and old, especially when it comes to human rights, says Persad.
"Everybody who's there should be introduced to the code and understand the grounds of protection and how it protects people, the four specific categories that usually pertain to trans people: sex, gender, gender identity and sexual orientation."
One framework to consider for trans inclusion uses five guiding principles: privacy, fairness, choice, flexibility and safety, says Scott, which can be applied, for example, when it comes to issues such as washroom design or "unintentionally exclusionary forms and surveys that don't capture the full spectrum of gendered experiences."
Another best practice? Recognize that every transition is going to be different and build that flexibility into your policy, says Moshiri.
"We have successfully supported two transitions at BLG since we rolled out our policy and neither have been the same, so you can create a framework but know that you will need to be directed by the person undergoing the transition."
It's also important to emphasize the importance of not using gender language, she says, citing the example of starting a meeting by saying, "Good morning, everyone" instead of "Good morning, ladies and gentlemen."
BLG has also sent around communications encouraging staff to add their pronouns to their signature box, says Moshiri.
"Being addressed with the proper pronouns that are consistent with one's identity are significant for our colleagues who identify as gender fluid, non-binary or trans, [and] being the only ones who identify their pronouns can be isolating. So, having others identify their pronouns alongside you can be both supportive and empowering. And the more individuals who identify at their pronouns, the more it becomes part of our norm."
But the work is not over, she says.
"It's a long journey… After the initial rollout, you can't just sort of check it off and say, 'OK, done; trans policies done' and then never think about it. There needs to be an ongoing mindfulness."
---
ROOM FOR IMPROVEMENT WITH DRESS CODES, EMAIL SIGNATURES
75%
Number of employers with an all-gender washroom
65%
Number of employers that have conducted a gender audit
45%
Number of employers with gender-inclusive dress codes
33%
Number of employers requiring pronouns in email signatures