Study shows performative gestures don't go over well with employees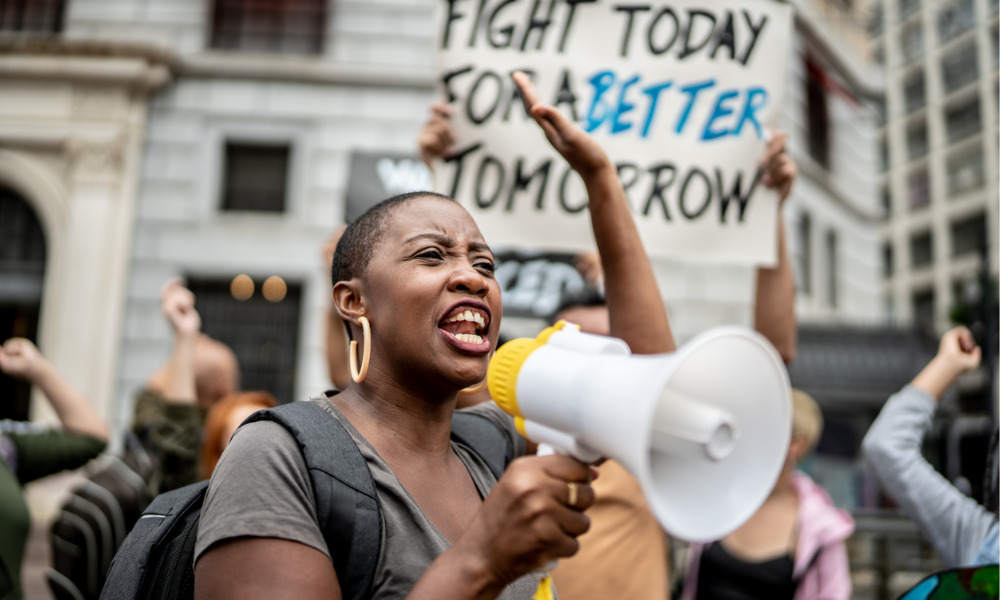 These days, it's hard to escape the frequent pronouncements from companies when it comes to social issues.
Whether it's celebrating Pride Week, touting safety practices during the pandemic or condemning race-related violence, many organizations respond through external messaging and internal initiatives to voice their concern or support.
But is this genuine? And how does it go over with the employees? Not so well, according to a recent report by the non-profit organization Catalyst.
In looking at efforts around racial equity, three-quarters of employees in white-majority countries say their organization's policies are not genuine. (For this study, genuine policies are defined as being aligned with organizations' stated values, motivated by care and concern for employees, and thoughtfully implemented.)
And when it comes to the COVID-19 pandemic, more than two out of three employees think their organization's guidelines for the care and safety of their workers were not genuine, found the survey of 6,975 employees in 14 countries.
Tara Von Bommel, co-author of the report, was "not super surprised by the results," she says.
"This isn't the first time we've seen people giving lip service to something and then not walking the talk when it comes to it."
And while the report really focuses on COVID and racial justice, the findings extend beyond those two, "which are just really case examples of crisis and disruption," says Von Bommel, director and statistician at Catalyst.
This report is meant to be a wakeup call for CEOs and other senior leaders at a time when employers are still facing high turnover due to the great resignation, she says.
"People will take their talent and their dollars to organizations that they feel are making a positive difference in the world… we are in a time where people prioritize this a lot more.
"It's part of a bigger, I think, a real paradigm shift in the workplace and in expectations for leadership, that employees, and customers as well, have expectations for leaders and companies to take a stand on the defining issues of our time, and to put the people over profit, to look to make a difference in society."
In May, Canadian HR Reporter presented the Leading Diversity and Inclusion employers for 2022.
The downsides of performative efforts
So, what are some examples of performative gestures? Announcing a policy without following through; emailing staff to express concern without taking action; announcing that you will make training available, but failing to implement any; or pretending to create a new policy when you are just updating an existing one, says the Catalyst report Words Aren't Enough: The Risks of Performative Policies.
It could also mean putting up a statement supporting Black Lives Matter, but then admitting you have an all-white, all-male board of directors, or hiring someone to lead a DEI initiative but not giving them any line of sight to executive leadership or the resources to really do anything.
"[It's about] 'Look, we hired someone but we're not giving them any power or influence to actually make meaningful change,'" says Von Bommel.
And when employers don't have these authentic responses, the workforce suffers, finds Catalyst, as employees have lower engagement and are more likely to want to leave their organization.
If an organization holds a Pride event, for example, but employees don't feel like they are receiving the appropriate benefits and insurance packages to meet their needs or there isn't an employee resource group in place for them, frustrations can rise to the surface, says Sarah Saska, co-founder and CEO of Feminuity.
"They just don't think the policies or processes or general standards are actually supporting them in real time, day to day. People feel like, 'Hey, why don't you take that $200,000 budget you spent on that public event and invest it in us?'"
If, on the surface, an employer appears to be supportive of a particular group of people but, in reality, the intentionality isn't there, staff will end up leaving, she says.
"Churn and high turnover rates are expensive and damaging to an organization for a lot of reasons, so if you attract someone and they leave six months later and they share their experience with their friends and their community and broader network, that company is no better off either. It seems like a win in the short term but long term it certainly isn't, either for the company or the prospect alike."
The upsides of authentic initiatives
On the other hand, when organizations respond to these crises genuinely, with care and concern for employees, and empathy — such as offering flexible work policies or doubling down on DEI practices — these are the organizations that are going "to be better able to weather the disruption and the crisis," says Von Bommel.
Genuine policies around COVID safety or racial equity lead to better employee experiences in areas such as work-life balance, feeling respected and valued, employee retention and engagement, and feeling included, found the Catalyst survey.
"That really is one of the big key takeaways from our report is that these genuine responses, they have benefits for individual employees, but also they have strong organizational benefits as well," she says.
An employer's efforts around social issues need to be reflective of what's happening internally, says Saska.
"If you're doing a lot and you've being intentional and you have some really thoughtful policies and processes and programs in place, of course, scream it from the rooftop, share that broadly because absolutely you want to attract more people… and sharing that through moments of celebration, that's awesome."
Eighty per cent of U.S. employees believe addressing racial injustice and equity is a central responsibility of a CEO and management.
Should an employer always speak up?
Understandably, some employers may find this whole area challenging as it can involve uncomfortable conversations and they don't want to say the wrong thing, says Von Bommel.
But it's about listening to employees and learning.
"They will tell you so much, they will give you so much information, and when you do that, then engagement goes up and innovation goes up, and people are more committed to the organization," she says.
And employers are running out of reasons not to respond.
"There really is no excuse for not learning from your colleagues, from the best practices and other organizations — there's so many resources out there that… there's just really no excuse for not taking action," says Von Bommel.
No one expects employers to fix a problem overnight, but it's about making efforts that employees perceive as genuine, she says.
"This harkens back to the importance of empathy: If you're really listening to your employees, and really listen to the people who are the target of this racism and prejudice and discrimination, time and time again, you'll hear 'We'd rather have you try and not get it right than not say anything at all because the silence really says more.'"
Change isn't comfortable, says Von Bommel, but we're in a time of rapid change.
"This is going to be pretty much the new norm and so leaning into these uncomfortable situations and being willing to say, 'I don't have all the answers and I might not get it right, but I want to learn,' I think, is really the key there."
There is a pressure for employers to respond, says Saska , "and companies are constantly trying to figure out what they should do because they feel like they need to do something — and it's really tricky."
But unless a company feels deeply about whatever's happening, and they have put some thought into the issue, then it's perfectly OK to not weigh in or make a statement, she says.
"Doing something that's vapid and isn't grounded in something intentional backfires because then employees, shareholders, the public is likely to be critical of it — and that's reasonable.
"Just do the thing if you actually feel like you've put thought into it and you feel good about what you're putting out."
Plus, there are many moments of political trauma and crisis, says Saska.
"I don't think we can expect companies to have a statement or profound thought process around every single thing that's happening because, ultimately, that's almost every day."
Organizations and leaders are on a learning journey, so as their understanding of social issues deepens and they determine what's really important to them, their employees and their shareholders, "that might also dictate the type of conversations that they feel are important for them to weigh in on," she says.
Overall, around 80 per cent of workers say their employers have introduced LGBT+ inclusion actions and initiatives, and 95 per cent feel this has led to meaningful support for these marginalized employees across the organization, according to a survey by Deloitte.
Checklist for authenticity
In looking at how to make an employee think a policy is genuine, Catalyst outlined several options for employers:
Take a stand externally and internally.
Be transparent: Admit that your organization is not as diverse as it should be.
Give employees the opportunity to report when they are not psychologically safe — and then take corrective action.
Empower employees to create ERGs (employee resource groups).
Take steps to remove bias from hiring practices.
Take steps to diversify senior leadership.
Continuously train employees on diversity, equity and inclusion (DEI).
Treat everyone with respect.
Celebrate cultural heritage.
Hire a DEI expert.
Saska also offered examples from a template she uses with employers to get beyond performative approaches. For example, when it comes to the LGBTQ+ efforts:
What decisions is the LGBTQ+ community making about this action?
Are we designing with the LGBTQ+ community or for them?
Do we know who benefits from this action?
How are we sharing power with the LGBTQ+ community?
How are we translating our efforts internally within our company?
How are we measuring the success of this action?