Improved hiring practices, more mentorships, diversity training among suggestions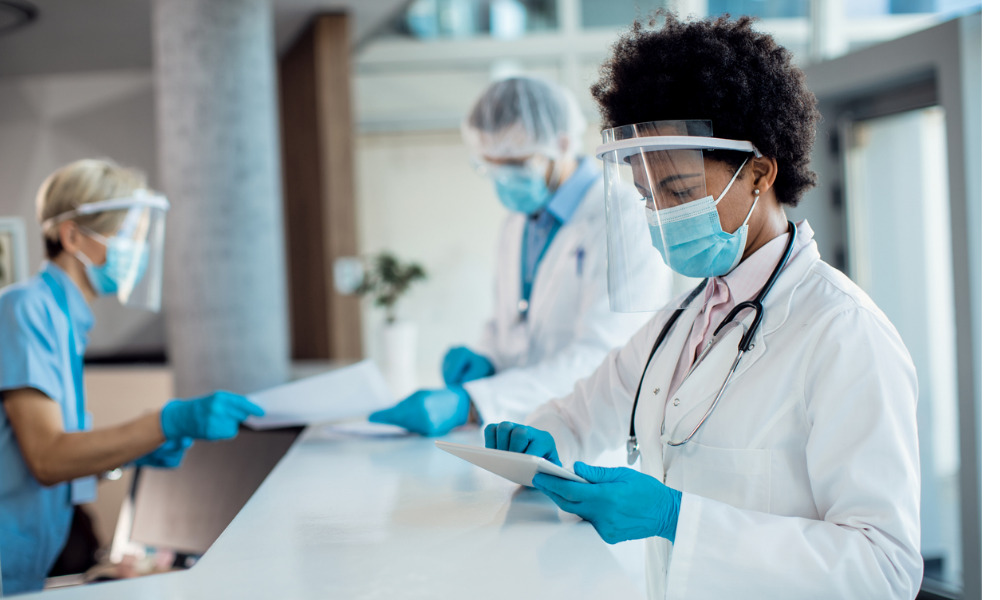 Looking to tackle structural racism within nursing organizations, regulatory bodies, associations and the broader health system, a nurses' group has unveiled a report with several recommendations.
"For years, Black nurses have been afraid to speak out about the microaggressions, discrimination and racism they face within academic and workplace settings for fear of reprisal and the suppressive behaviours of managers," says Angela Cooper Brathwaite, chair of the Registered Nurses' Association of Ontario's (RNAO) Black Nurses Task Force (BNTF). "We're proud to release a report that sheds a light on the challenges and barriers Black nurses face and the solutions that will help us eliminate anti-Black racism and discrimination within the nursing profession."
The report also surveyed 205 Black nurses about racism and found 88.3 per cent had experienced racism or discrimination on the job.
When asked how workplace policies, hiring practices or orientation could be enhanced to recruit and retain Black nurses, the most popular response was "zero tolerance policies for racism and discrimination", with 161 citing this response:
Zero tolerance policies for racism and discrimination: 161
Hire more Black nurses in executive leadership and managerial positions: 155
Ensure human resources and hiring teams are racially diverse: 151
Include Black nurses in workplace decision-making: 150
Encourage staff to report all incidents of racism and discrimination, guaranteed anonymity if desired: 149
Maintain fair and transparent hiring practices: 144
Mandate cultural safety and anti-oppression training during orientation for all staff: 137
Create and sustain mentorship initiatives for career development: 129
Showcase and celebrate the contributions of Black nurses within the workplace: 106
Avoid burdening Black employees with the responsibilities of workplace diversity and inclusion: 103
The report also made 19 recommendations overall, including:
Develop and implement anti-racism, anti-oppression, cultural safety, and diversity, equity and inclusion training and orientation for staff at all levels in all workplace and academic settings.
Include diversity, equity and inclusion committees in all workplaces and academic settings to address racism and discrimination.
Hold all staff (professors, managers, health-care providers) accountable for addressing racial discrimination and develop specific strategies to combat it.
Acknowledge systemic racism and discrimination exists at individual, organization and policy levels. Non-Black nurses must self-identify and address their individual biases. They must be encouraged by their organization to continually engage in reflective practice and delve into their perceptions and experiences to assess inherent biases and values.
Create safe spaces for Black nurses to open up about the discrimination and oppression they face in professional settings.
Embed mentorship programs in workplaces for Black nurses to facilitate professional growth and development, and to improve retention and recruitment of Black employees.
The full report is available here.
"The recommendations outlined in this report speak to the dire need to address and ultimately expunge racism from our profession. The report highlights the devastating impact systemic racism is having on the lived experiences and mental health of Black nurses in academic and workplace settings," says BNTF co-chair and nurse practitioner Corsita Garraway. "All health-care and academic organizations must immediately take action and acknowledge that anti-Black racism is deeply entrenched in the history of nursing in Ontario and Canada."
Still work to be done
Encouragingly, a recent study from KPMG in Canada finds there is some progress when it comes to addressing anti-Black racism.
Nearly seven in 10 (68 per cent) Black Canadians feel their employer have either made good (36 per cent) or some (32 per cent) progress on following through on their promises to be more inclusive and equitable for Black employees.
Over two-thirds (67 per cent) believe their employers are making genuine efforts to hire more Black Canadians, and 58 per cent say they are making genuine efforts to promote more Black Canadians into leadership roles.
"These results show that many Canadian organizations have made real and sustained efforts to tackle racial bias in their organizations," says Rob Davis, chief inclusion and diversity officer and chair of the board of directors of KPMG in Canada. "Black Canadians told us they are seeing progress in the hiring and promotion of employees, in the opportunities for Black-owned business and in the treatment of Black customers."
However, 20 per cent of respondents say their companies have taken no action, and 12 per cent say their company's promises to be more inclusive are simply lip service, according to the survey of more than 1,000 respondents in January.
"I believe that most leaders recognize that today's challenges require new ways of thinking and they genuinely want to break down barriers so that everyone is heard. Our society and our economy demand it," says Davis.
Many employers are not getting it right in recruiting diverse talent, according to one expert.
Nearly three quarters (74 per cent) of Black Canadians say they feel valued and respected in the same way as their non-Black colleagues, but nearly an equal proportion (70 per cent) feel they have to work harder than their non-Black peers in order to earn that same respect.
And nearly a third have continued to experience microaggressions and racism at work, including 14 per cent who say it has actually increased.
To further reduce anti-Black racism in the workplace, respondents say that employers must do the following:
Appoint more Black Canadians to the board of directors or senior management ranks (84 per cent)
Provide more anti-racism education and training for employees and management (83 per cent)
Have senior leadership teams "walk the walk" (82 per cent)
Make reducing anti-Black racism a bigger human resources priority (81 per cent)
Make a major culture change (74 per cent)
Replace senior leadership teams (54 per cent)
Despite employers planning to make their workplace more diverse through different programs, many have failed to follow through with their plans, according to a previous report.