'It is death by 1,000 paper cuts, and those are really harming and devaluing. And women start to give up'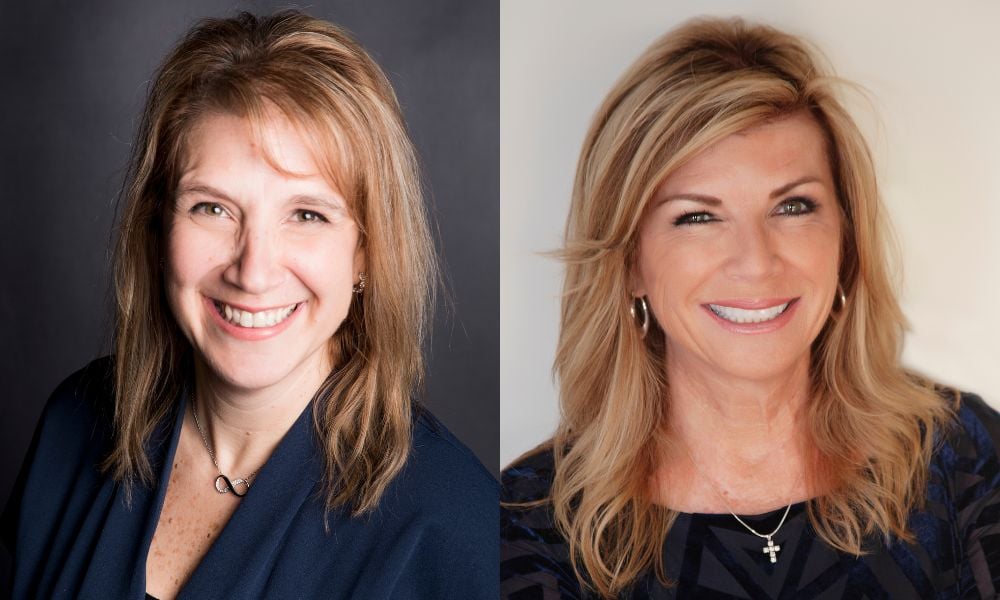 "This isn't about shame; it's not about judgment — it's about trying to educate and make people aware of what's happening."
So says Kim Graham Lee, CEO of the Integrating Women Leaders Foundation (IWL), in talking about the results of a survey by her foundation looking at allyship in the workplace.
"Intention is often not represented in the impact of actions and behaviours, and that's what we're trying to help educate in this allyship arena," she says.
And as the worst of the pandemic winds down, the focus on allyship makes all the more sense, because so many women are leaving the workforce, says Angela Payne, past president of Lean in Canada and founder of leadership development firm LeedHR in Toronto.
"They're basically voting with their feet and they are going elsewhere. And so the reality is you're going to create a pipeline issue of leadership, women in leadership, that is even a bigger problem as you continue down this path. So, for me, it's an imperative that these kind of baseline things happen inside an organization. And it's HR's responsibility to help bring these kinds of topics to light for organizations, so they get it on their radar."
Read more: Women leaders jumping ship at higher rate than men
Wide gaps between genders
In taking a deep dive into how women and men perceive the practice of allyship in the workplace — in which a person advocates and actively works for the inclusion of a marginalized group — there are wide gaps, finds the survey involving 1,150 respondents.
For one, in looking at the continuum of allyship, from "anti" or "ambivalent" to "active" or "advocate," 45 per cent of women in the C-suite say men are in the active or advocate stages — compared to 77 per cent of men in the C-suite.
Similar variation is found in middle to senior management (36 per cent of women compared to 67 per cent of men) and lower management (28 per cent of women compared to 51 per cent of men).
When asked about men regularly taking actions to be allies of women, only 28 per cent of women agreed, versus 49 per cent of men, shows the State of Allyship-in-Action Benchmark Study.
"Men always inflate what they're doing in the area of allyship, and we definitely saw that in our research," says Graham.
"In the context of focusing on males being allies to women, we say that you can't call yourself an ally — that's performative allyship… you aren't an ally until the group that you're advocating for recognizes you as such."
Graham also notes that everyone is on an allyship journey.
"Every one of us has some level of privilege where we have an opportunity to help lift someone else up. So, while we're focusing primarily on men — because of the positions they have in organizations — this is something that crosses all of us. And we have an opportunity to be advocates for others."
Notably, the survey also found that 73 per cent of women feel that they should be stronger allies for other women, compared to 51 per cent of men.
"There's an opportunity for women to be stronger advocates for women… I was surprised it was that high. But it does point to the need for systems to change in organizations. It's going to take time," she says.
Speaking up and calling out
However, when it comes to specific allyship actions, the distance between genders continue, finds the report:
| | | |
| --- | --- | --- |
| Men | Men's actions (always or frequently) | Women |
| 71% | Giving credit to women for their ideas/contributions | 40% |
| 44% | Advocating for women to be promoted | 19% |
| 44% | Advocating for women, even if they're absent | 13% |
| 37% | Speaking up for women in meetings | 15% |
| 15% | Calling out other men who devalue women at work | 4% |
"When you call it out, especially in the moment, that is where true allyship courage shows," says Graham. "You just have to keep doing it to get better at it."
We all have bias, and that doesn't make us bad, it makes us human, she says.
"But we have to be aware of these biases that we all have. And we focus a lot on men because, in fact, they are in the majority of the positions of power and influence. And until they see it, gender equity will not happen."
Understanding microaggressions
In looking at the top five microaggressions — subtle, often unconscious messages that devalue, discourage or impair workplace performance — faced by women and if they happen "frequently," once again, the difference in opinions was evident:
Being interrupted more often than others (40 per cent of women, 10 per cent of men).
Having their judgment questioned (29 per cent of women, six per cent of men).
Not being given credit for their contributions (29 per cent of women, seven per cent of men).
Being overlooked for a promotion or stretch assignment (29 per cent of women, six per cent of men).
Being asked to do "office work" such as taking notes (30 per cent of women, eight per cent of men).
"It is death by 1,000 paper cuts, and those are really harming and devaluing. And I think, frankly, women start to give up," says Graham.
Overall, the storyline that men don't appreciate the experience of women in organizations is not a surprise, she says.
"Men, in many cases, thought that those happen to them as frequently as they happen to women overall."
Turning awareness into action – and recognizing success
Awareness is the first step towards bridging the gaps, says Graham. "And when [men] do become aware, then you have to work with them to get more comfortable. And… a lot of our focus is how do we help them continue to practise, how do we celebrate success?"
It's about turning awareness into action, says Payne.
"For organizations and for HR leaders, similarly, the way they started to work on unconscious bias and the idea of gender equity in their organization overall, allyship is another component and another illustration of actions that have to happen in organizations to be able to make them aware… and then turn that awareness into action."
Read more: How to be a good LGBTQ+ ally at work
It's also about recognition, as organizations don't often reward good behaviour, such as calling others out for bad behaviour, she says.
"If these are not safe organizations for people to speak up, then they won't; if they're penalized in any way, overtly or not, they won't. So, the reality is that organizations have built into them — based on years and years and years — a history of [people] speaking up and it doesn't get you any further. And so that's a learned behaviour. Creating conflict is not people's first innate place, they want to create harmony, especially women. And so they're collaborators, they want to create, so this speaking out is not always rewarded."
Any kind of feedback that recognizes when people are doing the right thing is important, says Graham.
"It's important that the leaders that have day jobs are given credit for the time and commitment to this work."
What's effective training around allyship?
To boost awareness, education is important, and thus far unconscious bias training (with 71 per cent of respondents participating) is most popular, followed by mentoring/reverse mentoring (52 per cent) and business or employee resource groups (49 per cent).
Allyship training (22 per cent) and allyship communities (12 per cent) are low on the list.
But these programs are making a difference, says Graham, citing survey results that show men who are involved in such a community find it extremely or very impactful (29 per cent) or somewhat impactful (53 per cent), compared to those who don't find it impactful (18 per cent).
"Men that are participating and committed to learning are seeing things more akin to what women are saying they're experiencing… that's very encouraging."
However, this should not be a one-off program, she says.
"It has to be designed in such a way that men don't feel, and others feel, that it is just a one and done. There has to be a real commitment to this being done on an ongoing basis."
Read more: Are employers making progress towards gender equality?
Allyship should be part of everyone's job description, says Graham.
"I do believe that organizations should be building this more into performance reviews."
Accountability in a supportive culture
Having some accountability inside the organization is what makes it work, says Payne.
"That needs to get done from the top-down and the bottom-up… [with] some sort of sponsorship inside the organization that believes that there's benefit in doing that," she says.
Anytime you can create shared learning or insight, and have some sort of accountability loop, "that creates more stickiness inside of organizations, which has more benefit of working," she says.
"Communities create common language, they create common incentives, they create common outcomes, and they help reinforce the behaviour that you want."
Plus, HR and leadership have to create an environment that enables healthy debate and discussion, says Payne.
"When you have that healthy conflict, it helps your organization in other ways… [such as] more innovation, more thought leadership, more insights for the organization… business opportunities."