'If variants start to increase, then it may become much more reasonable to have mandatory policies'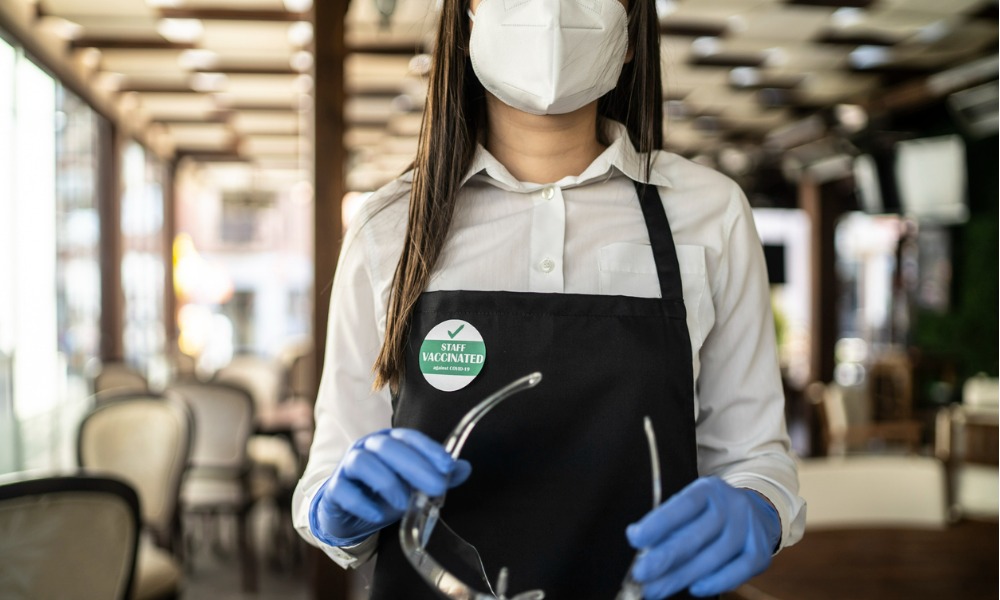 More than a year into the COVID-19 pandemic, and months after vaccines have become readily available across Canada, employers and HR still have questions about how to approach the issues of vaccines. To get some up-to-date answers, Canadian HR Reporter spoke with Lai-King Hum, principal and senior lawyer at Hum Law Firm in Toronto, and Deborah Hudson, a partner at Hudson Sinclair in Toronto.
Could an employer have just cause to fire someone for not having the vaccine?
"I can't answer definitively yes or no, I think it's very much a context specific, workplace specific... there's been no decisions specifically on that point, either from the courts or the from labour arbitrators," says Hum.
"It's always a balance for employers between health and safety, their obligations to keep a workplace safe for their workers, and the obligation to ensure that employees are accommodated for any medical or religious grounds and the employer's obligation to respect an employee's privacy.
"If the medical evidence continues to be that the virus is going down, that we're getting it under control, then it may not be as reasonable to have a mandatory policy and to terminate someone for cause," she says. "If variants start to increase, then it may become much more reasonable to have mandatory policies and to say that an employer is justified in terminated for cause. Again, we have to look at each individual workplace and see 'Is it a requirement at that particular workplace that someone gets vaccinated in order to ensure the health and safety of everyone else?'"
"In Ontario law, it's very difficult to prove just cause in any circumstance. So, in the context of the vaccine, it would be similarly difficult to prove cause," says Hudson.
"[Termination] seems extreme and maybe expensive for the employer. And, for example, the healthcare industry is predominantly unionized jobs anyway. So that wouldn't be a possibility in that contract necessarily.
"I would say the safer view is in a non-disciplinary manner, rather than a disciplinary matter, [so asking] 'Who will voluntarily disclose they've been vaccinated? OK, you're safe for these congregations. Who has not? What other options are available for them?'" she says.
What are the human rights considerations around vaccines?
"With the vaccine, there are also human rights-protected grounds which employers would have to be very careful about as well, including some people might not be able to get vaccinated for medical or religious reasons," says Hudson. "But if it's just your belief, that's not going to be a human rights-protected ground."
"There has to be sufficient evidence to show that you do qualify under one of those grounds," says Hum.
"If it's on the basis of creed or religion, as most people understand it, then you'd have to show some basis. And it can't just be a personal belief. So someone could claim 'Well, part of my belief is that one shouldn't put foreign bodies into their body.' But if it's really just a personal belief and not a religious belief, then it wouldn't qualify. And I think the same thing [is true] when it comes to medical evidence; simply saying, 'Well, I'm allergic to this vaccine' without some sort of backup would not be sufficient."
Canadian HR Reporter delved into various vaccine-related issues such as incentives in the latest issue.
How does the type of workplace make a difference?
"Depending on the nature of the industry, that's going to be very important," says Hudson. "[For example], is this actually healthcare? [The employer] would be able to get away with more than, say, somebody who's working from home… Is it going to be continued mask wearing after other [vaccinated] people don't have to wear masks? Is it going to be an unpaid leave of absence? Is it going to be moving them into a different position, so maybe not a front-facing position but an office position?
"In an education setting, it's certainly relevant if people are vaccinated or not because that's an environment where numerous people congregate, and some of them will not be vaccinated in the fall depending on the age group of those students," she says.
"So there are still legitimate medical concerns that that workplace has to consider. I don't think it's an irrelevant request."
What are the privacy considerations in asking about vaccination status?
"My recommendation to an employer would be ask for voluntary production, and if people will not produce [a vaccination record], then assume they have not been vaccinated and take action accordingly," says Hudson.
"I believe that a vaccination record could arguably be considered a medical record so there might be some privacy issues. That being said, a lot of people might readily produce their [record]."
"Coworkers cannot demand to know whether their coworkers are vaccinated... there are privacy concerns," says Hum.
"The employer is not normally privy to the medical information of the employee unless the employee consents to providing that information. And I think in certain contexts, health and safety may be paramount. And the employee might have to provide information about whether or not they have been vaccinated.
"The answer would be specific to the workplace as well," she says.
"So if we're thinking about office workplaces, I would expect that because people can more or less work from home, it would be harder to justify a mandatory vaccine policy. Whereas in the healthcare sector, it would likely be justified. The same would be said about whether or not the employer can require an employee to disclose that they've got the vaccine."
Should employers have a policy around vaccines?
"If they're going to have any kind of mandatory policies, or if they're going to have... incentives around vaccinations, then yes, I would highly recommend a policy be in placed," says Hum.
"Not because it's required in order to have to implement such a plan but in order for there to be clarity and transparency about what this policy is about, what it's trying to address, and what the consequences are."