Homeowner claimed sexual activities for more money were cleaner's idea, but his story didn't hold up against that of worker and her husband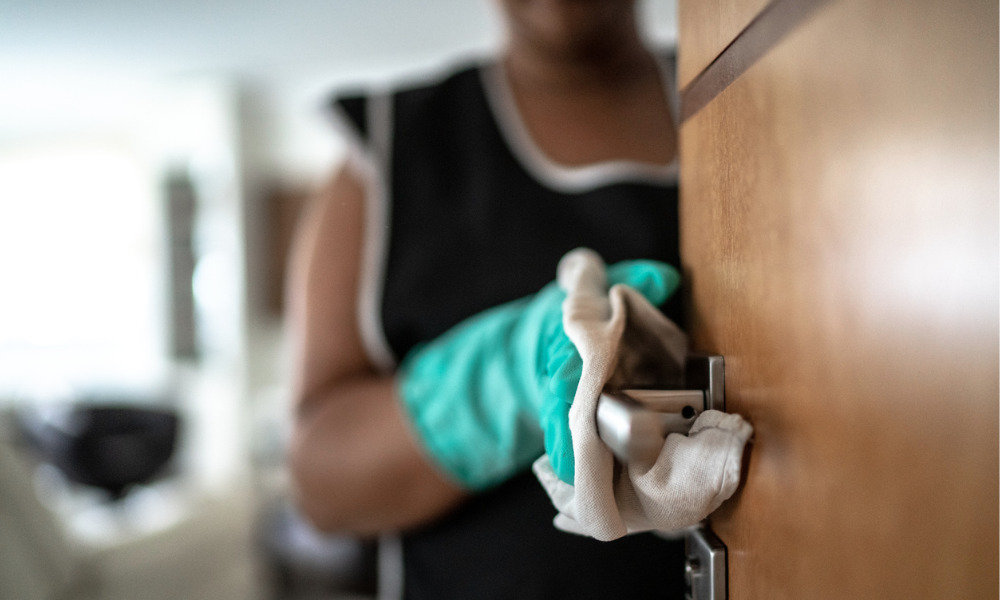 A British Columbia man must pay more than $40,000 to his former house cleaner for discriminating against her on the basis of sex when he sexually assaulted her, the B.C. Human Rights Tribunal has ruled.
The worker, identified as MP in the tribunal decision, worked as a cleaner in a Vancouver private home owned by JS, 87. She is married with two children and immigrated to Canada in 2009. In 2011, JS and his wife hired MP as a house cleaner after hearing about her from a friend. MP had several clients for whom she worked.
JS's wife was ill and MP sometimes helped with bathing, dressing and feeding her in addition to her cleaning duties, for which JS paid her in cash and sometimes personal cheques. She sometimes brought her young children with her.
In the spring of 2013, JS's wife passed away and MP stopped cleaning the house for a few months. However, in the summer of that year, JS called her and asked her to resume working for him. MP agreed.
After MP resumed cleaning JS's house, she and her husband were sympathetic to his loss and their family started spending time with him. This included outings to the zoo, the Pacific National Exhibition (PNE) and dinners out. Sometimes, JS offered to pay for things such as dinner and a couple of admissions to the PNE. In 2014, MP and her husband bought a new house and JS gave them $1,200 toward a new television as a housewarming gift.
JS also provided assistance for other things — such as taking MP to pick up her car and paying for the repair bill in exchange for cleanings and bringing leftover food from his temple for MP and her family.
Unwanted sexual behaviour
However, things weren't always so rosy. According to MP, JS would sometimes brush up against her and touch her shoulder or buttocks while she bent over to change the garbage. In 2014, after JS returned from his house in Europe — he spent several months each year there — he started asking for a hug each time she came to the house. She resisted, but JS gave her tight body hugs from behind.
Eventually, JS began approaching MP as she changed the bedsheets and would push or pull her onto the bed and try to put his hands under her clothes. She resisted but JS continued to touch her, saying he was only trying to "fool around." According to MP, JS told her the maid at his house in Europe would let him touch her and have sex with him. He also told her that if she didn't do what he told her, he would tell her husband and kids and that would break up their family.
MP grew weary of JS's behaviour and stopped working for him in late 2015. However, in early 2016, JS came to MP's house and asked her husband to ask her to come back. He also called MP and reiterated his threat to tell her family, so she resumed cleaning JS's house. The sexual contact from JS also resumed and escalated. In addition, JS began giving MP extra money for the "fun" he had with her and to help her.
According to MP, on Oct. 27, 2017, she was changing the bedsheets when JS took off his clothes, put her on the bed, began performing sexual acts on her and tried to have sex with her. She told him not to touch her, but he didn't stop.
Afterwards, she told JS that when he returned from his house in Europe, she would no longer work for him. She claimed JS told her he would "fix you when I come back." JS tried to call MP a number of times while abroad and after he returned, and MP finally told her husband about the repeated sexual assaults over the years.
MP then filed a human rights complaint alleging that JS discriminated against her on the basis of sex in the area of employment based on the Oct. 27 incident. She also went to the police, who arrested him on March 17, 2018. However, he wasn't charged.
JS denied doing anything against MP's wishes, saying she started doing less work at his house and initiated intimate contact. He claimed she offered to "go to the bedroom" with him for extra money on top of her cleaning fee and she allowed everything they did. He also denied threatening to tell MP's family.
JS also portrayed MP as frequently wanting money from him to pay for things such as the car repair and television. He suggested she wanted to be paid by cash or cheques as a way to avoid paying taxes.
As for the events of Oct. 27, 2017, JS claimed she willingly removed her clothes when he removed his. He denied forcing her to do anything. He said he told her afterwards he could no longer keep paying her extra money just to hug and she said to call her when he got back from Europe if he wanted her to keep working for him.
The tribunal found that MP's account was credible as she was "clear, straightforward, direct and consistent" in her story. JS, on the other hand, was inconsistent and sometimes evasive. His version of events contradicted both MP and her husband's version of events and had the characteristics of being self-serving and defensive, said the tribunal.
The tribunal found that the circumstances developed into "a situation of dependency in the working relationship in which MP's continued social and psychological safety hinged on her meeting JS's demands." This was an employment relationship in which MP was vulnerable, said the tribunal.
The tribunal also found that the three elements of the established legal test for sexual harassment — the conduct was of a sexual nature, it was unwelcome and it detrimentally affected the work environment and led to adverse job-related consequences — were satisfied. As a result, JS breached the B.C. Human Rights Code and discriminated against MP in her employment, said the tribunal.
JS was ordered to pay MP the following: $4,300 for wages lost due to the discrimination; $40,000 in damages for injury to dignity, feelings and self-respect; and $156.48 for medication and other expenses.
For more information, see:
MP v. JS, 2020 BCHRT 131 (B.C. Human Rights Trib.).