Figuring out severance is not easy in a pandemic. But a recent court decision provides some guidance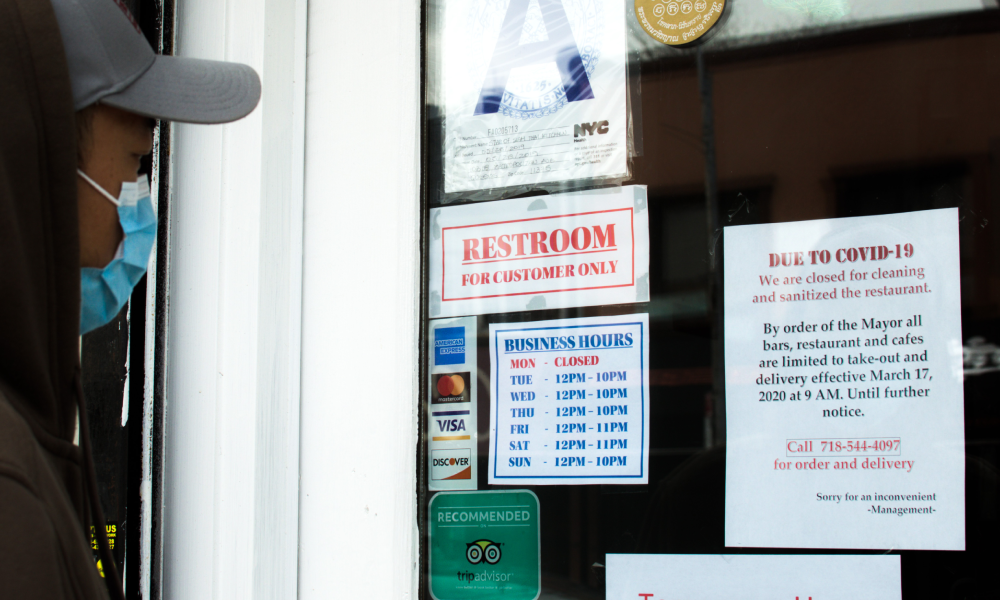 When it comes to the pandemic and notice periods, it's a tale of two economies, says Boris Subara, an associate at Gowling in Ottawa.
"COVID-19 has not had a negative impact on every single industry and every single employer, and some employees will actually be able to find comparable employment quite fast and will not have to struggle with the fact that the pandemic is hurting the global economy, because their particular industry may be thriving," he says.
"Recovery is going to be divergent. Some industries will recover very quickly and others will struggle. So, that needs to be taken into consideration. It's not black or white."
There is plenty of data suggesting that high-wage jobs, for instance, have surged, while low-paying jobs have been lost, says Subara.
"Hopefully, the courts will recognize that a hairdresser is not going to be in the same situation as a software developer. Hopefully, the courts will be able to strike a balance when looking at that context."
Recent case highlights issue
In looking at reasonable notice, it's supposed to be assessed at the time of the termination, he says.
"We can't make any assumptions or we can't look into the past to find out what happened after the termination. Technically, the assessment is supposed to be what the entitlement would have been at the time of termination. But, inevitably, [lawyers] do tend to take those subsequent events into consideration when they argue their cases."
A recent Ontario case touched on this very issue. In Yee vs. Hudson's Bay, a 61-year-old director of product design and development called Melvin Yee who worked for Hudson's Bay for more than 11 years was terminated with a base salary of $162,000 (and bonuses and benefits) in August 2019.
The employment contract had an unenforceable termination clause and the termination was without cause so the court had to figure out the appropriate notice period. Yee was looking for 18 months while HBC felt 11 months would suffice.
While Yee's counsel raised the issue of COVID and a difficult employment market, Judge Grant Dow cited the 2015 Ontario case Holland v. Hostopia.com Inc., which stated that "Notice is to be determined by the circumstances existing at the time of termination and not by the amount of time that it takes the employee to find employment."
As a result, terminations that occurred before the pandemic "should not attract the same consideration as termination after the beginning of the COVID pandemic and its negative effect on finding comparable employment."
While the court ultimately awarded Yee 16 months' notice citing his age, length of service and managerial role, it seems to be recognizing that "terminations of employment that happened during COVID would have longer notice periods if the individual is able to establish that there was a negative effect on their ability to find similar employment," says Deborah Cushing, a partner at Lawson Lundell in Vancouver.
In looking at notice determined at common law, the courts are looking at four factors: age, length of service, occupation and the availability of similar employment.
"For employees in certain industries, COVID would have a significant impact on their availability to find opportunities or to find similar employment, and we anticipate that notice periods would be increased because of that," she says.
Timing is everything
The uncertainty around notice periods is an ongoing problem, says Barry Fisher, an employment law mediator based in Toronto.
"And here we have an example of judges again, frankly, making it more confusing. Now we have to figure out the COVID date and whether that has any relevance."
There came a point when people realized that we were in for the long haul with the pandemic, and newspapers talked about "the new normal," he says.
"Now, apparently, if you're a mid-COVID termination, it may well come into play. Of course, it begs the question as to how anyone leads evidence on that? What, do you start leading evidence of newspapers saying everybody knew it was going to last longer, on that particular day? Remember, we've had waves."
There will be more data to rely on as time goes on, says Subara.
"If the courts are going to be applying a contextual analysis, they need to look at what happened in terms of dates, what happened in terms of timelines, when did the lockdowns happen, when did the reopenings happen? And how did the number of job losses and gains vary from month to month?"
Tough times for both sides
Generally speaking, existing case law will have limited application because this is an unprecedented situation, says Subara.
"The courts have in the past commented on the fact that an employer's inability to pay or the employer's means to pay do not or cannot impact the length of the reasonable notice, but they have not assessed what happens when it's not really about the employer's financial circumstances so much as the world's economy as a whole. So, there is a difference there between an employer individually and employers as a whole."
Hopefully, the courts can strike a balance between the interests of employees and employers, he says.
"Ultimately, the economy will have to restart, we will have to rebuild... and I'm not sure that the way forward is to put too much of a burden on the employers' shoulders."
Since the first wrongful dismissal cases, employers have always cried wolf, and that's always taken with a grain of salt, says Fisher, but this time it's different.
"People are not questioning the employer when they say, 'We're having a tough time…' [This time] everybody knows everybody's suffering," he says. "The natural sympathy towards plaintiffs who've lost their jobs is balanced against the natural sympathy of employers who, in some situations, have lost everything."
Severance considerations
The basic principle at common law is that an employer must pay reasonable notice as a lump sum if there is no working notice attached, but, sometimes, the courts have deemed wage continuations appropriate, says Subara.
"I expect that to be the case going forward because of the hardships that these employers are facing. It's probably not realistic to ask them to provide a lump sum amount to every single employee every single time when they're having cashflow issues [or] applying for the wage subsidy."
Giving working notice is another consideration, to reduce the lump sum amount and still get the value of the work. But that could be a challenge when the labour market is so bad in certain sectors, says Cushing.
"If they can't [do a job search], then it defeats the purpose, and some employment standards jurisdictions have taken that view that that's the purpose of the working notice. Whether they would go as far to say it's not effective, I don't know."
However, people have had to use up vacation time during the pandemic, says Subara, "so I think any employee can find some time in the day and week to apply for jobs and take a day off if needed to attend an interview. And most interviews are being conducted, virtually, in any event."
Employers are also trying to sweeten their offers by extending health and dental benefits and offering some form of career counselling or outplacement, says Cushing.
"Anything that the employer can do to support the employee's mitigation efforts is always positive. And that might be giving a fulsome reference letter to help them find other work."
But with COVID, the failure to mitigate argument is greatly lessened, says Fisher. While it has to be a meaningful job search, if you're a restaurant chef during the height of the pandemic, what's the point in looking for a new job?
"It's just common sense."
Employers will be better off if they can show the court that they did everything reasonable before letting people go, such as applying for wage subsidies or having management taking a big pay cut.
"That type of employer will get a better play than the one who used what we called 'COVID excuses' ― people were getting rid of people that they didn't like anyways and then trying to say it was COVID," he says. "Employers who act responsibly will find that it pays off in court."