Should agreements be changed? How is OHS involved? What about employee monitoring?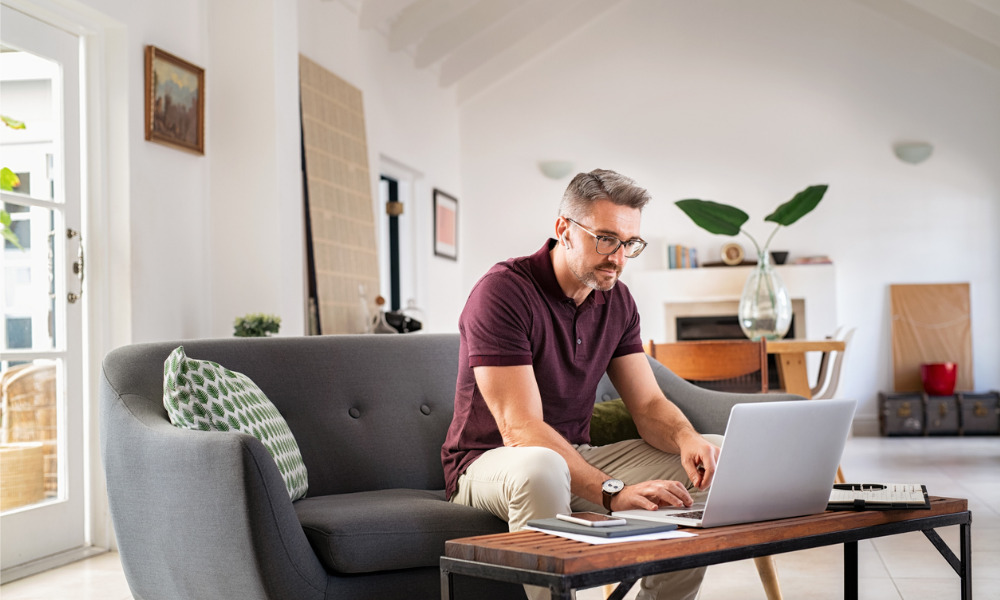 With a lot of employers looking at September as a good time to formally return to the office after more than two years of the pandemic, many are planning — if not already using — a permanent hybrid setup, where employees work both at home and the workplace.
"That's definitely been my experience," says Geoffrey Howard, principal and founder of Howard Employment Law in Vancouver. "A lot of my clients are saying, 'We're now formalizing it as a normal thing, regardless of COVID, hybrid/remote work options.'"
"[Before], a lot of it was ad hoc and was based on public health orders that required them to put as many employees and all their office employees working remote and now what I'm hearing… is that the workforce and in particular the 20- to 40-year-olds are saying, 'This has to continue.'"
Given the hot labour market, many employees are able to make this request, he says.
"Many of my clients are saying, 'We've got to get ahead of this and actually have it as a selling point in our job postings and, of course, we have to extend it to our existing staff as well, the option to work from home.'"
Changing agreements or policies?
One of the big questions is whether employers should change their employment agreements or workplace policies to outline the new arrangement.
"I'm a huge advocate of employment agreements, not only to cover off severance on termination, but other terms of employment," says Howard.
"On the other hand, as a lawyer… my view would be let's not put it an employment agreement."
Why? An agreement between two parties implies that you have to go back and get the agreement of the other party, perhaps in writing, perhaps even signed to change something material in there, he says.
Instead, employers should use a policy.
"Policies are typically issued unilaterally by the employer, sometimes after consultation with the employees and feedback… and the law remains generally that employers can issue policies, as long as they're not unlawful, and the employee generally has to comply with them."
Trends can change, says Howard.
"Employers may find your culture is not strong enough with all this remote work and there's lost of efficiencies and communication and bonding and mentoring, etcetera, such that you want to either eliminate or curtail the amount of remote working. And so the most flexible place you can put your rules about this and your current policy is in a policy itself."
Typically, that policy can include a clause saying, "We reserve the right to amend this anytime, without advance notice," he says.
Otherwise, if the hybrid or remote work setup is mentioned in an employment agreement, "the courts might say that implies itself that this is a material term of employment and, therefore, any material curtailment or cancellation of it is a constructive dismissal."
Having things written out clearly is useful, because it sets out expectations for employees and employers about what to do on a day-to-day basis, says Maddie Axelrod, a partner at BLG in Toronto
However, "there's a whole analysis to be done around constructive dismissal risks and some strategic decisions to be made about how you position certain changes to the working terms, or whether you even take the position that something is a material change."
But if the term of employment is framed from the outset as potentially subject to change, then the risk of that claim is reduced, because the parties know from the outset that this is not permanent, she says.
"And so changing it is not necessarily a change to the term itself, it's within the scope of what was already originally contemplated."
As part of this, employers may want to consider an "escape" clause that provides them with flexibility, especially with pandemic-related issues such as vaccination mandates, masking policies or a hybrid work setup, says Axelrod.
"The situation is always very dynamic. And what we think is working now may not work in the future, or the considerations we have about making certain decisions now might change, and might lead us to make different decisions in the future," she says.
"It's important to have some leeway to adjust your approach at some point in the future, if any of those things change."
Physical health and safety in the remote environment
Another common question concerns health and safety: What are an employer's obligations when someone is working from home?
While employers do have to provide a safe physical workplace, "the prudent approach is to assume that the workplace extends into the remote workplace as well," says Axelrod.
However, the specifics of what legislation might apply in that context vary by province. For example, there might be an exception in Ontario for work that's done in a private residence by the owner or occupant of that residence. And if that's the case, then the Occupational Health and Safety Act might not apply, she says.
"But I don't think that's an invitation for employers to completely disregard the principles of that legislation. Especially because, from a Workplace Safety and Insurance Board perspective, the WSIB in Ontario has said that they will extend coverage, assuming all other criteria are met; in other words, if there's an injury sustained in the course of employment, they will extend coverage to those injuries if they are suffered at home in a remote context, for the most part."
Employers should take steps to do their due diligence, which could mean circulating a risk assessment checklist that invites employees to look at their workstations at home or encourage people to use an ergonomic chair, a proper desk, and to keep cables out of the way so workers aren't tripping on them, says Axelrod.
"[It's about] taking some steps from the employer's perspective to say to employees: 'You should make sure that you are working in a safe space even at home.'"
Workplace regulators have said the home can become the workplace when people work remotely, so they are just as responsible for that traditional level of safety, says Howard.
"And for that, they're saying, 'At a very minimum, you've got to be checking to make sure that their home workplace, even though it's their property in their own home, is ergonomically safe, they're set up well, just as you would have to do in in your office,'" he says.
"That's a bit of a shocker. You can imagine, particularly less sophisticated employers are [saying], 'Wait a minute, how can I do this, it's their place, they asked to work there and it's their place?' But these agencies are saying it doesn't matter."
In addition, some employees will not want employers to be poking around their personal space, he says.
Mental health matters
On the mental health side, employers still have a duty to inquire if they think that somebody working from home has a mental health need requiring support or accommodation, says Axelrod.
"Just because we're not seeing each other every single day at the office doesn't mean that the employer doesn't have those responsibilities anymore, it just means that they need to take perhaps different or more steps to keep open those lines of communication and visibility."
In the same vein, harassment prevention obligations would also still apply in a remote workplace. As a result, employers should develop practices where managers have systems to keep their teams close, even if they're not physically close, such as weekly group meetings and one-on-ones, along with informal social events, she says.
"All of those things are going to be important to building trust among the team. And that trust is going to be critical for somebody who might be suffering from mental health issues or otherwise, to come forward with their concerns."
Read more: Working from home brings better mental and physical health for many workers, according to a recent report.
While all the provinces have obligations around workplace safety, there has not traditionally been a view that the employer has to monitor the overall mental wellness of staff, aside from exceptions such as front-line police officers, says Howard.
"That being said, of course, employers are realizing mental health issues are a huge cost and huge problem for employees — and that was severely aggravated by COVID and particularly periods where a lot of restrictions were in place — so employers are responding more from a place of good HR and being a good employer."
Payroll practices
With people working both from home and the office, there are still obligations under the Employment Standards Act to record and to pay properly for hours worked, says Axelrod.
So if people aren't clocking in or aren't present at the office, employers will have to find other way to meet those obligations.
That could mean clocking in through some kind of a software, using docketing software, or sending a good morning message to your team through email or Slack, and then a logoff message at the end of the day "to keep tabs on when people are working," she says.
Another challenge involves the flexibility employees crave these days. People might decide to leave work early on a Friday and make up the time on a Monday, for example, but some provincial rules would consider the extra two hours on Monday to be overtime, says Howard.
"There are hazards out there. I think it's fair to say this is an area where both employers and employees are agreeing not to insist on strict employment standards compliance in many provinces, because I think every province has a minimum call-out pay provision, which typically were drafted long ago, in an era where almost everyone had to go to a workplace."
Employee monitoring
Of course, many employers are carrying out electronic monitoring but they must disclose it, says Axelrod.
"If you install some software that tracks keystrokes on an employee's keyboard, you have to tell employees about that. And then there might be additional legal considerations about the appropriateness of something like that."
In this regard, there have been many challenges over the years related to privacy concerns in the provinces that have such legislation, says Howard.
"Essentially, [the privacy commissioners] take the common sense approach; they say, 'The more sensitive personal data you're collecting, the more you monitor in real time, the more unlikely [we're] going to find that it's reasonable to collect that.' And they also require — if they will allow you to do some monitoring — you to disclose this quite explicitly to the employee."