With vaccine mandates lifting, risk of constructive dismissal looms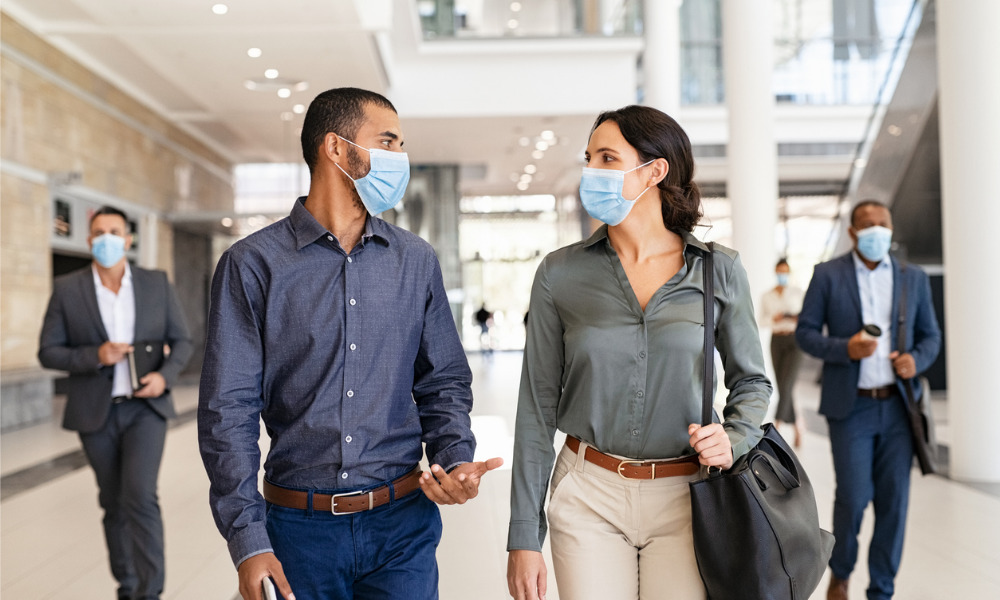 As public health authorities lift certain COVID-related restrictions, some employers are starting to lift vaccine mandates – and bringing back people who were put on unpaid leave because they didn't comply with such a policy.
But they'll want to be careful, says Athan Makrinos, a lawyer at Whitten & Lublin in Toronto.
"My advice, for the most part, is just hold the line for now, only because we don't want to be in a position where we're calling back people who are vaccine-hesitant and then suddenly we're in a fifth or sixth wave of the pandemic and everything is shutting down again, and you have to reinforce policies once more. I'm trying to coach my clients to avoid a yo yo-type situation here."
Since employers have an obligation to provide a secure workplace, under occupational and health safety regulations, these kinds of policies are still reasonable, he says.
"I still think they should be in place, at least for the time being, until we're really out of the woods —regardless of any kind of guidelines on public health."
Constructive dismissal considerations
But Samara Belitzky, senior associate at Samfiru Tumarkin in Ottawa, says employers should be calling people back to work immediately if they know their vaccine policy is going to be revised as of a certain date — even in advance — and giving people a return date.
Why? Employees who have been put on layoffs or unpaid leave because of a failure to comply with mandatory vaccine policy could treat it as a constructive dismissal, she says.
"The employer is not saying to them: 'You're fired' but the end result is the same because the employer is preventing the employee from working and it has stopped paying them. So they've gone from full-time work and full pay down to zero. So… in a situation like that, an employee has the choice: they can either accept that change to the terms and conditions of their employment, and just wait it out, hope they get called back to work. Or they can treat it like a termination of their employment and they can go after severance."
And with government vaccine mandates being removed, it just makes those cases even stronger, says Belitzky.
"Even if an employer was, for example, going to argue that they were just following the health and safety guidelines of the province, they're no longer able to hide behind that as of the date that those were removed. And so it makes those employees' cases for constructive dismissal and arguing that it's unreasonable to have them on an unpaid leave… just that much stronger at this stage."
But the jury is still out on whether or not a temporary layoff under the Infectious Disease Emergency Leave (IDEL) constitutes constructive dismissal, says Makrinos.
"What that regulation serves to do — especially any layoff that has to do with the COVID-19 pandemic — would not constitute constructive dismissal... [but] anything within the Employment Standards Act doesn't bar you from bringing forward a claim at common law."
There's a lot of money riding on this because employers could be stuck with a big liability bill, he says.
"I assume that it's going to create a bit of a floodgate situation, a lot of litigation coming down the pipe… I would imagine that there are some employees who have been temporarily laid off pursuant to the IDEL who are just sitting back and waiting to see how this whole thing plays out."
The much-awaited Taylor v Hanley Hospitality Inc decision should help provide clarity, says Makrinos.
"They're going to make a decision whether or not they want to take any kind of legal action. So it's a very important case."
Less than two months after the Ontario Superior Court of Justice released its decision in Coutinho v Ocular Health Centre Ltd. and confirmed that an employee who was unilaterally placed IDEL had been constructively dismissed, Taylor v Hanley Hospitality Inc from that same court reached the opposite conclusion.
Termination for cause?
There are a few employers that did terminations for cause — for employees not complying with a mandatory vaccination policy — and have since decided to reverse that decision, says Belitzaky.
"They've agreed to bring them back and reverse the termination for cause with the employee's consent and agreement and pay them back pay, going back to the date of termination, and agreeing to maintain their entire length of service, basically, like the termination never happened. So that has happened, but it's not very frequent."
Employers should be very cautious about recalling a terminated employee, regardless of the policies and the facts, says Makrinos.
"What you're essentially communicating is that you never really had cause to dismiss the employee in the first place, and that would really expose you to a lot of liability."
If an employer decides it want to re-employ that person, it could extend a new offer of employment, but most often, the person won't accept, especially if that employee started a claim for wrongful dismissal and sued the company, says Belitzky.
"An employer may try to call that person back to try and reduce their exposure to liability for severance, but it's not necessarily going to be successful."
No court decisions suggest that an employee's refusal to vaccinate would be considered misconduct justifying dismissal without notice, writes one lawyer.
Changing the policy, bringing people back
If an employer does, ultimately, decide to lift its vaccine mandate and change its policy, it's good practice to make the entire workforce aware of it, she says.
"If it's a significant change to the terms and conditions of employment, you want to make sure that the employees agree to it and sign off on it, so that you don't have any exposure to liability," says Belitzky.
"As an employee, if you're recalled back to work, then you want to make sure that you make it clear that you're not abandoning any potential claim you may have had for constructive dismissal by coming back to work, and that you're not agreeing that they can do this again to you in the future. In other words, this one instance of what occurred does not create a precedent for them to be able to do it again."
The jury right is still out on whether or not a temporary layoff under the IDEL constitutes constructive dismissal so "you want to put a bit of a disclaimer in any kind of recall communication that you have, [saying] that this layoff was a one-off," says Makrinos.
"Whether or not that's going to seal you from any future liability remains to be seen."
But it's incumbent on HR to really be involved in lifting the policy and recalling workers, he says.
"It's a very delicate topic, very polarizing… a lot of groundwork needs to be done in terms of outreach programs."