Worker at New Brunswick auto dealership said pictures were taken for security purposes, but his behaviour and previous incidents undermined his story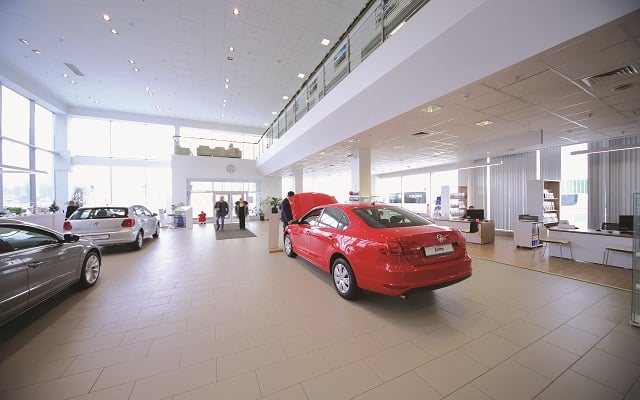 A New Brunswick automobile dealership employee got a little too trigger happy with the cameras on his work tablet and cellphone when a client was in the office and was sent packing as a result.
Robert Durant, 63, worked as a service advisor for Dieppe Auto, a Volkswagen and Audi dealership in Dieppe, N.B. Durant was hired in July 1984 and continued as an employee through a couple of ownership changes, including an acquisition by Audi Moncton at the beginning of 2017.
On Aug. 30, 2018, a female client arrived at the dealership asking for her oil change indicator light to be reset. A sales manager brought her into the office for help. Durant was serving another client, so another service advisor discussed the situation with her at his desk.
During the approximately 15 minutes the client was at the other service advisor's desk, Durant took a photograph and two videos of her with the camera in his company tablet computer. He also took a third video with his personal cellphone, which was in his shirt pocket with the camera lens facing out from the top of the pocket.
Shared videos, photo with co-workers
After the client left, Durant showed the videos to other employees while laughing. He called some over to look at them, including a female service technician who felt "disgusted and disappointed" that they were looking at a video of a female customer and laughing. The service technician reported the incident the following day to the general sales manager, who passed it on to the human resources manager and upper management.
Over the ensuing weekend, Durant texted a photo of the client to a co-worker, who later informed management.
The next business day, management looked at Durant's work tablet and found the two videos and a photo that had been deleted but were still recoverable in the computer's recycle bin. They restored the files and copied them onto a USB drive.
The HR manager interviewed several employees who saw Durant showing the videos while laughing and joking about them. She determined that Durant was the only person involved in taking and displaying the videos, that all the employees who had seen them were bothered by Durant's actions and that some employees mentioned Durant had a history of secretly taking photographs of female customers he found attractive by carrying his cellphone in his shirt pocket with the camera lens pointing outward. One service technician also said that Durant had once showed him a video of a woman shopping at a grocery store that he had taken without the woman's knowledge.
Management met with Durant on Sept. 5 to discuss what happened. Durant admitted to taking the videos, but he said the client was "dressed like a prostitute" and he couldn't believe it. He said it was "more of a joke"and that he thought he could "have a laugh" over it later.
When asked, Durant said he had taken a picture of a client a few years ago and his manager at the time had spoken to him about it but he had not done so since. However, management knew of two incidents — one four years earlier and one a few months earlier — where Durant had been disciplined for taking pictures of female clients with his cellphone. After the more recent incident in January 2018, management told Durant that such behaviour wouldn't be tolerated in the future and the company didn't want to see his career "end on a bad note."
Durant insisted he had done nothing wrong and the dealership was blowing it out of proportion. He said customers had no expectation of privacy at the dealership because of the security cameras and it was "on the low end of the spectrum on range of seriousness."
Management determined that Durant's misconduct deserved dismissal because he:
• Treated a client in "a reprehensible fashion" on company property;
• Subjected his co-workers to his misconduct by showing them the videos;
• Didn't take responsibility for his misconduct, trying to downplay the seriousness of it;
• Didn't appreciate the potential harm his misconduct could cause the dealership if it became public;
• Had committed similar misconduct in the past and had been warned about it.
Audi Moncton terminated Durant's employment on Sept. 10 for cause. Durant claimed wrongful dismissal, again arguing that his actions were intended as a joke and that he didn't breach the client's privacy. He also added that he wasn't just alarmed at the client's outfit but also that she seemed to be "possibly intoxicated," which caused him to record the videos in case she later tried to make "any unfounded claims of inappropriate behaviour."
Serious misconduct provided just cause
The New Brunswick Court of Queen's Bench noted that there was no dispute that Durant took the videos with his work tablet and personal cellphone and showed them to other employees — he acknowledged as much and numerous co-workers reported it. Durant claimed it was done to protect himself and his company from liability since the client appeared intoxicated, but all of the other employees who were nearby or came in contact with the client reported no indications that the client was intoxicated or were shocked by the way she was dressed. In addition, Durant didn't mention this concern when he was interviewed, only when he filed his wrongful dismissal claim.
The court found that the reports from all the other employees interviewed by management about Durant's behaviour after the client left — showing the video to several employees and laughing about it — showed that Durant likely made the videos to "mock and ridicule the client's appearance" and not for any security-related purpose. Durant's purpose may or may not have included "sexual titillation," but the court said it had "no hesitation in concluding that the video was taken for an improper purpose, which was not work-related."
The court also found that it was crucial to Audi Moncton's business that it maintain an image of trust and integrity with its customers. Durant's misconduct could have jeopardized this image and reputation with customers and Audi Canada — not to mention liability from other employees who might feel the dealership wasn't providing a safe work environment, said the court, adding that Durant was also in a position of trust as a "customer touchpoint employee" expected to treat clients "with courtesy and respect."
Even though Durant had 34 years of service, this was lessened by the fact he had gotten in trouble for similar misconduct and had been warned of the consequences. The court found Durant's misconduct "struck at the very heart of the employment relationship, thereby giving rise to its breakdown" and leading to just cause for dismissal.
The court dismissed Durant's claim and upheld his dismissal.
For more information, see:
Durant v. Aviation A. Auto Inc., 2019 NBQB 214 (N.B. Q.B.).