Ontario provides further details on requirements taking effect this fall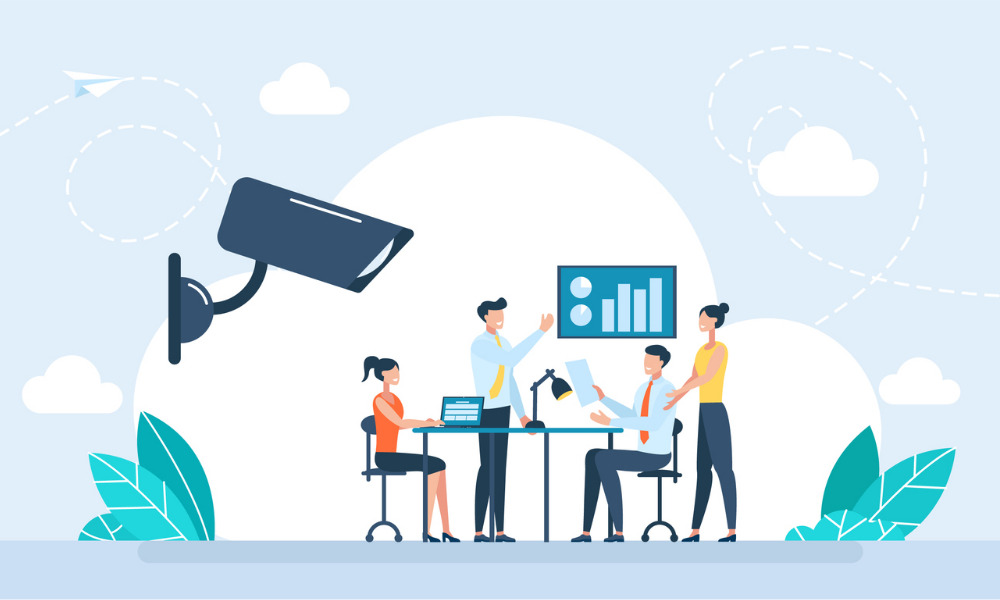 When the Ontario government announced new legislation around electronic monitoring, many employers had concerns: Would this limit their monitoring efforts? Which devices would be included? How much information would they have to disclose?
Just recently, they were given concrete answers, after the province updated its online guide to the Employment Standards Act, 2000 to include a chapter on "Written policy on electronic monitoring of employees."
"We now have a better framework to help us interpret and understand obligations under the legislation… it just helps to give a path or checklist for employers," says Carl Cunningham, a partner at Bennett Jones in Toronto.
And with the deadline of Oct. 11 for compliance fast approaching, the update was well-timed.
"We're going to see a lot more focus on this in the next 60 days, particularly come September, there'll be more focus [from employers] on getting a policy put in place and ready," he says.
Focus on transparency
Overall, employers that employ 25 or more employees on Jan. 1 of any year are required to have in place a written policy on the electronic monitoring of employees. The policy must state whether or not the employer electronically monitors employees.
If the employer does, the policy must include:
a description of how and in what circumstances the employer may electronically monitor employees
how the information obtained through electronic monitoring may be used by the employer
the date the policy was prepared and the date any changes were made to the policy
Employers must also provide a copy of the written policy to all employees.
Overall, the province appears focused on transparency rather than creating a substantive change, says Cunningham.
"The Conservative government in Ontario has had a fairly populist angle to its legislation the last couple of years, whether you go back to the Working for Workers Act and you had the ban on non-competes, you had the disconnect-from-work policy, you had the licensing of temporary help agencies… and then also the Digital Platform Workers' Rights Act," he says.
"There's a theme here, throughout the legislation for the last couple of years, about providing additional information and transparency to workers."
Number of employees
To determine how many employees they have, an employer must count the number of staff on Jan. 1.
The employer must count the individual number of employees, not the number of full-time equivalents (FTEs). Part-time employees and casual employees each count as one employee, regardless of the number of hours they work, says the government.
If an employer has multiple locations, all employees at each location in Ontario must be included when determining whether the 25-employee threshold has been met.
"It applies to your clerical staff, management staff, shareholders, executives — everyone's included, whether an employee's probationary, on a fixed-term contract, even if you temporarily lay off an employee… if employees are on a leave of absence, for example, maternity leave, even those employees are or should be included in the 25-employee threshold," says Shreya Patel, associate in the employment and labour group at Torkin Manes in Toronto.
And the legislation does clarify that the employer doesn't need to have one policy for all employees, she says.
"For example, for clerical staff, you may have one form of policy and for management staff, you may have a different form, because you may be tracking management in a different way or they may have access to additional company-issued devices."
What is "electronic monitoring"?
"Electronic monitoring" includes all forms of employee and assignment employee monitoring that is done electronically. Some examples include:
GPS to track the movement of an employee's delivery vehicle
an electronic sensor to track how quickly employees scan items at a grocery store check-out
tracking which websites employees visit during working hours.
And the policy doesn't only apply to devices or other electronic equipment issued by the employer, or electronic monitoring that happens while employees are at the workplace.
For example, if the employer is electronically monitoring through the employee's own personal computer or cellphone that is used for work purposes, the policy must capture that.
"Oftentimes, employees have their own phone or their own laptop, but they use that for work purposes. And if the employer is monitoring the employees' activity through their personal phone because they have confidential employer information, the policy requires that employees be informed about that," says Patel.
Read more: More than a third (35 per cent) of Canadian employees say their company is using at least one employee monitoring tool.
Employers should consider what type of monitoring they are doing at this point, says Cunningham.
"Do you have something that's going to trigger an obligation for disclosure? Because that's really the first step," he says.
"If you're not doing any of those things, you could have a very simple monitoring policy which confirms that 'We're not monitoring our staff.' But most employers or most workplaces are probably going to have some form of monitoring, even if it's closed-caption television or security at the site."
Rights and privacy
The government update also emphasizes that the electronic monitoring requirements:
do not establish a right for employees not to be electronically monitored by their employer
do not create any new privacy rights for employees.
Essentially, the ESA requirements require that employers be transparent about whether they electronically monitor employees and if they do, be transparent by describing how and in what circumstances that monitoring occurs, and "setting out the purposes for which the information obtained through the electronic monitoring may be used," says the government.
Read more: In March, Canadian HR Reporter spoke with three legal experts to get their take on the proposed changes, and how employers should prepare.
"The policy doesn't say to employers that they cannot electronically monitor employees, it just says if you're doing so, notify your employees and tell them how the information will be used," says Patel.
"For example, if the policy requires or states that the information that the employer obtained through electronic monitoring may be used for to assess employee productivity or to ensure that employees are doing work-related tasks during their work hours… [and] they find out any misuse of company product or they find out the employer hasn't been clocking in and out at their required time… employers can nonetheless use that information obtained to implement any disciplinary action if required."
The fact that the employer has to give notice of monitoring does not equate to a right to privacy, says Cunningham, citing the focus on transparency.
"They're requiring the employers to disclose information as to what they're doing or what they're expecting, but it doesn't create substantive rights for the employee."
The guidance confirmed that the new rules don't translate "to a right to privacy for the employee or limit the employer's ability to use information gained through the electronic monitoring," he says.
The legislation keeps both employees and employers accountable, says Patel.
"When employees are aware that they're being tracked, they're more mindful about using company property and are more mindful about not disclosing any confidential information. And on the flip side, for employers, it keeps them accountable that if they're tracking their employees' information, they only use it for purposes that are permitted by law."